The team's star scorer starts a play with the ball in his hand at the left 45. He starts his dribble, crosses up his defender and enters the mid-range. Help defense arrives and the roll man can't get the pass through a packed paint.
The scorer looks up to find an unguarded man on the right 45 and dishes it to him. The latter makes a head fake, looks around to find the man at the left corner free and passes it to him for an uncontested three.
The play just described above is run by every single NBA team over and over, every single game. And it is just one of umpteen different combinations they could try in order to find an open man.
•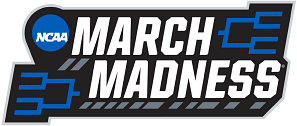 Spot-up shooting has always been a vital part of basketball. Efficient spot-up shooters are some of the rarest commodities in the NBA. As Allen Iverson said in his Reebok commercial: "A jump shot can get you a shoe deal, a supermodel, a big house, fancy cars, a bunch of yes-men and a Swiss Bank account. But none of these things can get you a jump shot."
Let's take a look at the 10 deadliest shooters from 3-point range in spot-up situations this season.
Honorable Mentions: Doug McDermott, E'Twaun Moore, Steph Curry, Karl-Anthony Towns, JJ Redick
---
#10 Al Horford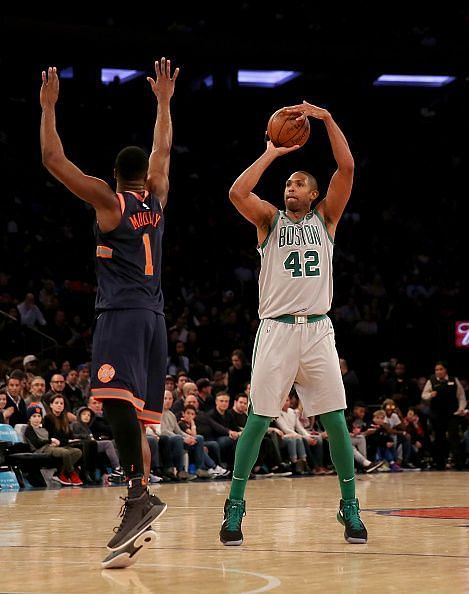 Big men are continuously having to evolve their game in the modern NBA, where the game is faster than it has been in over 20 years and every team is hoisting 3-point shots at historic rates. Al Horford is one of the few centers to have successfully made this transition.
This season, Horford averaged 42.9% on 3-pointers, taking 3.1 attempts per game - these are the best percentages for a center taking 2 or more attempts. This clears out space in the paint for the likes of Irving, Brown, and Tatum to play their mid-range and driving game, as opposition centers have to go to the 3-point line to effectively guard Horford.
Al is also averaging 4.7 assists per game, and he continues to be an effective defender. Horford's all-round excellence has made him a 5-time All-Star, and a primary reason why the Boston Celtics competed for the top seed in the Eastern Conference.
#9 Buddy Hield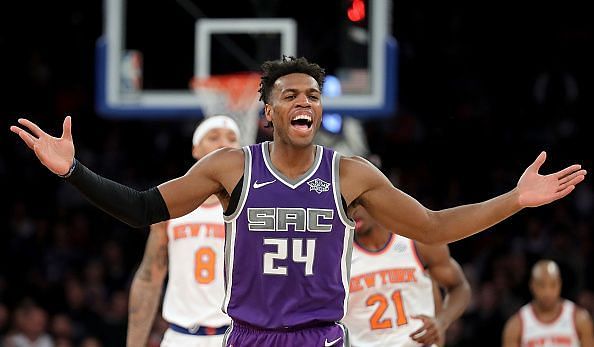 Buddy Hield is one of the unheralded successes of the 2016 NBA draft class. People have taken note of the likes of Jamal Murray, Brandon Ingram, Jaylen Brown and of course, Rookie of the Year favorite Ben Simmons, but Buddy Hield has settled into life with the Sacramento Kings pretty easily.
In 25.3 minutes of action per game on a Sacramento roster that keeps its bench players on the hardwood for much longer than the usual NBA team, Hield has averaged a decent 13.5 points, 3.8 rebounds and 1.9 assists for the Kings this season on shooting splits of 44.6% from the field and 43.1% from 3-point range - which comprise nearly 45% of his shot attempts.
If the Kings manage to put together a competent roster next season, expect Hield's time on the floor, scoring volume and overall impact on the game to improve enough to put him in consideration for the Most Improved Player honors. Yes, I called it this early.
#8 Jayson Tatum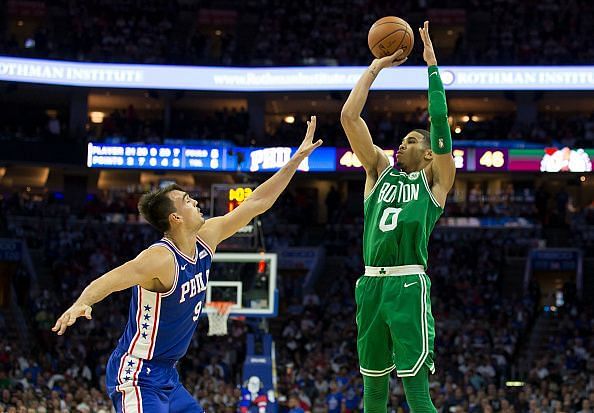 Tatum shoots over Dario Saric
When Danny Ainge traded down in the 2017 NBA draft to pick Jayson Tatum 3rd overall, it was questioned by many experts in awe of Markelle Fultz's final collegiate season. Those experts haven't had much to say ever since Tatum has filled the injured Gordon Hayward's shoes in a manner that few rookies ever have had to.
Tatum averaged 13.9 points, 5.0 rebounds, 1.6 assists, 1.0 steals and 0.7 blocks per game while playing lockdown defense on many of the NBA's talented wing scorers on a nightly basis. Up until mid-January, Tatum was averaging over 47% from 3-point territory, which was the class of the NBA till that point.
His percentages have since cooled off with a January and February during which he has shot 34.1% and 39.1% respectively, but he is still a commendable 8th in percentage from downtown at 43.4% on 3.0 attempts per game.
#7 Anthony Tolliver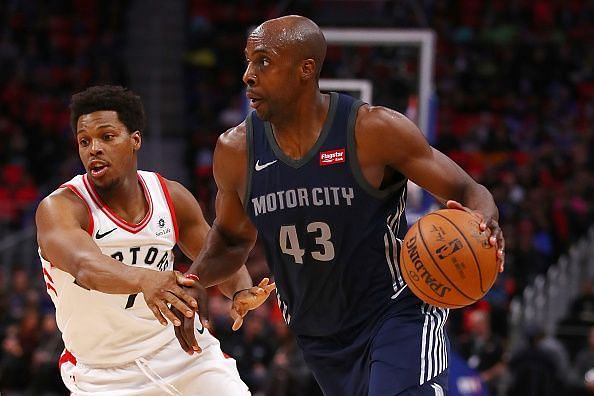 Anthony Tolliver is one of the relatively unknown names on this list, but don't be fooled that a lack of fame arises from any particular deficiency in his game personally. Put it this way, if Tolliver was a role player on the Rockets or the Warriors, NBA fans would value him more and take note of his quiet excellence through the course of the season.
Tolliver made 43.6% of his 3-pointers this season on 4.6 attempts per game on a roster that lacked a competent point guard for the majority of the second half of the season. Reggie Jackson went down to injury while Avery Bradley, also capable of playing at the point guard position, was traded to the Clippers in February.
Ish Smith, while a league-average player, is not the kind of playmaker whom you can entrust the responsibility of dishing out to elite 3-point shooters around him on a consistent basis.
Based on his consistent shooting this season, expect the undrafted Tolliver to demand a contract over the mid-level exception this summer. He deserves to get paid based on what we've seen this past season.
#6 Kyle Korver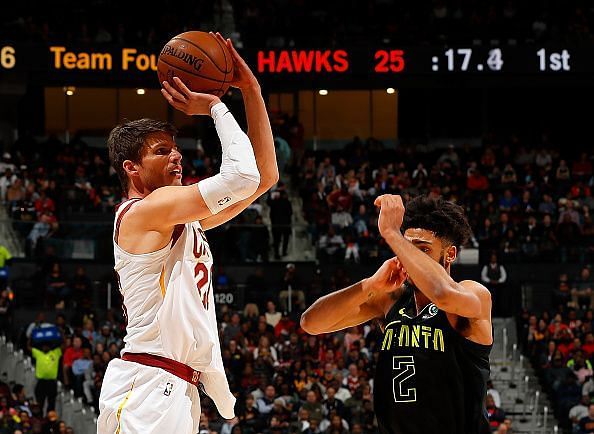 Very few people have made a long and successful career based on one unbeatable skill. Kyle Korver, for the large part, is one of those people. While he is not a one-trick pony by any stretch of the imagination, leaving Kyle Korver open at 3-point range is equivalent to basketball suicide for any opposition team.
Korver holds a number of records: he's the only player to average over 50% from 3-point territory for an entire regular season campaign. He's also led the league in 3-point percentage 4 times, and he earlier held the record for most consecutive games with a made 3-pointer (127) - Steph Curry broke this record with 157.
This season, he has been his usual. efficient scoring self for the stop-start Cleveland Cavaliers, averaging 43.6% from downtown on 5.2 attempts per game.
#5 Klay Thompson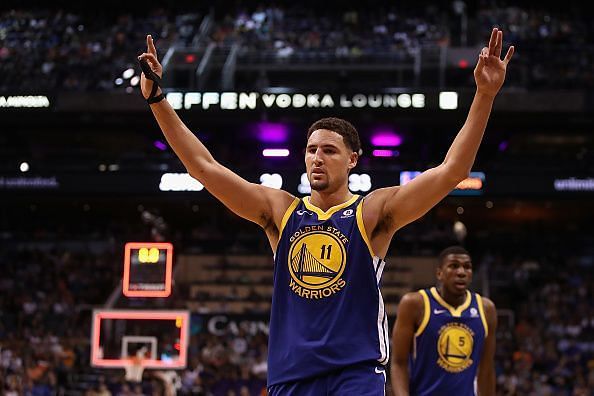 Who is the best shooter in Golden State Warriors? The easy, obvious answer would be Stephen Curry given his 2-time MVP credentials, and the fact that he has the 4 best 3-point shooting seasons in NBA history.
But the unbiased, unequivocal answer for not only Golden State, but the entire NBA this season would be Klay Thompson, who is shooting the lights out of every building he plays in. Making 3.2 out of 7.1 attempts per game, Klay is averaging an otherworldly 44% for a volume of shooting that would make even the likes of Ray Allen dizzy.
Klay Thompson is the model player for any franchise to have. He has a no-fuss attitude, as his interview after dropping 60 on the Pacers in three quarters demonstrated to fans.
He's always running, setting screens and getting open to knock down the wonderful looks generated by the likes of Curry, Draymond Green, and Durant, while he hounds the opponent's best scorer on a nightly basis.
Golden State might have 2 MVPs on their starting lineup, but they would not be title favorites without Klay Thompson, who is the best 2-way player at the shooting guard position in the league after Jimmy Butler.
#4 Joe Ingles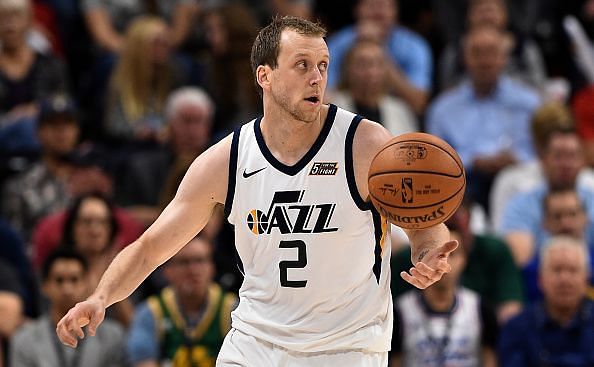 While talking about underrated wings in the NBA, one of the first names on the list has to be the versatile Australian swingman Joe Ingles. At 6'8", Ingles is one of the few swingmen who can play the roles of the 1-guard, 2-guard and small forward on offense, while also being able to guard 1-4 on defense.
His playmaking and driving game aside, Ingles is one of the most clutch 3-point shooters in the NBA today. While taking 5.6 attempts at a 44.0% clip from downtown, Ingles is scoring 11.5 points, dishing out 4.8 assists and grabbing 4.2 rebounds on a per-game basis.
Often this season, Ingles was the biggest supporting player for rookie star Donovan Mitchell as the Utah Jazz succeeded in surviving Rudy Gobert's injury layoffs to stay in contention for the 8th seed in the Western Conference playoffs, before the Stifle Tower came back to injury and drove the Jazz on a run to the 5th seed.
#3 Otto Porter Jr.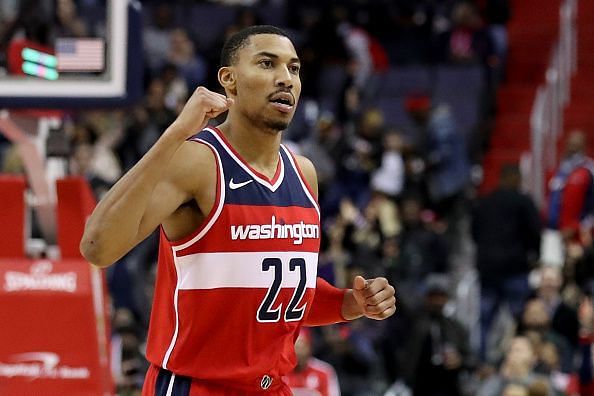 Porter in action for the Wizards
While Porter is by no means just a catch-and-shoot specialist, the bulk of his points have historically come from those situations with Wall running the show. Porter reached the realm of elite shooters last season when he averaged 13.4 points per game in the regular season at a 51.6% field goal percentage and a scorching 43.4% from behind the arc.
This season, he has upped his scoring rate to 15.1 points at nearly identical 50.3% and 44.1% shooting splits. Moreover, since John Wall's injury, Porter has upped the ante to average 19.3 points per game on splits of 53.5% and 43.0%.
The 3rd pick in the 2013 draft is finally starting to live up to his draft position. If he carries his form into the postseason (unlike last season, when he shot a beggarly 28.2% from 3-point range), the Wizards have a real shot at making a deep run this season.
#2 Reggie Bullock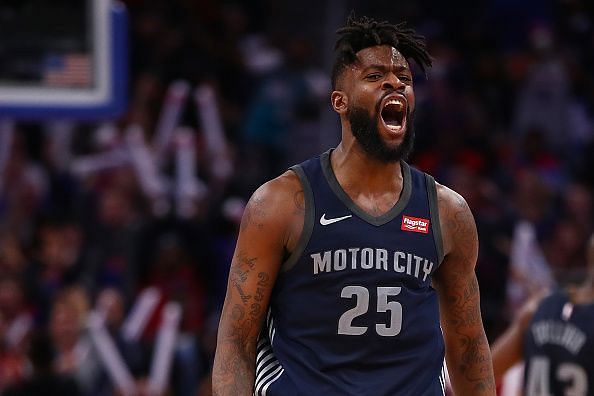 For Reggie Bullock's stop-start NBA career, it's been an encouraging tale of better late than never this season. Drafted in 2013 by the Clippers with the 25th pick, Bullock has been in and out of the league - initially because he was sent to the D-League, and later on with niggling injuries.
In this, his first full season as a starter on an NBA team, Bullock made the most of his improved health and a run of games. Averaging 11.3 points, 2.5 rebounds and 1.5 assists per game while playing good defense on opposition wings, Bullock has become a passable role player in the league.
His hot streak from 3-point territory is a new ability unearthed by coach Stan van Gundy, and should earn him his first sizeable contract in the league. Reggie averaged a scorching 44.5% from 3-point territory on a sizeable 4.5 attempts per game, and his knockdown shooting could be rewarded by a sizeable contract the next time he enters free agency.
#1 Darren Collison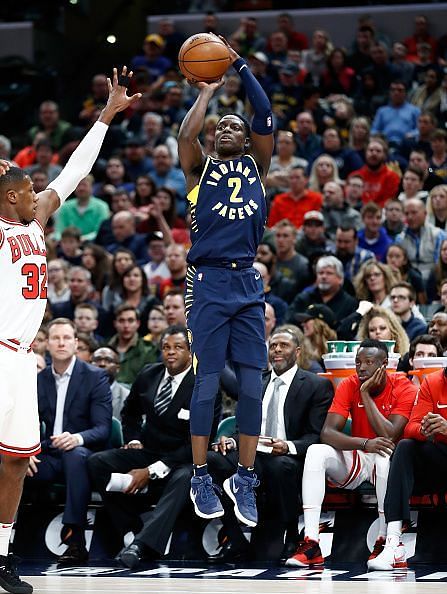 Darren Collison shoots over Kris Dunn
The 9th-year point guard out of UCLA has quietly compiled the best shooting season of his career. In fact, it is a historic season by any standards - Collison is averaging 12.4 points per game as a tertiary scorer on the Pacers team on 49.5% from the field, 46.8% from 3-point territory and 88.2% from the free-throw line.
If he'd hit a hot streak, Collison could have been just the 8th player in NBA history to put up a 50-40-90 season. Steph Curry, Kevin Durant and Dirk Nowitzki are the only active players to do so (with the usual qualifiers). Collison's 5.3 assists and 1.3 steals per game serve only to add value to a Pacers team that many experts predicted to be in the lottery at the start of the season.
Indiana will be looking to ride on the back of elite shooting from MIP candidate Victor Oladipo, Bojan Bogdanovic and Collison to upstage the Cleveland Cavaliers in the first round of the playoffs.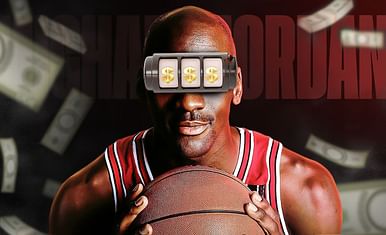 How did Michael Jordan's gambling "habit" taint his image?