2014 NBA Western Conference Finals: Serge Ibaka inspires Thunder to victory in Game 3
The Oklahoma City Thunder entered their Western Conference Finals match-up with the San Antonio Spurs downsized and undermanned after Serge Ibaka was ruled out of the entire Playoffs with a calf injury he suffered in Game 6 of the semifinal series with the Los Angeles Clippers.
In Game 1 of the Conference Finals, the Spurs beat their opponents in the paint outscoring them 66-32, and in Game 2 they beat the Thunder with their high percentage outside shooting; so not many expected the Thunder to have any chance in the entire series as the Spurs were imposing their will on games in more ways than one.
However, Oklahoma received some great news during the three day break prior to Game 3 and it was news that brought hope to the Thunder's chances in the series. Ibaka had received some positive feedback from his medical staff after the pain had subsided following which he and his team decided to give him the start.
Here's a recap of Game 3:
(1) San Antonio Spurs vs (2) Oklahoma City Thunder (OKC won 106-97, San Antonio lead series 2-1)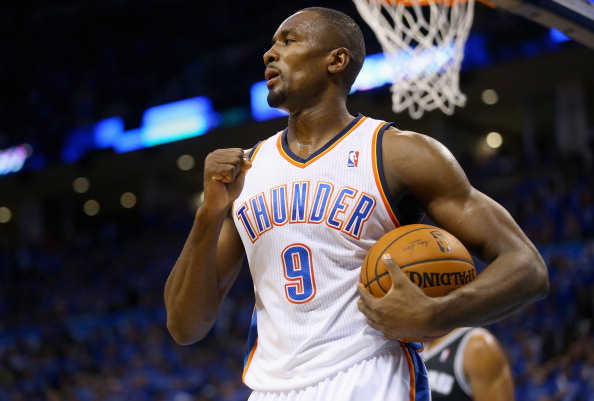 The Thunder's primary 1-2 offensive punch of Kevin Durant and Russell Westbrook duo had a collective 30 points in Game 2. Having taken responsibility for those losses, Durant came out strong in Game 3, registering a double-double of 25 points and 10 rebounds along with 3 assists. Westbrook wasn't too far behind and although he did not have a double-double to show for it, his stat sheet showed a game high 26 points, 8 rebounds, 7 assists and 3 steals.
Reggie Jackson, the Thunder's back-up point guard, replaced Thabo Sefolosha in the starting five as the Swiss has gone scoreless in the first two games. He answered the coach's call by scoring 15 points and recording 5 assists in a season-high playing time of 37 minutes.
Back to Ibaka, he had 15 points on 6 of 7 shooting from the field to go along with 7 rebounds and 4 blocked shots. In terms of stats, he is one of the most underrated defenders in the paint. His job on Blake Griffin in the previous series is a clear indication of his defensive prowess, but he made his impact felt immediately on his return, restricting a Spurs team which averaged 60 points in the paint after the first two games to just 40.
Have a look at Ibaka's performance n his return:
https://www.youtube.com/watch?v=COeD0GljzLI
Coming to Oklahoma City after dominating the first two games in San Antonio, the Spurs' largest lead was just three points on Sunday night. Losing their eighth consecutive game in Oklahoma City, regular season and Playoffs combined, the Spurs did not seem themselves in this game.
"Our defense in the first half was as bad as we've played in a long time. I was disappointed we didn't come out with more of a 'foot on the neck' approach. That's very disappointing to me."
-Spurs Head Coach Gregg Popovich
A team known to shoot well whether playing on the road or at home shot 39% from the field and 3-point land; very low given the standards one tends to expect from the Spurs.
For the Spurs, despite notable contributions from Tim Duncan (16 points and 8 rebounds) and Kawhi Leonard (10 points), it was Manu Ginobili that kept them in the game with his hot shooting from beyond the arc.
Every time the Thunder made a run or a huge momentum building play, Ginobili would step up and knock down a dagger on the next play. He recorded a team high 23 points off the bench on 8 of 13 from the field and 6 of 9 from long range to go with 4 assists and 2 steals.
The Thunder won the game using their strengths wisely by winning the rebounding game with a margin of 16 and their team controlling the game with their defense. The Thunder are a team whose offense more often than not outshines their defense, but this is a very capable defensive team, and they showed it in Game 3 with the return of Ibaka.
Was the Game 3 performance by the Thunder just a flash in the pan or are they now going to make a series out of this? Game 4 will provide all the answers.
Game 4 is on Tuesday night at Chesapeake Energy Arena, Oklahoma City.
Meanwhile here are the Top 5 plays from Game 3: