5 points for the Clipper fans as LA Clippers beat the Timberwolves
607 //
29 Nov 2012, 13:22 IST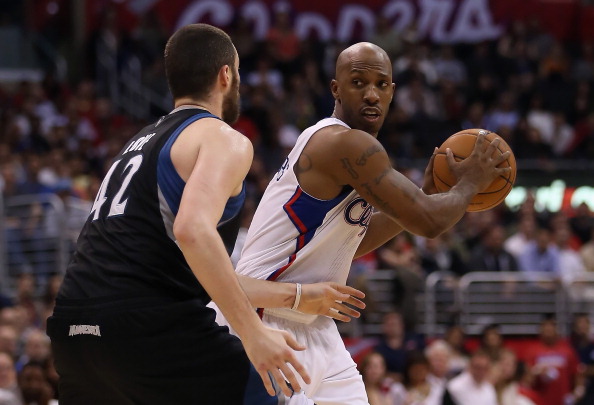 The LA Clippers just beat the Minnesota Timberwolves to end their four game losing streak. In an entertaining bout where both teams stayed neck and neck for much of the game, the Clippers finally pulled away thanks to their two high fliers, Griffin and Jordan. Here are five talking points for the Clippers in this match:
The return of Billups
"He's a starter," Del Negro said. So why waste time messing with the rotation? He and Chris Paul played together in 22 games last year. Their chemistry and feel for the game is fantastic. But it's not going to happen in one day, because he's been out for a long time. After nine months, Chauncey Billups played his first NBA game. He could have returned to action earlier were it not for a back injury. Although Billups only played for 20 minutes and had just 8 points and 3 assists, his impact is more cerebral. As Matt Barnes said at halftime, Billups brings leadership and a sense of direction. Having won a championship and been the Finals MVP, Billups knows what it takes to get things done and how to get his teammates to do the same.
The most athletic frontcourt in the league
Blake Griffin and DeAndre Jordan give the Clippers the most athletic frontcourt in the league. Against Pekovic and Love, both strong big men, the Cippers high flying duo made an emphatic statement. They aren't just high fliers. DeAndre Jordan has come out of this offseason with a more polished game and it is showing dividends early on. He had 15 points on 6-7 shooting. He has also improved his Achilles heel, free throw shooting, as he went 3-6 from the line. Griffin was coming off the worst game of his career and he redeemed himself with 18 points, 6 rebounds and 3 assists. They also held the Wolves big men to poor shooting, Love went 3 for 12 and Pekovic 5-13. Matt Barnes played his part there. Of course, they are high fliers still.
And another Clipper made his return bid. Lamar Odom had his first dunk of the season with a putback.
Paul above all
The frontcourt is nothing without ample support from the backcourt. Chris Paul had 23 points and 11 assists in a decisive manner. He put the game away with 4 free throws at the end and his unstoppable play allowed the Clippers to maximize the potential of all their pieces to the fullest. When he was pressured, he dished it off. When the Wolves sagged off him, he reminded them that he's a deadly scorer. A legitimate MVP candidate this year.
Poor help from backcourt
The backcourt fuels the frontcourt, but Paul being so good takes a of pressure off his teammates. Billups was 1-5, Crawford 2-10 and Bledsoe 1-6. If the Clippers are to win on a consistent basis, the backcourt needs to step up. Granted this was Billups' first game in nine months, the other players need to do their part.
Coming through in the clutch
This game could have gone either way, the Clippers only led by 86-85 with 4:33 left in the game. Here's how the Clippers performed under duress:
DeAndre Jordan blocks a layup.
Griffin hits a long jumper.
Griffin slams it home from a bounce pass from his buddy Jordan
Jordan with a dunk and an and one.
Alley oop from Billups to Jordan
Four free throws from Paul.
When the game was on the line, the Clippers played to their biggest strengths, Chris Paul and their elite frontcourt. Against better teams, the fringe role players will need to step up as the biggest strengths of the Clippers are played tighter.
The LA Clippers beat the Minnesota Timberwolves 101-95. Here are the highlights of this match: