5 Talking points from the Dallas Mavericks vs Los Angeles Lakers
739 //
25 Nov 2012, 14:07 IST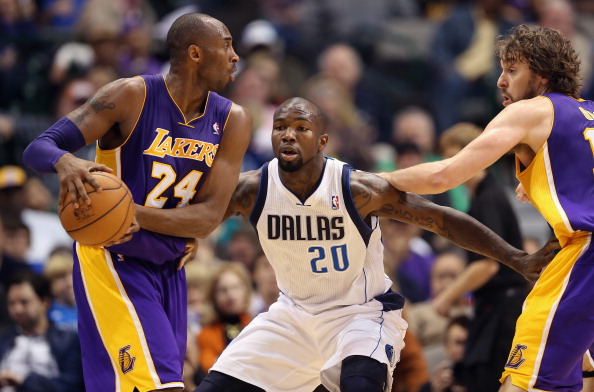 World Peace absolutely blitzed the Mavericks in the 1st quarter, scoring 16 of his 19 points. He drove to the hoop a couple of times for easy layups, and was on fire from behind the perimeter, making 4 triples in the 1st, and going 5 of 7 overall. He is thriving in the D'Antoni offense, having recovered a lot of his offensive fluency back, and looking like his natural self, playing with a lot of freedom. With his confidence soaring, his defensive game should be back to its throttling best, which would be a scary proposition for any team.
Dwight Howard had probably his best overall game as a Laker yet, contributing effectively on the offensive end. But where his performance really stood out was on the defensive end, as he did a great job of providing a second defensive barrier to the Dallas players. He altered multiple shots, and had a lot of steals as the Lakers used their defensive intensity to drive their offensive game. Gasol also had a good game, as he looks to slowly feel his way out of his slump in form. He had a balanced game in terms of scoring and rebounding, and did a great job defensively, not allowing the Mavericks' inside players any room, and forcing poor shots off of them. Jamison had a great game off the bench, getting a double-double. His performance would have brought a lot of smiles to the Lakers' coaching staff, as he will be their principal reserve, and they will look to him for both scoring and rebounding.
In the absence of Dirk Nowitzki, the Mavericks are dependent predominantly on Mayo, Collison and Kaman for their scoring. So, in a crucial game against the Lakers, they chose to fail miserably, all 3 of them. They shot a combined 8 of 37, contributing a total of 19 points. The Lakers had 3 guys who scored 19 each. Enough said.
LA outrebounded Dallas 61-39 on the glass. They just did not allow the Mavericks to get any sort of edge in this game, and sure enough, Dallas caved in. Anyway, lets not take away anything from the Lakers, they really were comprehensive on both ends of the floor. It shows the new found confidence and belief in their abilities, that has been enforced by the coaching style of Mike D'Antoni. He has injected pace and purpose in their play, and the effects percolate down to all facets of the game, especially the rebounding. The quicker they get the rebound, the quicker they move the ball up the floor, and get a quick basket.
5. Bench scoring and other stats
The Dallas bench outscored the Lakers bench 58-42, which was rendered immaterial, as it came when the game moved into garbage time i.e. from midway through the 3rd quarter. Dallas also had less turnovers (15-19) and more blocked shots (6-4) which tells us of the impotence of their key players. LA got a good look at its reserves, and the performances of Jamison, Meeks and Duhon would surely bode well for a team aiming to win the championship. Following the return of Nash and Blake, they will have a very deep roster, and will be a legitimate contender.
For Dallas, a rivalry that they shared with LA till last year now looks like a thing of the past, as the rosters have moved in such contrasting directions since the season began. This defeat was embarrassing and morale shattering, and it will take a lot of graft and grind to rise from it.