5 talking points from the LA Clippers vs Utah Jazz game
667 //
04 Dec 2012, 12:23 IST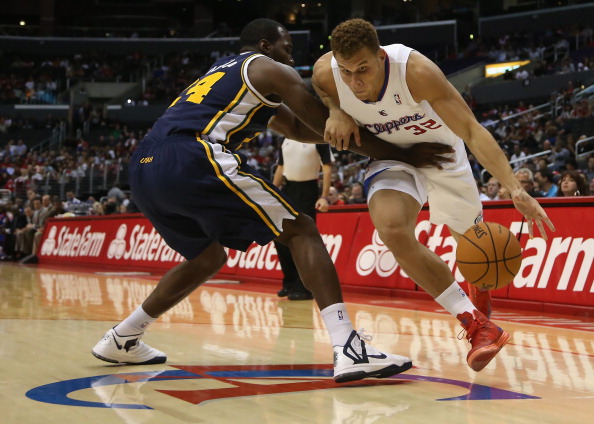 The LA Clippers and the Utah Jazz had a close contest, in which LA were able to pull away 105-104. Here are five talking points from this game:
Helter skelter finish
Down 96-94 with 2:21 left, Blake Griffin stepped back and calmly knocked in a long jumper. The Jazz came up empty, and on the next possession, Paul dribbled in for a layup. And then former Clipper, Mo Williams, knocked in a three to make it 99-97 in favour of Utah. In the ensuing possession, Billups was fouled while attempting a three, and he made two of three free throws. It was still anyone's game.
One minute left all tied up, Chris Paul runs a pick with DeAndre Jordan, and the entire defense seemingly parts like the Red sea for Moses, as Paul dribbled in for a layup again. DeAndre Jordan came up big in the last minute, as he blocked a shot by Al Jefferson which could have tied the game. Both teams exchanged free throws, and another ex-Clippers, Randy Foye, brought the Jazz within one with 5 seconds left. Then he got a steal, but couldn't do anything with it as time finally expired and his long three fell off the mark.
"I'm not going to take a long time getting adjusted to the other players," Billups said.
The Clippers won their third straight game with Billups in the line-up. His return has rejuvenated the Clippers, who had cooled off a bit after starting the season 8-2. Although Billups has not been posting his career average numbers, his mere presence brings a heavy dose of leadership and poise to this team.
Jazz missed key players
"We have to move some things around. Some guys will have to play some extended minutes. We'll have to ask some guys to play a different position a little bit, but guys will get minutes on the floor. This is what they work for. You work for your opportunity. The opportunity is upon us now, so you've got to be ready to respond to it."- said Jazz coach Ty Corbin.
The Jazz sorely missed Marvin Williams and Derrick Favours. Williams had concussion-like symptoms, and Favours has plantar fasciitis. Without them, five of the Jazz finished in double figures but couldn't close the game down the stretch.
Blake Show
Their absence also allowed Griffin to go off. Blake Griffin had an outstanding game, with 30 points and 11 rebounds on a very efficient 14 of 20 shooting. The length of Williams was missed too, as Chris Paul chipped in with 14 points and 9 assists. Having an athletic wing to close out on screens when Paul comes off them really helps in containing him. The Jazz couldn't do that without two of their best players.
Both teams made 42 field goals
The Jazz actually made 42-74 to the 42-89 of the Clippers. The Clippers also shot horrendously from the three point line, going 4-21 to the Jazz's 9-20. The Clippers did make 6 more free throws than the Jazz and had a 13-9 advantage in offensive rebounds. Besides that,  the Jazz held the advantage in most statistical categories – 25-19 assists and 41-36 rebounds. The Jazz had 17 turnovers to 10 for the Clippers.
This was the first home loss of the season for the Jazz. The Clippers now stand at 11-6 and the Jazz fell to 9-10.