5 talking points from the Lakers-Pacers match
799 //
28 Nov 2012, 13:19 IST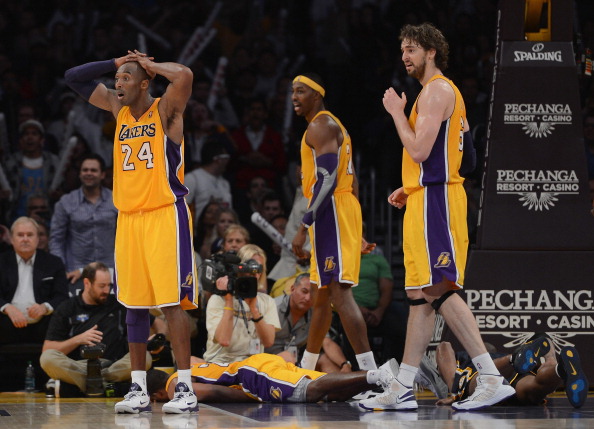 Guess who hit the game winner in this one? The Lakers were coming off losses in their last two games, with a record of 7-7 and without Steve Nash in the lineup. Although Coach D'Antoni talks positively that Nash could even suit up in the next game, Nash's status is that he can't even jog or take jumpshots in practice. He isn't coming in to rescue the Lakers in their next game. Even without him, they ought to be good enough to scare most teams in the league. Most teams, but not the Pacers on this night though.
Wow! Kobe scored 40!
On 28 shots. Kobe Bryant finished with 40 points and 10 rebounds. He outscored his entire team by himself. While playing with a flu! But he did so on 12-28 shooting. And he had only 3 assists but he had 10 turnovers. To the casual basketball fan, all that reads as is "Wow! Kobe scored 40 with a flu." With numbers like that, its akin to saying "Wow! He flew!" to a guy who jumps off a bridge. Yes he flew, but don't ignore the fact that his manner of flight made him land smack in the pavement while dragging his team down with him.
If you have a front-court of Gasol and Howard, you are supposed to utilize them. Earlier, Kobe had the excuse of saying that his front-court consisted of Kwame Brown and Chris Mihm. Now, as if the Gods were trying to call his bluff, he has been blessed with the best front-court in the league. And this is how he chooses to utilize them.
Fun fact – Kobe Bryant took more shots than World Peace, Gasol and Howard combined. 28 to their 8, 9 and 10 shots respectively.
Even though Kobe Bryant has been playing a more balanced game, averaging over 5 assists thus far, he is still taking far too many shots and assuming too much of a burden of carrying the offense and having to get his teammates involved. Nash can't come back too soon.
Point the finger at the point
Nash can't come back too soon. The replacement point guard, Darrius Morris, went 0-6 from the field and had 0 assists in 22 minutes of playing time. Kobe Bryant may be the Black Mamba, the definite closer, but this time it was George Hill, the guard of the Pacers, who emerged with the late game heroics. Hill made two buckets in the last minute to push the game away, including the game winner with 0.1 seconds left. Antwan Jamison had been sneaking his name in talks for sixth man of the year. He played like the 12th man in this one as he went 0-6 from the field. Playing in his 1000th game, he had a performance he'd like to forget soon. There were some hopes that he could share the ball a little, at least space the floor out. He is pretty far from being point guard replacement though.
Here's a look at Hill's game winner:
You're beautiful
Not. Beautiful only if James Blunt was in the house. This game was ugly inside out, from both teams. There was a stretch when the Pacers missed 22 of 23 shots. Both teams had a combined 36 turnovers. It resembled tennis more than basketball at times, with the fans switching their heads from left to right to left again. Watching Kobe keep the ball like a greedy hog doesn't make for a pretty sight. Every made shot he makes you feel in awe of him. But the ugliness outweighed the beauty in this one by a lot.
Free for all
Unless you are superman. They are called free throws, but they are anything but free for Dwight Howard. If acquiring a skill is all about practice, then there doesn't seem to be much of an excuse for a professional basketball player to not acquire that skill. Shaq had said that he can make 8 of 10 in practice. But in game time, its a different thing. So obviously, the issue here is over-thinking With Dwight Howard at the line, he stands and broods. He was even called for a 10 second violation at the line sometime ago.
Superman went 3-12 from the free throw line. He missed 9 free throws. If he had made 2 more, the Lakers could have tied it.
Go West young man!
The Pacers got an outstanding game from David West, he almost had a double double with 16 points, 10 rebounds and 8 assists. His strong and dominant play on both ends took some shine away from the games of the Lakers bigs. His counterpart on the Lakers, Pau Gasol, couldn't get much going as he usually got the ball away from the basket. The pick and rolls which we had all dreamed of, the dream combo of Gasol and Howard feeding off of all the attention Kobe commands, all that hasn't happened yet.
Both teams are now 7-8. The Lakers lost 77-79. This reaction from Joey Crawford sums up this game: