Brandon Knight may need counselling after this...
1.31K //
11 Mar 2013, 19:12 IST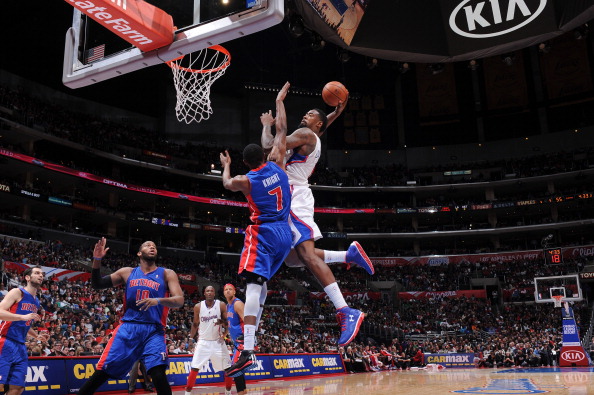 Brandon Knight has had a nice start to his NBA career. Drafted by the Detroit Pistons in 2011, Knight had a solid rookie campaign and earned himself a spot in the 2012 Rising Stars game, playing for Team Shaq.
From there, though, things have gotten a little rough for the young point guard.
First of all, Kyrie Irving almost broke his ankles with a crossover in the Rising Stars Challenge; a highlight that was shown over and over again on All-Star weekend:
As if that wasn't bad enough, DeAndre Hopkins straight up abused Knight on one of the plays of the season as the Clippers beat the Pistons 129-97 on Sunday night. Knight's ancestors probably felt this one:
Knight ended up on the floor with a bruised hip and a bruised ego. The dunk drew a lot of attention on Twitter, with many players and analysts calling it the dunk of the year. I can't disagree with them. Here is a selection of the best reactions from the twittersphere:
Brandon Knight can go on to have a hall of fame career but that dunk will ALWAYS be brought up when discussing his career. #DeAndreJordan

— Mike Hill (@MikeHillESPN) March 11, 2013
MUST WATCH: DeAndre Jordan just made a bid for dunk of the year. WOW! #SCtop10 on.nba.com/WXBrjD(via @nba) — SportsCenter (@SportsCenter) March 11, 2013
OH LAWD. DeAndre Jordan just destroyed Brandon Knight. Oop of the year. cbsprt.co/Y3xXPQ via @eyeonbasketball — Eye on Football (@EyeOnNFL) March 11, 2013
omygoodnessss. RT @bomani_jones what on earth was brandon knight thinking? is.gd/rWgRGO — Bruce Feldman (@BFeldmanCBS) March 11, 2013
Well boys and girls that is what you call "the dunk of the year" by @deandrejordan Best dunk I've ever seen in person. #turnup — Blake Griffin (@blakegriffin32) March 11, 2013
I'm definitely gonna let @jcrossover and @blakegriffin32 finish……but @deandrejordan has the BEST DUNK of the year!!! (Kanye Voice) — Chris Paul (@CP3) March 11, 2013
DeAndre Jordan!!!! Dayyyuummmm!! Dunk of the year #littletikeshoop — LeBron James (@KingJames) March 11, 2013
Damn somebody just got baptized…dunk of the year.

— Quincy Miller (@qmillertime) March 11, 2013
Proving himself a good sport, Knight handled the ordeal with a bit of humour:
It wasn't in the scouting reports that the clippers threw lobs lol

— Brandon E Knight (@BrandonKnight07) March 11, 2013



However well he took it, this one might take a while to get over…