Cleveland Cavaliers win No. 1 overall pick in the NBA Draft for second straight year
2.27K //
21 May 2014, 10:14 IST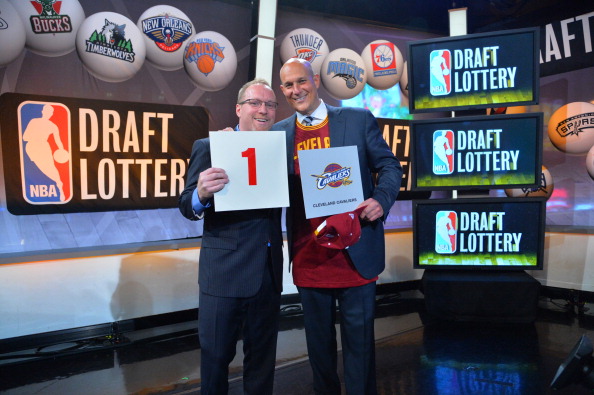 The annual NBA Draft lottery, held to determine who would recieve the No. 1 pick in the NBA Draft held every year in June after the conclusion of the NBA Finals, was held yesterday at Times Square Studio in New York and as of the last five years a franchise named the Cleveland Cavaliers seem to have some luck going their way as they not only won their second consecutive No.1 pick, but also their third No.1 overall pick in the last four years.
Having finished a relatively well placed 10th this season, the Cavs only had a 1.9% chance of topping the Draft as they had the 9th worst record overall thanks largely to the much better Western Conference which has it's first team, the Utah Jazz, placed as low as 5th despite a 25-57 record season.
Post the LeBron James era in Cleveland, his home state have been regulars when it comes to receiving high lottery picks. They picked Kyrie Irving and Anthony Bennet with their first overall picks in the 2011 and 2013 Drafts respectively. Although the Cavs did expect a better result from this season than they were able to accomplish they wouldn't mind the kind of luck that has come their way over the last couple of years in the Draft lotteries.
"Rebuilding is a process and we lost a player a number of years back that it was going (to take) some time. Quite frankly it's taken a little bit longer then we'd like, but we've been patient," Cleveland Cavaliers vice chairman Jeff Cohen.
Meanwhile the rest of the top 10 picks seemed to go on expected lines with the worst teams getting picks in order with the Milwaukee Bucks and Philadelphia 76ers receiving the second and third overall picks followed by the Boston Celtics and the Utah Jazz to cap off the top 5. Philadelphia were the only team to have two guaranteed first round picks this season and much to their delight they will have both of those picks in the top 10.
Here is the rest of the 2014 Draft order.
The NBA Draft is scheduled to be held on the 26th of June in New York City or the Barclays Center in Brooklyn.