Desi Hoop Dreams: Sim Bhullar's road to the NBA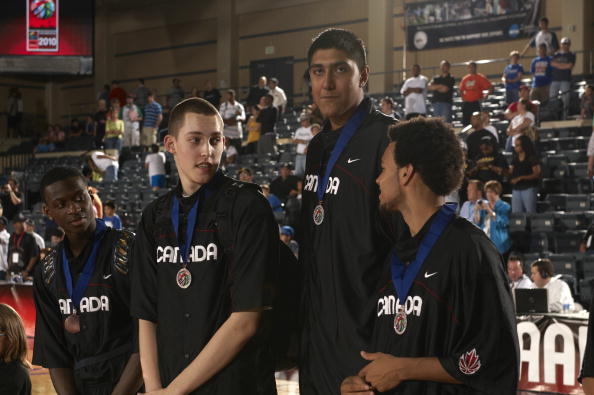 On 5th November, 2012, the countdown begins. It may go on for two years, and will probably go on for four. He may not succeed. In fact, he probably won't – the odds are stacked against him. On 5th November, 7'5″ Sim Bhullar will step on court for the New Mexico State Aggies against New Western Mexico in an exhibition game. Barely a week after, the college basketball season begins for the Aggies (a Division I team) in the Western Athletic Conference. Finally, Sim Bhullar, a Canadian citizen of Indian origin, will play competitive basketball on a stage where his ability can truly be judged. With every game, every dunk, every block, every smooth pass, the question will be asked – will Sim Bhullar make it to the NBA, will he become the first NBA player of Indian origin? He's good, but is he good enough?
Sim received global renown when the New York Times profiled him in 2011 with the headline "So Much Potential, So Far to Go for Young Basketball Prospect". Back then, Sim had orally committed to play with the Xavier Musketeers, a top flight Division I team in the fairly well-known Atlantic 10 conference. Playing Division I college basketball in the US all but assures a player of a professional career somewhere. The last Musketeer drafted into the NBA was as recent as 2010 – Jordan Crawford – and Xavier has sent, in total, 36 players to the NBA. Besides, Xavier had three consecutive Sweet Sixteen trips in the NCAA tournament between 2008 and 2010, making the Elite Eight in 2008.
In other words, a perennial top-15 Division I college team wanted Sim to play for them.
Just before he was to join the Musketeers, however, Sim did an about turn and decided to join the Aggies instead. The Aggies are good, but they are not NCAA-elite. The visibility Sim will receive at NMS would be a fraction of what he would receive playing into late March for the most watched basketball tournament in the US. Xavier fans were stunned by the decision – many on the message boards at XavierHoops.com were eagerly looking forward to watching him; 7-footers are hard to come by, and Sim has a good 5 inches on that threshold. His sister, Avneet Bhullar told Personal Fouls that Sim had "unique clearinghouse issues" and New Mexico State's "experience with Canadians and eligibility" was the reason he committed to the Aggies.
It appears that Xavier was planning to red-shirt Sim – delay his eligibility to play for the team by a year, making him eligible for five years instead of four. Redshirting does not stop the player from attending classes or practicing with the team. But Xavier did not offer him a scholarship for the first year, meaning Sim had to pay the $42,000 academic tuition fees. Clearly, the coaching staff at Xavier believed he wasn't ready to contribute meaningfully in the first year. Sim, however, expressed his intention to declare for the NBA after two years of college ball, and wanted to play immediately (for the 2011-12 season). It's clear that despite their heavy recruitment of Sim, Xavier believed he was a project center who might provide returns on their investment. However, the NCAA denied Sim's eligibility with the Aggies as well, forcing him to sit out all of last season. Sim's decision to commit to the Aggies – who have made the NCAA tournament only 5 times in the last 20 years, all first-round exits – was made on basis of significantly decreased tuition fees ($25, 000). Aggies team blogs indicate that Sim would have been redshirted anyway at NMS as well, rendering his first year participation moot in any case.
The difficulty in getting Sim onto the hardwood has only fuelled further pessimism that the giant Bhullar cannot play competitive basketball well in the big leagues. His play with the Canadian junior national team in the FIBA U19 World Championships in Latvia – where he averaged 12.3 ppg and 6.3 rpg – is promising, but watching tape of his play suggests that he is still a long way from making it to the NBA. On the bright side, Sim can catch the ball (hello, Joel Anthony) and has a remarkably smooth jumper for a dude of his height – his high school coach compared him to Arvydas Sabonis, among the best shooting big men the NBA has ever seen – and his 7' 11 wingspan and wrecking-ball sized hands help with swatting away shots. He appears to have some semblance of a post game and gets fouled frequently when he backs down in the low post.
ESPN's scouts claim that Sim's agility is more than meets the eye, but it's tough to see how. Sim was ranked 83rd in his recruiting class last year in ESPN's top 100. His mobility, stamina issues and agility keep him from elevating his game to the next level. Currently listed at 330 pounds, Sim will have to lose about 30-40 pounds in order for NBA scouts to give him a serious once-over. His ability to run the court remains the biggest issue, which is why most recruiting analysts were puzzled by Xavier's recruitment of him given their up-tempo style of play. Most NBA teams now play fast and he will simply not be able to keep up. Sim is also slow on rotations, slow to move in the offensive set and yet to learn to set a good pick. He needs to demonstrate an ability to finish consistently from about 8-10 feet out with the little hook shot he sometimes deploys.
With continued development, there's every reason to believe Sim Bhullar will intrigue NBA scouts. His current stage of development indicates that he is two years – at the very least – from even being considered for the NBA. Even then, expectations of him have to be tempered. While Satnam is the NBA's Great Brown Hope, it's possible that Sim will get drafted into the NBA before Satnam does. At this stage, Sim projects to be a mid to late second-round pick for a half-court team that needs size. His skills at this point don't justify such a selection, but he should be drafted on the merit of his height alone. This is still a league where Hasheem Thabeet was drafted #2, so Sim Bhullar will probably get an opportunity somewhere. NBA history is full of players who have got tryouts, a few minutes of game time, projects who have never really shown the skill and ability to stick it out in the NBA. Sim, if he makes it to the NBA, will be more Jeremy Lin at the time of the draft than Shaquille O'Neal. He'll have to beat the system and exceed expectations; India will be watching.
"I think it would be a blessing," he said told the NYT, "to be the first from an entire country to go to the N.B.A. and be a role model."
Hopefully, he'll be there to stay.