Eminem and basketball: "When I was 18, I wanted to be a basketball player"
7.54K //
07 Dec 2012, 22:09 IST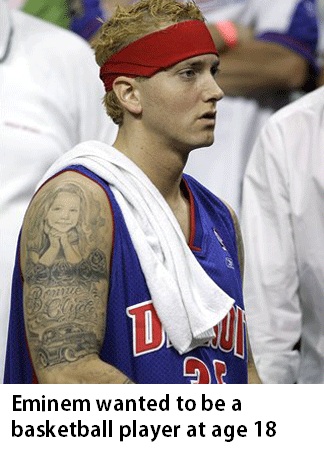 "When I was 18, I was confused about which way to go with life; I was good at rap, but I wasn't great. I thought I could be better at basketball than I could be at rapping. I was seriously considering pursuing a pro b-ball career. I played pretty hardcore for that entire year. There were two courts I used to play at-one where I was the best baller and one where I was the second best, if this one dude showed up. He was taller than me, and he could dunk."
"B-ball was a long shot, but so was rapping. Vanilla Ice had made it damn near impossible for a white kid to get respect in rap music. Proof and I wanted the dream, so we gambled big. We dropped out and went for the gold."
The above quotes are taken from Eminem's autobiography, The Way I Am. It is a torrent of outpouring of his emotions, if you know what I mean. Here are a couple of videos of Marshall Mathers doing his thing. First one is a short clip with Just Blaze where you can't see much:
Second is a much better one where you can see that Eminem has game, even though he is up against a doughy opponent in Jimmy Kimmel:
A lot of Eminem's songs also make reference to basketball.
Detroit Basketball/Give me the ball
In 'Sing for the moment', you can see Eminem hoop it up:
Here's LeBron James rapping to Eminem's verse from Forever. This song was part of the OST to More Than A Game, a documentary about LeBron:
Here's LeBron again, this time rapping to Eminem's The Way I Am. A song which mirrored James' feelings as he was facing unrelenting scrutiny by the media:
"Rhythmic things like rapping and basketball help me express myself better."- Eminem
In spirit of rap and basketball, here are a couple of verses about basketball I've penned down:
https://www.facebook.com/media/set/?set=a.188824521176497.48728.183342558391360&type=3