Greatest quotes on Manu Ginobili
We will take a look at the greatest quotes on Manu Ginbili.
Ginobili is probably the most unique player in basketball. That's beacuse he changed the prospect of European basketball in the
NBA
. Before him, Europeans were considered as skilled big men; there was a perception that a guy out of the Euro League could dunk over a whole Lakers squad, but Ginobili who was picked 57th (the second last pick) by the Spurs in the 1999 Draft was different. It was only after 3 years after he was drafted that he made his debut. Since then, Ginobili has gone from strength to strength winning 3 NBA Champions, an Olympic Gold Medal, a NBA sixth-man award and is also a two-time NBA All-Star.
He has also stayed humble the all time, accepting the bench role for the Spurs. Ginobili might not be a solid stats guy but he is surely the heartbeat of the Spurs.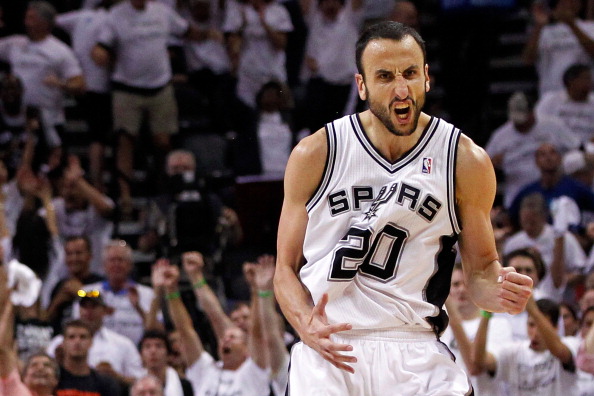 Here are some of the greatest quotes about the legend:
"He put his head down and he goes,and we pray for the best" - Tim Duncan
"Everything he does is aimed at winning,he might make some interesting attempts,but that is not for the show " - Steve Nash
"He gives me a stomach ache. He's got an edge to him, a real presence." —Former NBA head coach Rudy Tomjanovich
"The one thing you notice, right off the bat, is the energy Manu plays with. He gives up his body to help the team." —Teammate Brent Barry
"I love Manu. He makes the game difficult to play. He makes the game difficult to defend. He makes it difficult to referee. You want him on your side." —Nuggets head coach George Karl
"He's the kind of guy who wants the ball in pressure situations, and if he doesn't get it, he looks over at the coach like, 'Don't you know I'm here?'" —Spurs head coach Gregg Popovich
"Ginobili is a different species. He's the first international player who brings athletic explosiveness to the equation. He can attack the rim, but what strikes me is that he's such a great defensive player." —Pacers head coach Rick Carlisle
"He's a non-stop goof guy." —Argentine star Pepe Sanchez
"Playing with Manu, it's like playing with my brother." —Teammate Tony Parker
"You can hit him in the first quarter or the fourth quarter. It don't matter. Not him. That kid ain't stopping." —Nuggets All-Star Kenyon Martin
"I wish he was on our team. He's a terrific player. I can't take anything away from him." —NBA veteran Marcus Camby
http://www.youtube.com/watch?v=iloN1RPs4n0
"What he does, when someone bodies him or puts an arm on his head, his head always flops. So then his hair goes wild, and it looks like someone just murdered him." —All-Star Ray Allen
"He's one of those guys, who, at age 50, won't be able to walk." —Sonics head coach Nate McMillan
He has a willingness to do what it takes to win, and to do it at the highest possible level of intensity, every single minute he steps on the court. – Gregg Popovich, after the 2005 NBA Playoffs
"I always played like this, unpredictable." - By the man himself
https://youtu.be/KFU-wXsRhic