Hibachi!
789 //
31 Mar 2010, 20:09 IST
"Hibachi!"
It's 2007, and I'm playing ball at the Royal Park court in Leeds. We haven't yet started a game – my friend Zyman and I are just shooting around at one of the four baskets on the outdoor court. Before taking every wild, ill-advised three-pointer, we shout out odes to our favourite basketball players, perhaps for inspiration, but mostly because its goddamn funny.
"Kobe!" says Zyman.
"Hibachi!" I shout. After nine bricks I finally score a swish. Gilbert Arenas is watching.
It's 2008. Arenas has played only eight games the whole season due to a knee injury. The Wizards play the Cavs in the playoffs, but with his skills limited, Arenas is barely able to make a difference and save his team from making a first round exit.
It's the year 2004-2007, and the world is at the height of ArenaMania. Playing in his best years with the Washington Wizards, Arenas was an All Star in all three seasons. He led the Wizards to the playoffs in 2005, 2006, and 2008, and at one point, had the team looking like amongst the best in the East. He averaged 25.5 ppg in 2004-05, 29.3 in 2006-06, and 28.4 in 2006-07. He scored a franchise record 60 points (with 8 assists and 8 rebounds) against Kobe Bryant and the Los Angeles Lakers in an overtime victory at the Staples Centre, including an NBA record 16 points in overtime. He was so ruthless in those years, that especially after that one game, Kobe friggin Mamba Bryant called him "cold-blooded".
It's now 2009 – The season that he signed a six-year $111 million contract with the Wizards – Arenas missed almost the entire season due to his injuries, and only played two games in the end.
Back to 06-07: Arenas, also known as 'Agent 0′, has made 11 of the first 13 buzzer beaters he took in the 2006-07 season, the most amazing of which were game-winners against the Bucks and the Jazz in the space of two weeks. In both situations, Arenas had the ball in the final seconds with the score tied, and in both situations, he decided to shoot a long three. And in both situations, he celebrated the basket even before it went in. Now that'sgangsta.
I can never get tired of watching this…
December 24th, 2009: It's two and a half years later, and it is revealed thatArenas had stored unloaded firearms in his locker at the Verizon Centre (the Wizards home-court). In doing so, he not only violated NBA rules against bringing firearms into an arena, but also violated D.C. ordinances as well.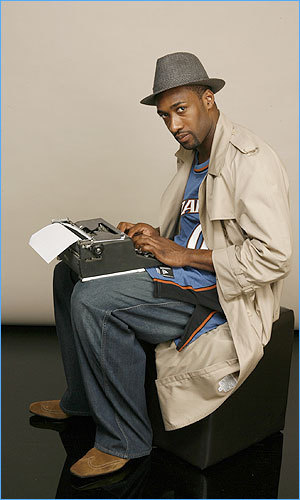 Almost exactly two years prior to that incident, Arenas is voted the best celebrity blogger by the 2007 Weblog Awards. He becomes the world's first blog superstar, and his hilarious and honest writings about life as an NBA superstar make him the most loved and approachable player in the league. He was the player's player, a fan of the game just like every fan that followed him.
Eight days after the story about Arenas having firearms in his locker, it is revealed on January 1, 2010, Arenas and teammate Javaris Crittenton had unloaded guns in the Wizards' locker room during a Christmas Eve argument regarding gambling debts. The D.C. Metropolitan Police and the U.S. Attorney's office began investigating, and on January 14, 2010, Arenas was charged with carrying a pistol without a license, a violation of Washington D.C.'s gun-control laws.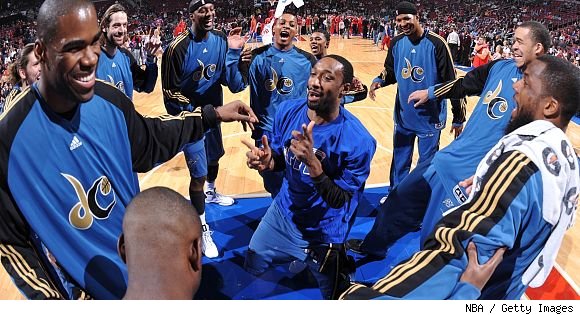 While the investigation is in process, Arenas continues to take matters lightly, and being famously photographed making finger-gun signs during Wizards pre-game warm-up.
Four years before this incident, while having a career-best season, Arenas begins to shout-out "Hibachi" every time he takes a jump shot. A "hibachi", according to Wikipedia, literally means "fire bowl", and its a traditional Japanese heating device. "In English, however, "hibachi" often refers to small cooking grills typically made of aluminium or cast iron, with the latter generally being of higher quality. Owing to their small size, hibachi grills are popular as a form of portable barbecue." The 6 foot Arenas was a little fire-bowl, ready to burn up anything that came in his way.
I'm jumping to the present now. David Stern, commissioner of the NBA, learns about "Hibachi's" shenanigans and decides to suspend him for the rest of the NBA season. He becomes set to miss 60 games in 2009-2010. The real kicker was this quote added by the commish: "Although it is clear that the actions of Mr. Arenas will ultimately result in a substantial suspension, and perhaps worse, his ongoing conduct has led me to conclude that he is not currently fit to take the court in an NBA game."
Ouch!
In February 2007, Gilbert's fans vote him in as a starter for the Eastern Conference in the 2007 All-Star Game, thus solidifying his position as one of the most popular players in the game. In July 2008, Gilbert Arenas makes his way to the Philippines, where he was damn near worshipped by the basketball-crazy fans.
Pulling a gun on Crittenton wasn't the first time that Arenas played a tasteless prank on a teammate. Go back in time a to 2005 and here comes the funniest and most shocking of recent locker room stories: Arenas actually took a shit in teammate Andray Blatche's shoes - and he got away with it!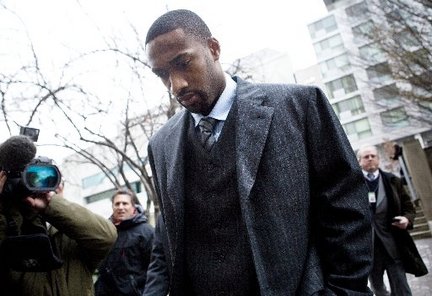 March 26, 2010, four days ago, Arenas wasconvicted of his crimes. He was sentenced to 30 days in a halfway house and two years probation.
Now, let me take you waaay back. It is 2001, the night of the NBA draft, and the talented Mr. Arenas doesn't get picked by any team in the first round. Finally, with the 31st pick, the Golden State Warriors drafted him. With a vendetta against every other team that had overlooked him, Arenas went on a destructive streak, and by the time his second season in the NBA ended, he was named the league's Most Improved Player.
In 2006, now as part of the Wizards, he wasn't picked for the USA team for the FIBA World Championships, his talents and injuries cited as reasons for him to not fit into the team model. He followed the snub with a vengeance, destroying everyone else that came in his way again for the next season.
And in 2009, after only playing 15 regular season games in the last two years, and after being written off by everyone related to the game, Agent 0 started the first two months of the new season with notable performances such as a triple double against the Pacers and 45 points in a win against his former team, the Warriors.
I'm back in 2007 now. Back at the Royal Park Court. Back shooting three-pointers with a "Hibachi" shoutout, and back turning my back to celebrate the baskets even before they go in. My inspiration is Arenas, one of my favourite players, and certainly one of the most perplexing individuals in basketball. It's difficult to like him after all the foolishness and the mistakes, and it's difficult to hate someone like him with such an explosive talent and fan-friendly personality. Maybe that's the reason why he's one of my top five nominees of current NBA players that I would like to see visit India.
He's suffered through a career of downs and each time, has answered them with succesful comebacks. It is long known that Arenas performs best when he plays with a vendetta. In about seven months, at the start of the 2010-11 season, he may have a chance to prove that again. Agent 0 is officially dead - Arenas has joined LeBron to be a #6 next season, but here's hoping that the on-court drive, the swagger, the cold-bloodedness remains the same.
Here's hoping that the Hibachi will be back on fire.