If only: the Greg Oden-Kevin Durant story
885 //
09 Jul 2011, 01:21 IST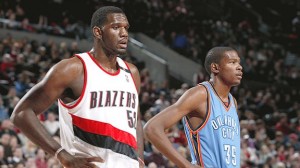 27 years back, on the day of June 19th, 1984, the Portland Trailblazers were faced with a franchise-changing decision in the game's biggest arena. And on June 19th, 1984, in Madison Square Garden, NY, the Trailblazers proceeded to make the biggest mistake in NBA history. They drafted Kentucky center Sam Bowie with the 2nd overall pick in the NBA draft, passing on highly touted North Carolina forward Michael Jordan.
Portland had managed to snap up Hall-of-Famer Clyde Drexler with the 14th pick in the previous draft and was on the look-out for a quality big man to pair with guard Jim Paxson. Because that's the right combination for a championship, right? Jordan was another wing, and questions would arise over his compatibility with Drexler and Paxson. Besides, Jordan measured 6'6 while Bowie was 7'1. They say you can't teach height. After a rigorous 7 hour physical examination, the Trailblazers decided Bowie was their man. Forget all the college injuries. He's 7'1. He's a monster. He's our savior. But what they forgot to add was that you can't teach greatness either.
Fast-forward to 2007, 23 years later. Portland held the first overall pick in what analysts termed a two-man draft. On one hand was Ohio State center Greg Oden, who had lost only a handful of games through high-school and college, the guy Chad Ford, ESPN's draft analyst termed "the next Tim Duncan". On the other hand was college player of the year Kevin Durant, whose offensive polish was lauded by scouts throughout the country. Durant was the sure thing. His offensive skills were bound to translate well to the NBA. Greg Oden, on the other hand, was a defensive minded center with big hands, a soft touch and a rare ability to make his teammates better. Higher risk, higher reward. Then again, Greg Oden was a center, measuring out to a legitimate 7 feet. Kevin Durant was a 6'9 perimeter player.
Portland had pulled off a draft coup in 2006 by acquiring arguably the two best players in the 2006 Draft, Brandon Roy and LaMarcus Alridge. Roy went on to average 17 points and 4 assists a game on his way to winning Rookie of the Year honors. Alridge showed flashes of talent backing up Zach Randolph. All the Trailblazers needed was a quality big man. Because that's the right combination for a championship, right?
Portland picked Greg Oden. He's 7 feet. He's a monster. The Portland Trailblazers will be NBA champions in 2, 3, 4 years.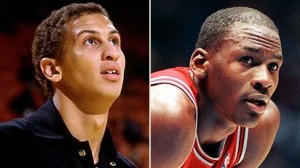 Following the 1984 draft, Sam Bowie played 76 games averaging 10 points and 8 rebounds a game. Over the next four seasons, however, injuries would limit him to only 63 games combined before being traded to the New Jersey Nets. With Clyde Drexler and star point guard Terry Porter, the Trailblazers would reach the NBA finals in both 1990 and 1992 only to lose both times. And oh, they lost to the Chicago Bulls in 1992, who were led by that 6'6 guard, Michael Jordan.
Greg Oden, superstar college center, next Tim Duncan, Trailblazer savior, had microfracture knee surgery before the start of his rookie season and missed the entire season. Microfracture surgery is considered to be among the worst for NBA athletes, often causing a reduction in explosiveness and athleticism (Grant Hill) though not all the time (Amare Stoudamire). Oden would go on to play only 82 games over his first four seasons, averaging 9 points and 7 rebounds per game.
Kevin Durant was drafted by the (then) Seattle Supersonics with the second overall pick. The Sonics immediately traded their best player, Ray Allen, to the Boston Celtics for the 5th pick in the draft, which they used on Georgetown forward Jeff Green. Kevin Durant was handed the reins to the team (who later moved to Oklahoma City to become the Oklahoma City Thunder) and averaged stellar numbers on his way to Rookie of the Year, later becoming the youngest player in NBA history to win the scoring title over a season.
In Tralblazer center lore, there is yet another story. The story of Bill Walton, Portland's no. 1 draft pick in the 1974 Draft. Walton missed most of his first two seasons due to injury, but would come back to play 65 games in the 1976-77 season, leading the Trailblazers to their first (and only) NBA championship. In the following season, he suffered from a broken foot and a host of other injuries, keeping him out of the playoffs, where the Blazers lost in the first round. He never played for Portland again, and suffered an injury ridden career afterward.
In the NBA, championships talk. Despite his injuries, Bill Walton will always be remembered as the player who brought home Portland's first NBA championship. Sam Bowie will always be remembered as the player who was drafted ahead of Michael Jordan.
Greg Oden's window for redemption has grown very small. Brandon Roy's devastating knee injury has caused a dramatic reduction in his level of play, leaving the Trailblazers with only LaMarcus Alridge to count on moving forward. While Kevin Durant is on the verge of leading his Thunder to the game's biggest stage, Oden is fighting depression and injury, trying hard to get back on the court where he's a winner, back to the place where he had not lost a home game throughout his high school and college career. Trailblazer fans are in desperate need of a way to exorcise the ghost of Bowie. But then again, it would take someone like Bill Walton to do that.
History has a habit of repeating itself. Only question is, which part of history?