Interview with Peter Divaker, Indian FIBA Referee
973 //
19 Nov 2012, 14:41 IST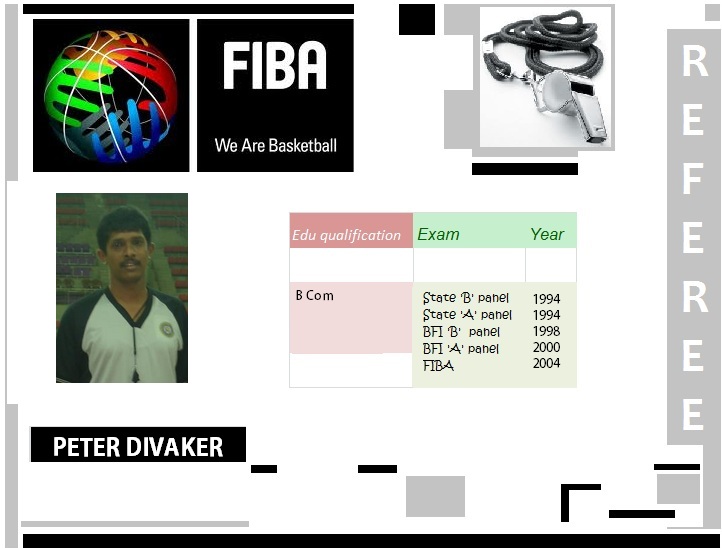 India boasts of 15 FIBA certified referees. One of the more senior ones is Peter Divaker who has been refereeing for almost twenty years. Read on to know more about one of the proponents of the game in India:
On his roots
My uncles used to play basketball. I used to just tag along. Soon I started to join them. Soon basketball became my passion. I was the caption of my school and college team. I've played youth and mini nationals and have also played for South Central Railways. These days I'm only home for about four or five months a year. Refereeing asks for a lot of travel. I still play basketball at the YMCA.
Giving back
I played for South Central Railways. I got a job through sports quota. I'm very thankful to the game of basketball. It has given me name and recognition. It has given me a job, a livelihood. And now I want to give something back to the game. Refereeing is an act of service. We serve the game. I'm thankful for being in a position where I can continue to do that.
Giving thanks
I have a lot of passion for the game. And there were a lot of people who helped me channel that passion in a proper direction.I want to thank Sampat Kumar, Norman Issac and Naresh Ajnej for helping me along my way. I also want to thank the late Mr. Harish Sharma for everything he did for the game. Basketball has made tremendous leaps forward in his time. He helped bring the NBA to India. Students were sent up to the IMG Academy to get coached. Youngsters are taking up the game more than before. Cricket is still at the top in India. But basketball is catching up.
In a thankless profession
It is true that refereeing is a thankless job. If a team wins, the opponents think that its thanks to some calls the refs made. If they lose, its again because of the calls the ref made. We referees are also human beings. We are not perfect. We can't be right all the time. Sometimes we make mistakes, I admit that. But I always do my best. We don't see the game with the point of view that fans watching on TV or on the stands see.
On the game in India
The BFI is getting more and more active at the grassroots level by conducting school and college basketball leagues. The NBA is also taking a variety of initiatives to unearth and nurture talent. Through the Mahindra NBA Challenge, the Jr. NBA/WNBA program and the new NBA 3x, the opportunities are ever increasing for the youth in India. Tomorrow will be bright for the sport in India.