Introducing NBA's Top 10 players of the Decade: 2000-2009
1.15K //
13 Dec 2012, 19:31 IST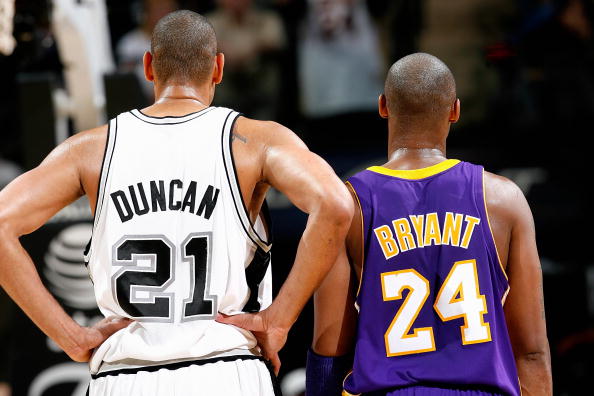 Each decade in the NBA had its own identity. An unspoken set of rules and conventions which were followed. The 2000s played host to the 'no hand check' rules which allowed perimeter scorers to run wild. The 90s had gritty, hard nosed defences where 'No blood, no foul' was a dictum. The decade thus far seems to be characterized by superteams. But only at its end will we be able to judge the outstanding feature of this decade. Perhaps Adam Silver will make some radical changes after David Stern steps down in 2013. Come to think of it, any change after David Stern would be radical.
The current crop of players, when compared to the legends of the past, invariably come up short. That is because our memories have been embellished, and as time goes by we embellish them more. We recall their performances and we raise them a little higher on the pedestal. Blake Griffin and Kyrie Irving cannot be compared to these legends on this list without coming up short. We need some separation in time, a distance which enables us to look and compare the performances of these players once they have amassed more experience in the league. To assess the legacy of a player, we need to look back at what they have done when all is said and done.
The legacy of a decade is easier to measure up. A top ten list is something which can be counted down in a matter of seconds. Compiling a list of top ten players in the NBA is a more weightier matter. When it comes to top ten players of a decade, even more so. A decade is a long time. Quantifying time in numbers gives it a false sense of brevity. Ten is just a number. A number which can be counted down on one hand. A decade is just one set of ten years. That would belittle the importance of this list. Think of it this way:
- one decade
- ten years
- 3647 days
- 820 regular season games
The last decade was very momentous in the NBA. Records were broken and new records were set. Dynasties were established and legacies cemented.  For that entire period, these players on our list were the best in the NBA, and by extension the best in the world at basketball.
The criteria for this selection may be varied. Individual success and accolades, team success, impact on the game of basketball, and a whole host of intangibles. This list was compiled by taking lists of top ten players from our writers and then taking an average of those.
To celebrate the coming new year, we will begin a count down from tomorrow to the new year, revealing the top 10 players of the 2000s one by one on alternate days. The player to whom the last decade belonged will be revealed on 1 January 2013. In case the world does come to an end before 2013, well then that would just leave us all in suspense of who came up on top of this list. But by that time, after the other players are counted down, the winner will be clear enough once all contenders are ticked off.
Watch this space for the unveiling of number 10 on our list of top ten players in the NBA for the decade of 2000-2009.