Kobe Bryant aging like fine wine
1.14K //
09 Mar 2013, 16:23 IST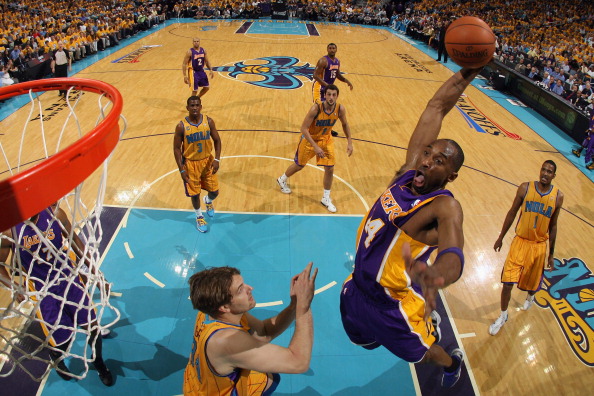 No matter how many times you watch Kobe Bryant pull off something magical on a basketball court, you just can't get enough of his big plays. Time after time, season after season, we've seen him pull rabbits out of the hat and then some. And this season has been no different for the LA Lakers' No. 24. In what has arguably been his toughest season in the NBA in a career that has spanned 17 years, Bryant is pulling out all his moves in an incredibly amazing attempt to get the Lakers into the playoffs.
As the regular season enters the home stretch, the Lakers find themselves in 9th place in the Western Conference. With last night's over-time win over the Toronto Raptors, the Lakers are now 32-31 (first time since November where they have more wins than losses) and half a game behind 8th placed Utah Jazz, thanks to the Jazz's 1-point loss to the Chicago Bulls. The Lakers began turning their season around after the All-Star break and have had an 8-3 run in their last 11 games.
And the main reason they're on the rise? Kobe Bryant.
Ever since the All-Star break, Kobe has averaged 32.8 points with a 54% field goal percentage. Not only that, it rises to 59% in the second half! Combined with 6.3 assists and 6.3 rebounds per game, he has hit a purple (and gold) patch at just the right time for the final push.
Last night's monster performance of 41 points and 12 assists will only improve that tally further. He scored 19 of those in the fourth quarter and over-time. It was his clutch 3-pointers under pressure and from tough angles that helped reduce an 11-point deficit to force the game into overtime. The performance was topped off by shrugging off a double team blitz and driving to the rim for a double handed slam! The performance made him the second oldest player to score more than 40 points in a game (after Larry Bird). And until 2 games ago, he'd never finished with 40 points and 12 assists. Ever!
All this, after he suffered an ulnar nerve contusion of his right arm two days ago. You could see that he was suffering a bit. The elbow sleeve restricted his movement as he was seen dribbling more with his left hand than with his right. But that didn't stop him from scoring more than 40 points in the last two games (42 points against the Hornets). Steve Nash was as amazed as anyone else, "He has been unbelievable and milking him has been a beautiful thing."
What an incredible game!! The team played great down the stretch. @kobebryant played out of this world, BIG SHOT after BIGGER SHOT!! #vino

— Pau Gasol (@paugasol) March 9, 2013
Kobe has always been competitive. He's even reverted to a stricter diet to regain his athleticism and spent a lot of time with the team physiotherapist to be ready for games. His confidence and attitude in doing everything he can to get the team into the playoffs seems to have rubbed off on his teammates. Although the defence isn't up to the mark yet, the Lakers have been re-energized into a fighting unit and are not willing to give up until the final buzzer.
Last night's performance probably doesn't even come close to his 81-point performance against the Raptors in 2006. But the timing of this effort is what counts here. Coach D'Antoni probably summed it up when he said of Kobe, "That's why he's an all time great!"
The nickname of 'Mamba' has recently given way to a new classier and more astute one – 'Vino'. It translates to wine. And the best thing about wine is that it gets better with age. Just like Kobe Bryant has.
— Kobe Bryant (@kobebryant) March 9, 2013
-Stats from NBA.com and @Lakers