LA Lakers beat Brooklyn Nets in a close contest
742 //
21 Nov 2012, 13:50 IST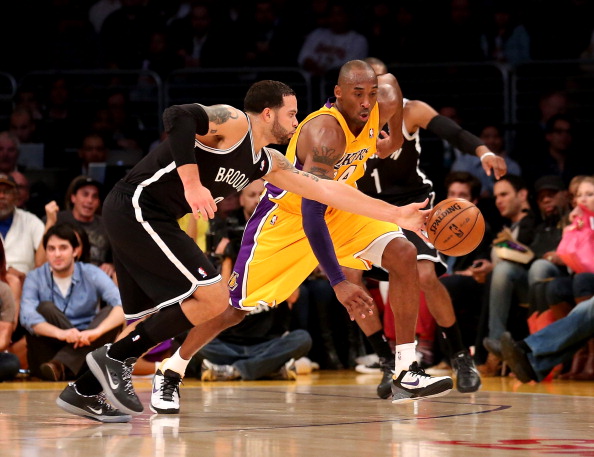 The return of Mike Brown! Or so the game tickets would have had us believe. I feel for the poor fans who came in all excited at the prospect of watching Mike Brown. Tickets featured Mike Brown on them instead of new coach Mike D'Antoni. This match marked the debut of D'Antoni and the Lakers celebrated with a win.
The LA Lakers beat the Brooklyn Nets 95-90. In a game that was close throughout and where the Nets led for quite a while, the Lakers were able to pull away on a pair of free throws by Bryant. With 13 seconds left in the game and Nets down 88-91, Deron Williams sunk a pair to pull the Nets within one, and then in a confusing scrimmage, the Lakers almost gave up the ball before Kobe was finally fouled. Kobe made the second free throw while carrying on a conversation with Gerald Wallace. Mamba, cold as ice made both free throws.
In the first quarter, as Kobe drew his 2nd foul, coach D'Antoni waved him to be subbed, and Kobe waved him away as if to say "Naw, I'm good." Maybe when Nash comes in, there will be more influence of Mike on Kobe.
Dwight Howard seemed back to his old jolly self, He scored 23 and had 15 rebounds vs a team who almost traded for him. Watch him goaltending a Williams shot and then dancing and strutting towards the bench as the officials did not call it goaltend.
Kobe Bryant had 25 points and 5 assists. Apparently he spent the offseason being bombarded with the 'Kobe can't pass' memes. He's been averaging over 5 assists per game this season. A welcome sight was watching Pau Gasol go to work. Both Gasol and Bryant had 15 shot attempts in this one.
The game wouldn't have been so close if the Lakers had not missed 18 free throws. Largely thanks to Howard going to the line 19 times and only making 7 freebies. He also threw in an airball. The Nets got good games from Deron Williams, 22 points, and Brook Lopez with 23 points. Deron Williams had his way with rookie Darius Morris as both Steves, Nash and Blake were out with injuries. Brook Lopez has averaged 26 points vs the Lakers in their last four meetings. In spite of good games from these two, the Nets couldn't close it out down the stretch.
Pau Gasol and Metta World Peace both had 17 points. Metta almost got ejected. Well, he would have if Avery Johnson had retaliated when he was justified to have:
Sonning is what that's called. Pau Gasol tried that with Chris Paul and got sonned right back. This win is one of the highlights of the Lakers season thus far. Finally they have climbed over .500 by making their record 6-5. It's scary how good they can be once Nash returns.