LeBron James has achieved so much in his career that he is seen by many as the greatest of all time, or at least the only player worthy of being mentioned in the GOAT conversation next to Michael Jordan. Bridging the gap between Jordan and LeBron though was Kobe Bryant, who often gets left out of comparisons and GOAT conversations. Should his name be mentioned more though? Can he compare to LeBron or is The King too far past The Black Mamba in historical rankings already? Here's the in-depth breakdown of who really is the better player and who has left the greater legacy.
Loyalty and Importance to City
Kobe Bryant played his entire 20-year career with the Los Angeles Lakers, and he finished his career with one of his best and most iconic performances ever - a 60-point outburst to lead a comeback win over the Utah Jazz in front of an overcrowded, star-studded Staples Center. Nobody in the history of the NBA has had such a big show for their farewell game, and it's largely due to Kobe's relationship with the city of LA. As a true superstar who never played a single game for another team and delivered five championships, his legend is elevated even higher than a player who has bounced through a few different teams. The people of LA love Kobe like fans could only love a player who never wore another uniform.
•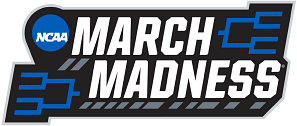 LeBron James has played now for three different teams, and split his time in his home town between two different stints. While LeBron hasn't played all of his basketball in Cleveland, his relationship with his home state of Ohio is incredibly strong, as evidenced by the raw emotion when he finally delivered on his promise of delivering Cleveland a championship. The charity work - most notably his I Promise School in Akron - which LeBron has contributed to the city of Cleveland has made him as beloved in Cleveland as Kobe was in LA. LeBron, from Akron, Ohio, has the advantage over Kobe in this argument of being a local product, but Kobe gets the still points over LeBron in this argument. A lot of Cleveland fans were upset, mad, spiteful, and showed pure hatred towards LeBron when he left for Miami. All was forgiven when he returned four years later, but nothing was forgotten. Advantage Kobe.
Raw and Advanced Stats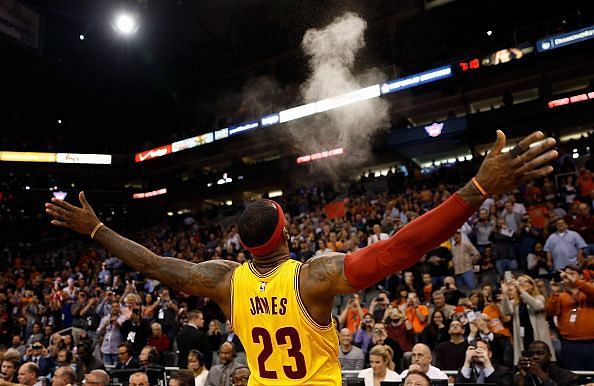 LeBron James career averages: 27.4ppg, 7.2rpg, 7.4apg, 1.6spg, 0.8bpg, 50.4 FG%, 34.5 3FG%, 73.8 FT%, 3.5 TOs
Kobe Bryant career averages: 25ppg, 5.2rpg, 4.7apg, 1.4spg, 0.5bpg, 44.7 FG%, 32.9 3FG%, 83.7 FT%, 3 TOs
Based on career averages, LeBron James is clearly the better player at both ends of the floor; Kobe only betters him in free throw shooting percentage and turnovers. This comparison is unfair, however, as Kobe's career averages aren't reflective of who he was at his best. His career averages account for his last four years which were ravaged by injuries and playing on a team which was tanking. It's also important to remember that while Kobe took several years to adjust to the NBA after being drafted at age 16, LeBron received MVP votes in his first year. A more accurate comparison would be looking at the best 14-year stretch for each player.
This comparison accounts for LeBron's entire career besides his first two seasons. For Kobe, it excludes his first and last three years in the league, which means it accounts for all of his 16 legitimate all-star appearances.
LeBron James 2005-06 - 2018-19: 27.7ppg, 7.5rpg, 7.3apg, 1.6spg, 0.8bpg, 51.4 FG%, 34.7 3FG%, 73.7 FT%, 3.5 TOs
Kobe Bryant 1999-00 - 2012-13: 27.8ppg, 5.7rpg, 5.2apg, 1.6spg, 0.5bpg, 45.5 FG%, 33.6 3FG%, 84 FT%, 3.2 TOs
It's a closer comparison this way, but LeBron still has the clear advantage overall. While scoring the same amount of points, LeBron has consistently been a better passer and scored much more efficiently through his career.
Through the exact same time period, LeBron also smashes Kobe in advanced stats. Player efficiency rating - where LeBron ranks second all-time behind Michael Jordan - true shooting percentage, win shares per 48 minutes, box plus/minus and value over replacement player are all clearly in LeBron's favour. Kobe claims a slightly better usage rate, but that isn't a good thing given his below average shooting percentages.
LeBron James 2005-06 - 2018-19: 28.6 PER, 59.7 TS%, 32.0 USG%, .253 WS/48, 9.8 BPM, 115.3 VORP
Kobe Bryant 1999-00 - 2012-13: 24.1 PER, 55.6 TS%, 32.5 USG%, .190 WS/48, 4.7 BPM, 68.5 VORP
All stats have been taken from Basketball Reference.
Championships
5 > 3.
This one should be pretty straightforward, but it isn't. Kobe does have two more championships, but he was also playing Robin to Shaq's Batman for his first three. Not to discredit Kobe's achievements, because he was still a vital cog in each of his first three championships, but the fact that Shaq was carrying the team in an era when the center position ruled the league can't be ignored. LeBron would have probably won championships as a young player too if he was paired with an all-time legend when he was a teenager.
LeBron has won three championships, and was clearly the best player and Finals MVP in all three title runs. He has also faced tougher competition throughout his career, and might have matched Kobe's ring count by now if not for Kevin Durant overpowering the Warriors.
Kobe silenced the doubters who said he couldn't win without Shaq when he won back to back championships in 2009 and 2010 with a supporting cast led by Pau Gasol, Andrew Bynum, and Lamar Odom. Kobe had help from Shaq to win his early rings, but he had less help than LeBron to win his last two. LeBron in Miami had Dwyane Wade and Chris Bosh, in Cleveland it was Kyrie Irving and Kevin Love.
What a shame we never got to see them go head to head in The Finals.
Other Playoff Runs
Kobe has more rings, but LeBron is a more complete playoff performer. He hasn't been able to catch Kobe's championship count yet despite many tries, but should LeBron's six finals losses really be held against him?
The worst argument anyone uses when disrespecting LeBron is that he has lost in the finals six times. Sure, that stat isn't ideal, (and one specific loss was a big black mark on his career, but more on that later) especially when Kobe only lost in the finals twice, but why is losing in the finals worse than losing in the first round, or not even making the playoffs? We don't shame our Olympians when they bring home silver medals, in fact we celebrate them.
The East is typically weaker which is another excuse anti-LeBron people use, but that doesn't discount the fact that LeBron has continually for eight straight years whooped every single Eastern Conference playoff opponent he has faced.
In 15 full NBA seasons LeBron has:
Missed the playoffs twice (his first two years in the league, finished ninth in the East both seasons).
NEVER lost in the first round.
Lost in the second round three times (all in his first stint in Cleveland, Zydrunas Ilgauskas his best teammate through all of these runs).
Lost in the Conference Finals once (also in Cleveland next to Ilgauskas).
Lost in the finals six times.
Won three championships.
In Kobe's 14-year stretch referenced earlier, he:
Missed the playoffs once (34-48 record after making the finals the year earlier, the only major difference being Shaq no longer on the team).
Missed one playoff run with injury (2012-13 after tearing his achilles in the famous Dwight Howard year, San Antonio defeated them in the first round, would have knocked them out even if Kobe had played).
Lost in the first round twice (the two years directly after missing the playoffs).
Lost in the second round three times.
Lost in the finals twice.
Won five championships.
LeBron clearly has an advantage in this department as he never lost in the first round, hasn't missed the playoffs since he was a teenager, and regularly advanced further than Kobe. Losing in the finals is unfortunate, but it's categorically more impressive than not making it.
All-time Greatest Highlights
How do you decide who has a better highlight reel among two of the most entertaining players of all time? Here is a top seven for each player, but keep in mind each player has dozens of plays which could make their top few.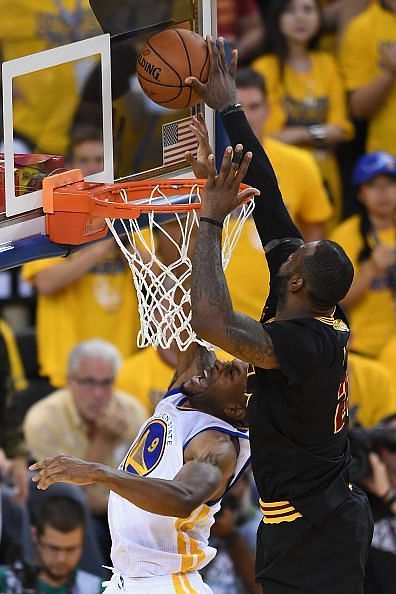 LeBron James
Chase down block on Andre Iguodala late in game 7 of the 2016 Finals.
Game-winning three in the Conference Finals against Orlando.
Bone-crunching slam dunk over Jason Terry.
Young LeBron scores Cleveland's final 25 points to force OT and go on to defeat Detroit in the 2007 playoffs.
Eclipsed 50 points in a 2018 Finals game.
Nails the game-winning bank shot as time expires against Toronto in the 2018 playoffs. Just one highlight in a string of many against a team he constantly crushed in the playoffs.
Baseline cut and dunk over the top of John Lucas III.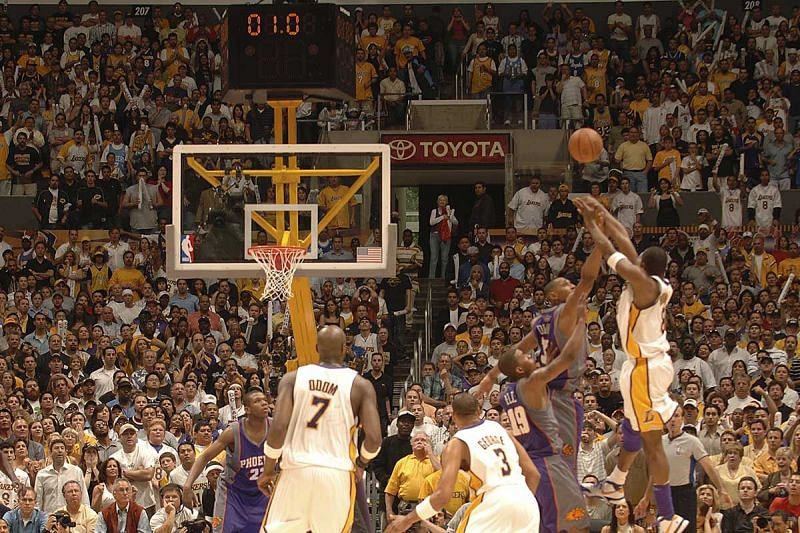 Kobe Bryant
81-point game.
60 points in his farewell game to secure a miracle win over the Jazz
Game-tying floater to send a playoff game against Phoenix to overtime, followed by a game-winning jump shot as time expires to win the game.
Bank-shot three as time expires to beat Miami.
62-points without playing in the fourth.
Dunk over the head of rookie Dwight Howard, Kobe's future teammate, but not friend.
50 points in four consecutive games.
There can't be a clear winner here in this argument. They are two of the best highlight players in the history of the game, and trying to rank one ahead of the other is lunacy. Settle in, watch hours of YouTube and come to your own conclusions about who has had more legendary highlights.
Lowest Career Moments and Permanent Black Marks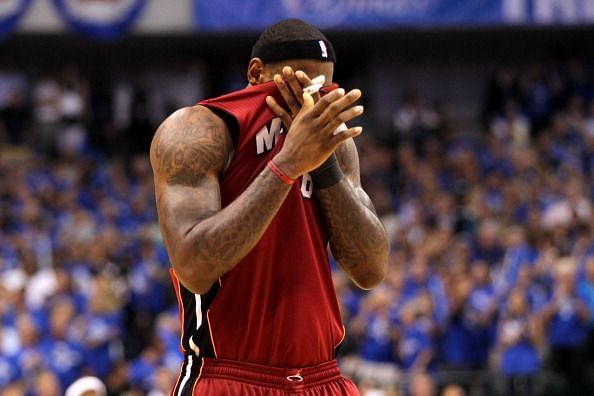 Each player has at least one major criticism which can be held against them. LeBron fans will always point out Kobe missing the playoffs after Shaq left LA, while Kobe fans will mention that Kobe never would have lost in The Finals as many times as LeBron. Which fandom is making more sense? Is it neither? Does one player have more stains on his career than the other?
Missing the playoffs after losing Shaq, feuding with Shaq and not fixing their relationship, being a perceived ball-hog, and high-profile off-court issues are among Kobe's biggest black marks.
LeBron's black marks are headlined by too many losses in The Finals, playing terribly in the 2011 Finals against Dallas, poor free throw shooting, and 'The Decision'.
Kobe missing the playoffs highlights his inability to do what LeBron has done year after year - and that something is carry mediocre teams. LeBron took mediocre teams deep into the playoffs - even all the way to The Finals - while Kobe never got his worst teams past the first round.
Kobe needed fellow superstars to succeed more than LeBron has or ever will. Feuding with Shaq seems like an interesting to call a black mark on his career, but it is a reality. Tim Duncan and Gregg Popovich made their relationship work and they won five championships together in a 20-year run. How many could Shaq and Kobe have won together if they had found a way to co-exist for ten or more years?
For LeBron, his first year in Miami made him the most hated player in the league and his legacy had to take one step back before it could take ten steps forward. LeBron entered Miami as the most hated man in Cleveland, and that feeling spread to the rest of the league when he announced his free agency decision with a half-hour TV special. After arrogance throughout the season, LeBron disappeared in The Finals and lost to Dallas in six games. It will forever be the championship that got away from The King.
Kobe's black marks leave slightly more of a stain than LeBron's do, as his shortcomings show him and his team in a much lesser place than LeBron.
Career Accolades
LeBron James:
4x MVP, 14x All Star, 3x NBA Champion, 3x Finals MVP, 12x All-NBA first team, 2x All-NBA second team, 5x All-Defensive first team, 1x All-Defensive second team, 1x scoring champion, Rookie of the Year.
Kobe Bryant:
1x MVP, 18x All Star, 5x NBA Champion, 2x Finals MVP, 11x All-NBA first team, 2x All-NBA second team, 2x All-NBA third team, 9x All-Defensive first team, 3x All-Defensive second team, 2x scoring champion.
So, which is the better-looking resume? Kobe has the extra championships, but, as has been the case for most of this analysis, LeBron has topped him nearly everywhere else. Kobe has had more team success, but LeBron has seen much more success as an individual with his four MVP awards. Kobe gains an edge with twice as many all-defensive selections including four extra first team selections. LeBron in his prime was an incredible defender thanks to his athleticism and size, but his defensive prime didn't last long; Kobe's defensive work ethic made him one of the best defenders of his era.
Kobe's resume looks better right now, but LeBron will most likely surpass him as he continues making all-star teams, all-NBA teams, and he might even have room on his trophy cabinet for another MVP award or championship ring.
Overall Impact to Team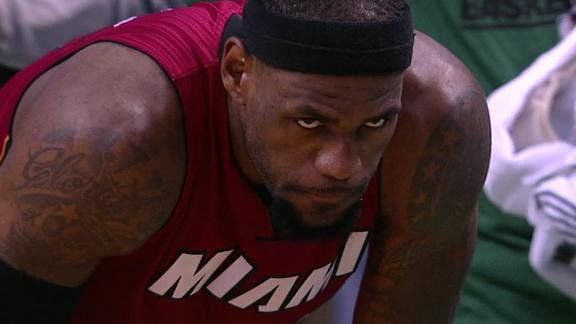 This one is pretty simple to me; the advantage is heavily in favour of LeBron James.
Kobe missed the playoffs after losing Shaq, and played second fiddle to Shaq for three of his five championships. Kobe's impact was limited when he didn't have superstar players next to him. For the three years in between Shaq's departure and Pau Gasol's arrival, The Lakers missed the playoffs once and then lost in the first round in consecutive years. LeBron has never relied on good teammates as much as Kobe. When Kobe had bad teammates, he missed the playoffs, when LeBron had bad teammates, he made deep playoff runs. It sounds like a broken record, but it's all true. Look at this year's woeful Cleveland Cavaliers, or the Cavs after he departed for Miami, if you need any more evidence of the impact he directly has on his team.
None of that is to say that Kobe didn't impact a team, but he didn't instantly lift a team to incredible heights all on his own. There is no shame in needing other good players to win games, it's just that LeBron was able to go slightly further with less supporting pieces. LeBron also needed great players alongside him to make his deepest playoff runs, just as any player does regardless of their greatness.
Kobe impacted a game by heading into every contest wanting to score 50-plus points and make a game-winning shot. He wanted to do it all himself, on both ends, and there was nothing wrong with that because he could do it. Kobe regularly won games from his own wrist, he even did right until his final game as a Laker. His killer instinct might have been his deadliest weapon.
LeBron approached the game in a more unselfish way. I don't believe Kobe was a selfish player, but LeBron is definitely more unselfish. LeBron could be a scoring champion again if he wanted to be, but he has recognized he helps his team the most when he plays as a distributor to get his teammates wide open shots. He can still score with the best players in the world, but he has a passing game to make Magic Johnson blush and he uses that to best impact a game. His unselfishness routinely elevates average player to become good and even great players.
Basketball Skillset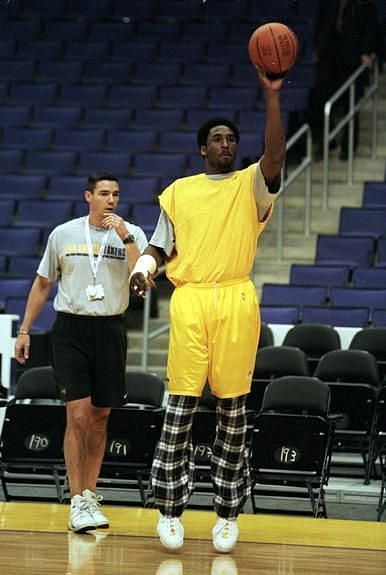 This is a simple comparison, which player was actually a more skilled basketball player? Forget about what they have achieved and what they have done wrong in their career, and think no further than the things they can do with a basketball.
LeBron is an incredible scorer, but Kobe clearly holds the scoring crown between these two. Kobe registered 40-plus points on 134 occasions during his 20-year career, a number which is only topped by Michael Jordan (211) and Wilt Chamberlain (284). His 81-point game against Toronto in 2006 tops the list, but he had six other games with 60-plus points, and another 20 with at least 50 points. LeBron's career-high 61 points is his only game eclipsing 60; he has scored 50-plus on 12 occasions including once in the finals, and 40-plus another 78 times. LeBron has added a more consistent three-point shot than Kobe had, but Kobe didn't need the three-point shot in the mid-2000's the same way LeBron needs it now. Kobe copied the MJ fadeaway perfectly, but LeBron has invented his own fadeaway which has become one of his best weapons, he sometimes gets in a zone with it and starts throwing up deep fadeaway heat-checks.
The passing game is where LeBron gets a jump on Kobe, but not by much. Kobe had the ball-hog reputation for a few years when he had terrible teammates - a fact which he admitted himself - but there was never a question of how good he actually was at passing. He could thread the needle and find shooters, cutters or dunkers at any moment, but why would he when he was Kobe Bryant and his fellow starters were Smush Parker and Kwame Brown? Kobe showed his unselfishness and incredible passing skillset next to good teammates such as Shaq, Eddie Jones, Rick Fox, Pau Gasol, Ron Artest, Lamar Odom and Andrew Bynum. Still, LeBron clearly outdoes Kobe here; LeBron not only makes flashier passes, he does it more often and consistently whips incredible passes to his wide-open teammates while never doubting them to make their shots; his assist numbers aren't routintely high for no reason.
Before we finish with this section, Kobe's legendary work ethic must be mentioned. LeBron works as hard as anyone to improve and keep his body in shape, but he also preserves himself on defence and in the regular season to some degree. Kobe never preserved himself at either end of the floot, he gave 110% every single time he stepped on the court and had the best work ethic maybe of any player to ever play the game; nobody besides Michael Jordan can match his desire to do whatever it takes to win. Everyone has heard the stories; Kobe waking up trainers at 3am to workout with him, rocking up to the gym in his pyjamas and with a hand on his cast (pictured above), the list goes on endlessly.
So who is the more complete and better overall player based on nothing more than their talents? LeBron gets my vote thanks to his Magic Johnson-like passing skills which have helped him to a career average of 7.4 assists per game. Kobe could pass as well as the best when he needed to, and LeBron could score polarizing totals each night if he took his focus away from being unselfish, but overall LeBron is a more efficient player thanks to his phenomenal decision-making.
Legitimate Excuses and What-if Scenarios
Every all-time great player has a hoard of fans screaming out their excuses for not winning more rings, or more MVPs, or scoring more points etc. For the most part they are right, because a lot of luck goes into an NBA career. Again, using Tim Duncan as an example, Duncan had luck on his side by being drafted to the Spurs alongside other Hall of Fame players and coaches. Take a look at the best legitimate excuses for each player.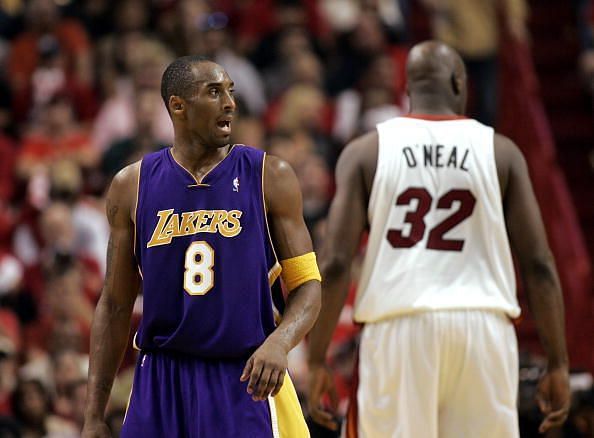 Kobe:
Bad teammates for several years in the middle and towards the end of his career.
Shaq's departure while both players were in their prime.
Chris Paul trade vetoed by David Stern for 'basketball reasons'. Whatever that means.
The Dwight Howard situation.
LeBron:
Bad teammates for his entire first stint as a Cavalier.
Injuries to Kyrie Irving and Kevin Love during a championship run in 2015.
The second-best player in the world joining forces with a 73-win team just to beat him.
Poor coaching throughout both stints as a Cavalier.
Overall, LeBron's list of legitimate excuses directly impacts his finals record and total resume more than Kobe's. Shaq's departure was the worst thing to happen to Kobe's career if he wanted nothing more than championships, but it did allow him to win two rings as the best player on the Lakers. Also, Shaq leaving wasn't bad luck as much as it was Kobe's fault for playing a role in driving him away. Kobe only suffered three years of bad teammates in his prime, his career was ravaged by injuries by the time the Lakers started their rebuild after Dwight Howard's fabled season with the team. The Dwight situation was painful for Kobe, but the reality is that team just wasn't championship calibre, Kobe was still a superstar but there were better teams, including LeBron's Heat. The vetoed Chris Paul trade will always be the biggest bout of bad luck for Kobe, especially now seeing how Paul was able to fit next to James Harden in an MVP season. Kobe has his excuses, but the NBA has also admitted to rigging the league during his early title runs, so let's not forget that when discussing Kobe's 'bad luck'.
LeBron's list of excuses effect his championship count much more directly. He should have won at least one championship in his first run with Cleveland, but he never had championship-standard teammates. He should have won at least two in his second stint in Cleveland too, but he had to fight without Kyrie Irving and Kevin Love in the 2015 Finals and then had to contest with the greatest NBA team ever assembled in 2017 and 2018. Through both stints as a Cavalier he not only dealt with bad teammates, but terrible coaches, too.
While Kobe didn't get a full career with Shaq, he got more luck by having Shaq as a teammate for a few years than LeBron ever had in Cleveland. Of course, LeBron found his good luck in the form of a four-year run with Dwyane Wade and Miami. Still, overall, Kobe was blessed with a lot more luck throughout his career than LeBron was, and LeBron was handed more adversity.
What if everything had gone right for the superstars? How many rings would Kobe have won with Shaq if they stayed teammates? Would Kobe have ever won Finals MVP? Would he have won one or more championships with Chris Paul?
And what about LeBron; could LeBron have won a championship before he won with The Heat if he had better teammates in Cleveland? What if had good teammates and a good coach? Would Cleveland have won The Finals in 2015 if just one of Irving or Love was healthy? If KD never joined the Warriors, could LeBron's Cavs have won two or three instead of just one?
Conclusion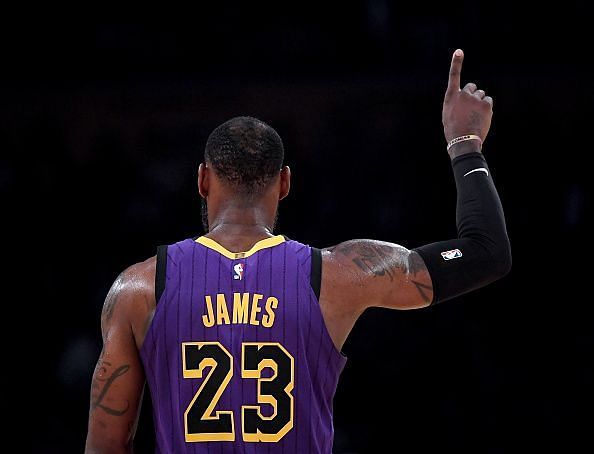 So, who is the greater player? The overwhelming answer is LeBron James, whose story is still being written.
LeBron has fewer rings, but has faced greater challenges and showed more individual brilliance in his three than Kobe did in his five. Basketball is a team game, after all, and Kobe can't receive pure praise for all his rings if LeBron has to shoulder all of the blame for his Finals losses. Shaq's presence as a part of Kobe's first three championships isn't something to personally hold against Kobe, but the fact is pretty clear that Kobe wasn't the alpha on that team; Kobe missed the playoffs after Shaq left for Miami and didn't make it out of the first round the next two seasons.
Kobe's legendary scoring ability and all-round game make him comparable to Michael Jordan, just not as talented or accomplished. LeBron's size and generational passing ability paired with his scoring and team-first approach make him like a version of Magic Johnson with 30-foot range, an unstoppable mid-range fadeaway, and an even better ability to finish at the rim.
While both players had incidents and narratives that threatened to hurt their careers, they both moved on and improved their flaws. Kobe was always improving his passing and became a double-digit assist guy after his body starter failing him later in his career. He heard the criticism about not being able to win without Shaq, and he went out and won two more rings. LeBron was labelled as not clutch, and unable to win a championship after the 2012 Finals loss to Dallas, but he proved the doubters wrong and now has three rings. As for not being clutch, that narrative has been dead for a long time - LeBron has nailed five game-winning buzzer beaters in the playoffs alone, and he hit two just last playoffs.
The general consensus now is that LeBron James is better than every basketball player who ever lived and is not named Michael Jordan. Kobe, however, sits slightly lower down the list below other legends such as Kareem Abdul-Jabbar, Magic Johnson and Larry Bird. It's hard to disagree with this consensus opinion based on the facts. Bill Simmons, author of The Book of Basketball and editor in chief of The Ringer - ranks Kobe eighth in his all-time rankings from the 2009 book, while a fifth-year LeBron already ranks 20th.
It's hard to split two of the all-time greats when their list of achievements and highlights reach the length of Kobe and LeBron's. All things considered, though, LeBron officially overtook Kobe when he defeated the Warriors for his third championship in 2016 and he hasn't looked back since, he's only kept climbing that list on his way to MJ at the summit he may never reach.
Now that you've read this comparison, do yourself a favour and watch some YouTube highlights of these legends. Who do you give the edge to?