When the baller is stuck on an island, face-to-face with the defender, with no help in sight and the shot-clock winding down, does he look to pass the ball or put on an exquisite display of isolation offense on his way to the rim?! That is what differentiates an extraordinary Iso scorer from the rest of the roster.
It requires elite level control and ball-handling skills to leave the defender grasping on thin air. One-on-one plays are usually a result of bad rotation and/or stagnant transition offense and end up putting the onus on an individual playmaker to bail the team out of a bad possession by conjuring something out of nothing.
It's a delight for the crowd to see such encounters but a nightmare for the coaches on either side.
•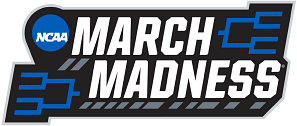 The men who grace the following slides are some who are blindly trusted by their team and their respective coaches to take the initiative and produce highlight plays on their own. They rely on their skill-set to make the appropriate move to get by the defender and free themselves for a bucket scoring position.
Let's go through these offensively proficient individuals who reinvented isolation plays.
---
#10 Kyrie Irving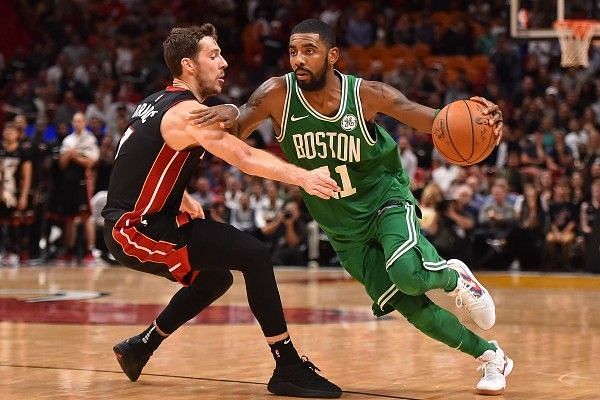 Stats: 3.7 ppg on 44% shooting, 1.04 points per possession
Kyrie Irving has solidified his position as one of the best if not 'the best' ball handlers in the ever-so-competitive league. His handles have been lauded by all-time greats such as Gary Payton and Allen Iverson, and there's no debate on the fact that his ability to finish at the rim with an adept use of the backboard is second to none.
The dagger three-pointer from the right wing in the 2016 Finals facing Steph Curry eye-to-eye when the game, the Finals Series and the Championship hung in the balance, gave the world a taste of this man's confidence in his individual isolation play.
His left knee ruled him out for the entire playoffs schedule this past season but the Celtics made it to the East Finals anyways.
It's horrifying to imagine what Boston would be capable of in the coming season with a fit Kyrie at their disposal at all times, but that is IF he chooses to stay with the franchise.
#9 Austin Rivers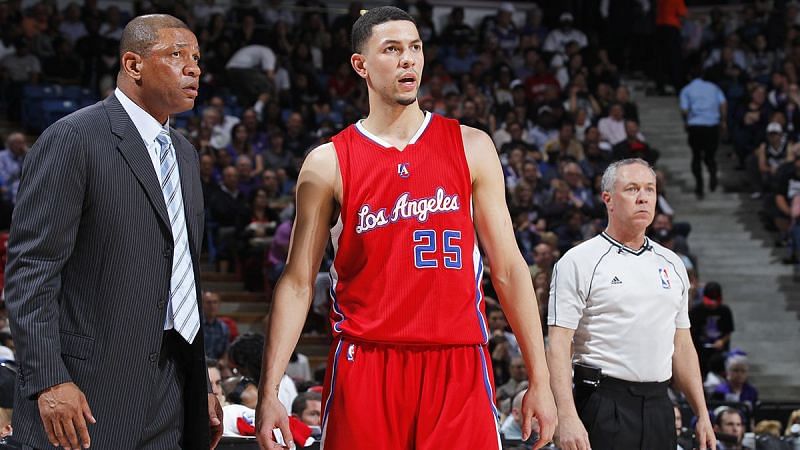 Stats: 3.7 ppg on 44.3% shooting, 1.06 points per possession
When Doc acquired Austin Rivers in 2014 from New Orleans, it was nepotism at its finest. But over the years, he has managed to overshadow his roots in the league and has developed into a legit point guard for the Clippers as the spotlight shifted from the Griffin-Paul duo.
Starting out as one of the worst players in the league while playing for the Hornets, Austin Rivers has worked on his game A LOT ever since.
His shooting percentages have improved gradually and his confidence to take the 10th shot without hesitation even after missing 9 straight, is one rarely seen in the NBA. His smooth crossovers at the perimeter and slick ability to create drive-in lanes, taking contact on the way and still have the body control to finish at the rim all at once, make up a lethal package for any offense.
Although inconsistent on offense, Rivers had a bunch of pretty solid games for Los Angeles scoring 20+ points on 12 occasions, and 30+ points three times. Despite missing 21 games due to a concussion and right Achilles tendon injury, he had arguably the best season of his career in 2017-18.
#8 Kevin Durant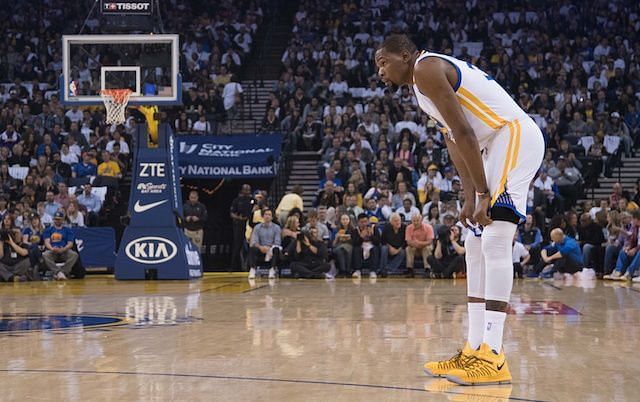 Stats: 3.8 ppg on 44.7% shooting, 1.06 points per possession
Kevin Durant is an offensive monster. That's a fact!!
His near-seven-foot long thin frame has been defying all dynamics of physicality on the court, dribbling and going past defenders, only to emerge at the zenith before throwing the hammer down. His outside shooting is fueled by his tall frame which enables him to go for the jump shot whenever and from wherever he decides to.
There's really nothing much that a defender can do to put an end to his offensive barrage. He can dribble the ball down the court on his own, make the right pass, create drive-in lanes and rebound, all at the same time and in one possession if required. In December, when Curry was sidelined 11 games with a sprained right ankle, Durant averaged 28.8 points on 46.5 percent shooting, 5.4 assists and 8.2 rebounds to propel the Warriors to a 9-2 record, proving that he actually doesn't need a legit ball handler to run the offense. He can do so on his own.
He has always been poked for being an unrivalled iso scorer but not so good a leader. But the list here cares all about his isolated offensive abilities, and in that domain, he is at par with all that's required.
#7 Harrison Barnes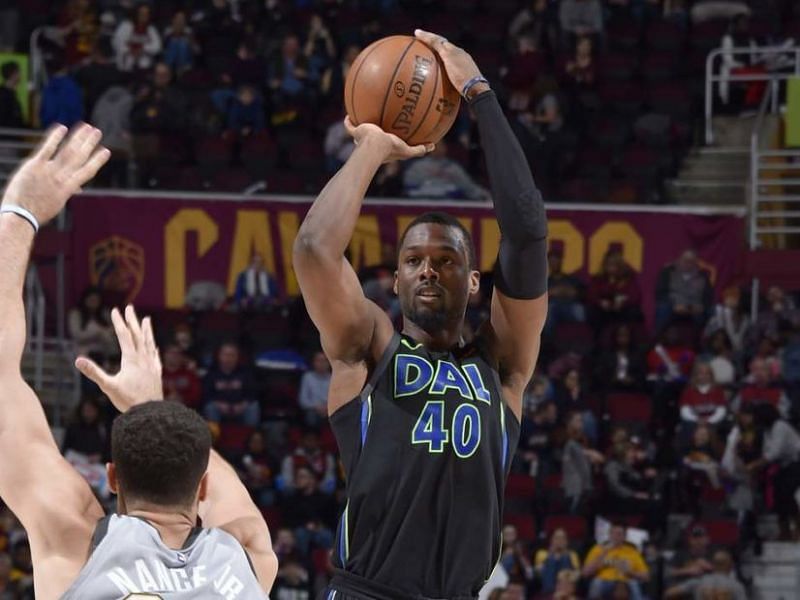 Stats: 4.0 ppg on 44.3% shooting, 0.96 points per possession
Harrison Barnes is one of the most lethal offensive weapons to have on your roster when going against any team. Throughout his first two seasons with the Mavericks, he has grown in dramatic fashion at the post and in isolation.
Midway through the season, Barnes and Mavs coach Rick Carlisle watched film regularly and came to a fairly simple mathematical conclusion. That two is always better than three.
They discovered Harrison had been taking too many long jumpers just inside the arc, rather than taking a step back and receiving 50% more on his labour. He stuck to this realisation and worked on his jump shot for better returns on offense.
The league is starting to revolve around players who can shoot a three pointer off the dribble, and if Barnes can incorporate this less-grinding and less-pounding way of playing into his game, he will surely see astronomical growth on the path of which he has already begun.
#6 Russell Westbrook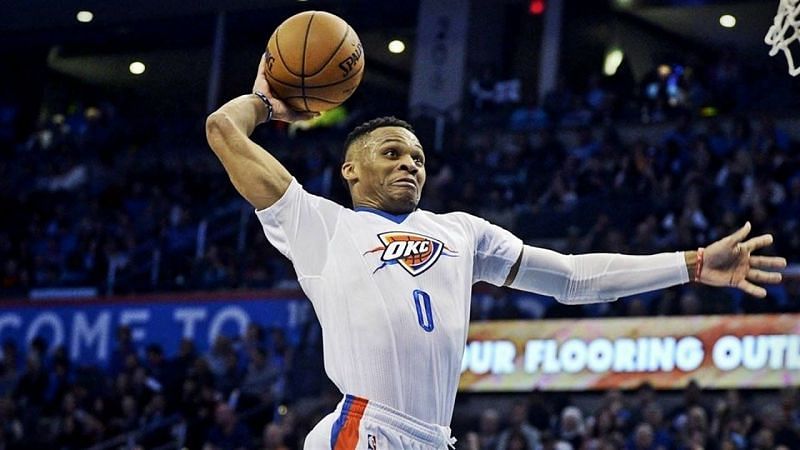 Stats: 4.1 ppg on 36.4% shooting, 0.82 points per possession
Westbrook's athleticism and ability to accelerate amid traffic is superhuman. Anything he does, from driving to the basket, to running around a screen for a mid-range jumper is done at a blistering pace and intense energy at the same time. His ability to gun for mini loopholes and/or spaces and/or clear paths to the basket is meteoric.
His isolation game stands out in the vast ocean of ball-handlers owing heavily to the fact that he brings the ball up the court around 63 percent of the time when he's in the game for the OKC. He accounts for 46 percent of Oklahoma City's potential assists.
What keeps Westbrook away from leaving an indelible mark on the NBA landscape even after averaging triple-doubles in consecutive seasons and winning MVP, is the harsh reality that he is ineffective & offers nothing when he doesn't have the ball(keeping the off-ball movement of Curry and Thompson in mind).
#5 Damian Lillard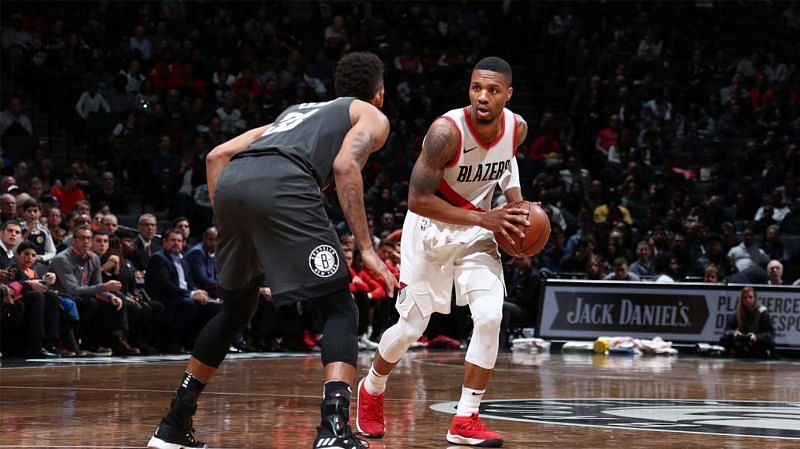 Stats: 4.2 ppg on 41% shooting, 1.06 points per possession
Dame is arguably the best closing point guard in the league. He is the go-to guy for the Trailblazers to make clutch plays at the end when the clock is dying and the ball-game hangs in the balance. Closing games has been his forte ever since 'Dame time' caught the spotlight.
We saw a glimpse of his potential greatness in February which was filled with Big Game Dame performances, as he averaged a franchise-record 31.4 points for the month.
One of the typical Lillard-styled nights came on March 6 against the Lakers when Portland was down 6 with 4 minutes remaining in the game.
And guess what, the guy caught fire. Lillard cashed in on four straight 3s as nineteen of his total 39 points came in the final frame. Portland won 108-103, continuing the franchise's longest win streak (seven games).
Dame takes over the game when most players are about to wrap up. No team can ever sleep on this man until the scoreboard shows 48 minutes of playing time completed.
#4 John Wall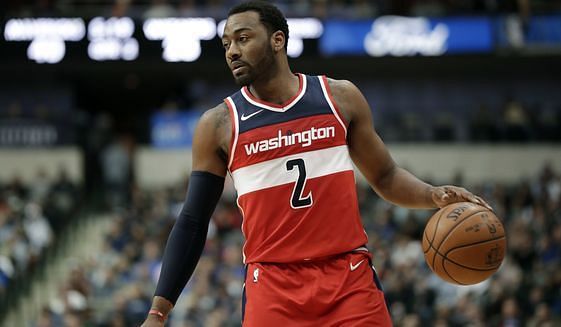 Stats: 4.9 ppg on 44.7% shooting, 0.95 points per possession
John Wall is one of the fastest when it comes to transition scoring. He can run coast-to-coast in the blink of an eye, weaving his way through traffic and not caring if he is accompanied by his teammates.
His left hand is one of the most deadly when it comes to bruising ankles and egos of some of the critically acclaimed defenders in the league.
He fits well in the Wizards' over-dribbling nature of playing basketball and runs the offense at a brisk pace, just as their coach likes it.
For a while during the past season when Wall was out injured, there was a preposterous notion floating around the league, that the Wizards just might be better off without Wall. That didn't last long, as Wizards slid to a 9-11 record during a stretch and slid to 6th in the East from the third position.
Wall's assists increase Marcin Gortat's shooting percentages, facilitate more movement in the paint and off-ball rotation and lead to better over-all basketball on the court.
Comb through the stats however you wish, but the bottom-line stat is wins and losses. The Wizards win at a higher percentage (56.8%) with Wall than without him (52.7%).
#3 Chris Paul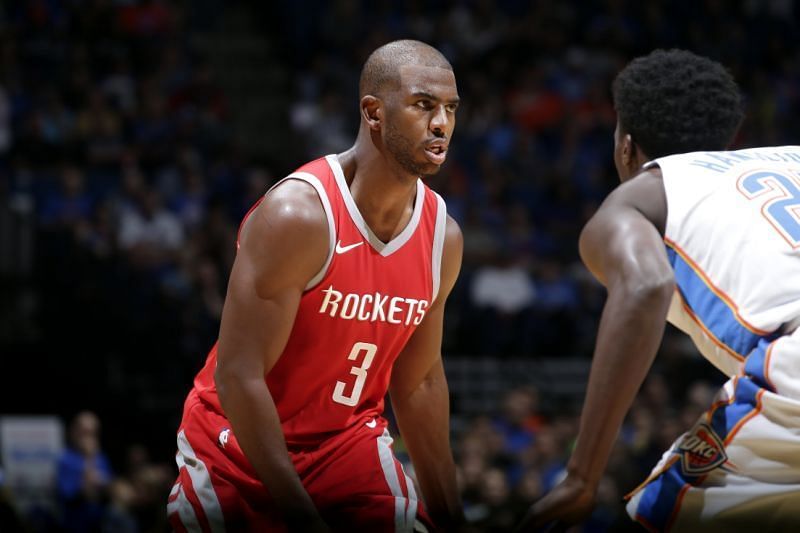 Stats: 5.6 ppg on 43% shooting, 1.10 points per possession
Chris Paul can take role players and make them big contributors by allowing them to play to their strengths.
No wonder the Rockets as a team ends up with more assists when Paul is playing than when he's not. The reason being his gifted aptitude to space the floor and visualise the play even before it happens, and then making it happen in all actuality eventually.
By integrating himself so well in the Rockets' offense with Harden, he has laid to rest any concerns about a rift emerging between Houston's ball-dominant backcourt mates.
With an already talent-stuffed roster at the Rockets, CP3 acts as the facilitator who just puts the right pieces/plays of the puzzle together, creating a mesmerisingly effortless and efficient display of scoring on the floor.
Paul's adaptable methodology to approach the game is summed up just fine in his very own words: "I've just always been a guy that takes what the defense gives me. If you're off me, I'm a shooter. If there are two guys on me, I'm going to find the open guy."
#2 LeBron James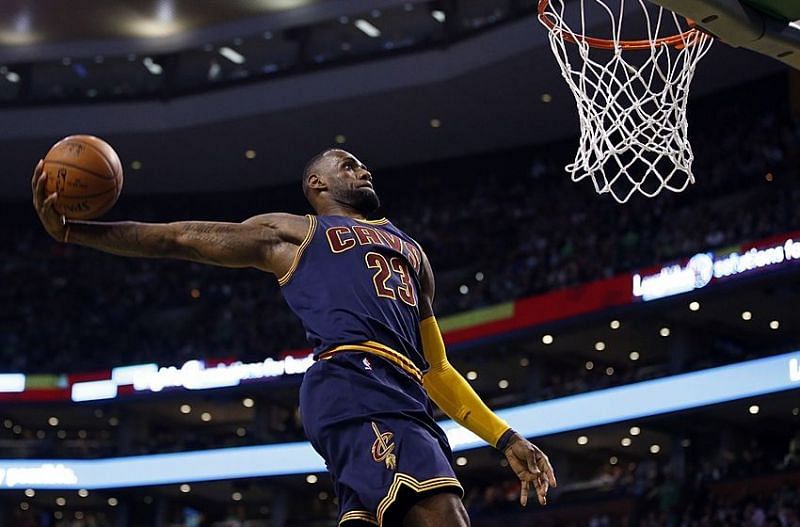 Stats: 6.1 ppg on 44.5% shooting, 0.96 points per possession
LeBron James can take the game by its horns and turn it to his likings at most - if not all - occasions.
This is because he becomes the "system" wherever he lands. By mid-march last season, James had already scored around 1,800 points & his assists had created an additional 1,400 points approximately, which tells us how LeBron-dependent the Cavs were all throughout the 2017-18 season.
The Cavs were the NBA's fifth-best offense during the regular season (110.6 points per 100 possessions).
James has accounted for around 45% of Cleveland's offensive output and that in itself is a testimony to the bonafide solo role that The King plays on offense.
Carrying a relatively young & playoff-inexperienced squad - after dealing with drastic mid-season trades that reshuffled everything around LeBron - all the way to the NBA Finals is no small feat.
He couldn't win the title, but last season cemented his position as one of the greatest ever to play the game, leaving an indelible mark despite ending the campaign without a ring.
#1 James Harden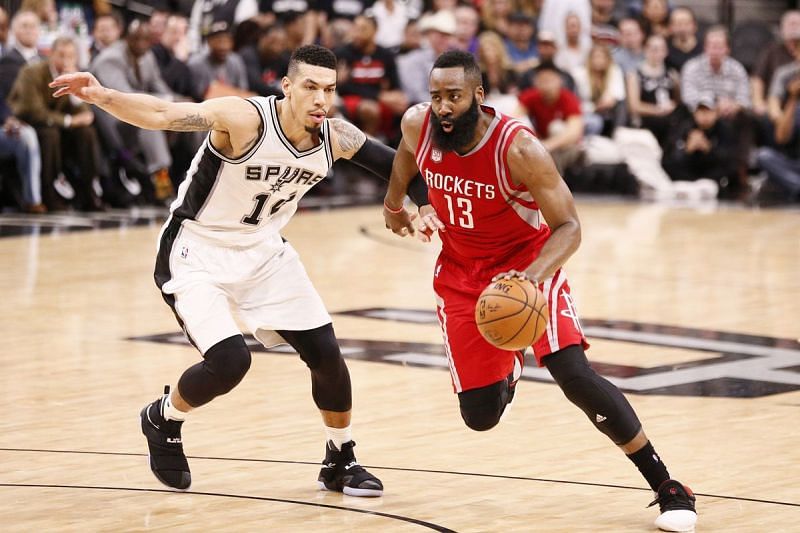 Stats: 12.2 ppg on 44.3% shooting, 1.22 points per possession
James Harden's confidence and unique offense has lit up the NBA for quite a few seasons now. He's shooting tons of threes, thriving in space, drawing fouls and basically never taking low-expected value shots.
Referring to the data available on NBA's official website for the last three years, no one matches Harden's isolation frequency (33.3 percent) or points per play (1.24).
The best thing about James Harden's impact on the game is that he doesn't have to put the ball in the hole to destroy a defense. Coach D'Antoni summed him up pretty clearly in a postgame press conference during the season, saying "..It's a combination of everything. There are other players who might be better at this, or a little bit better at that. But when you put everything together, and the way he passes, the way he sees teammates, the way he can lob, the way he can fight through a foul. I mean even on an off night, he's probably getting 30, 40 points, and I mean efficiently."
He got what he had been gunning for ever since he entered the NBA. Sixth Man of the year to MVP. To say the least, the man has been playing the best basketball of his life.