NBA 2K13 Player Ratings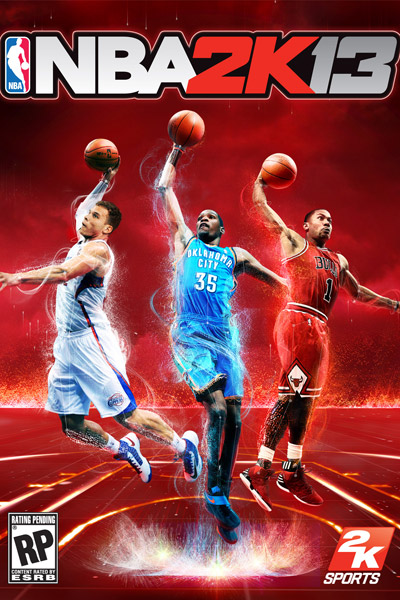 The NBA 2K13 serves as the most advanced game out there on the market for hoops' fanatics. Developed by 2K Sports the 2K series now has monopolized the hoops gaming market and with the withdrawal of NBA Live 13 by EA Sports it shall be sitting at the top of the throne for some time to come.
With an early release date scheduled for the game and the player ratings have slowly but slowly leaked out. The team at the top of the pile due to their acquisitions of the Superman and Steve Nash are the Lakers,unsurprisingly. The Heat trails them at second.
For the player rating, its King James who remain atop with a rating of 98.  To the amusement of a lot the second spot went to Dwight Howard who accumulated a rating of 95. Chris Paul and OKC superstar Kevin Durant share 3rd spot with a rating of 94. Durant's team-mate Westbrook drops in with 93, sharing the same ratings with Kobe whose stock has been diminishing.
The biggest ups for this year's game comes from Rajon Rondo and Kevin Love who are rated at 90 and 89 respectively. Other stars like Derrick Rose  drops in with a 92 while the the dunk-a-maniac Blake Griffin is credited with 87.
The rating for the notable players along with team ranks are as follows:
Dwight Howard – 95
Kobe Bryant – 93
Pau Gasol – 87
Steve Nash – 87
Antawn Jamison – 77
Metta World Peace (Ron Artest) – 71
2)Miami Heat :
LeBron James – 98
Dwyane Wade – 93
Chris Bosh – 82
Ray Allen – 79
Shane Battier 75
3)Oklahoma City Thunder :
Kevin Durant – 94
Russell Westbrook – 93
James Harden – 81
Serge Ibaka – 80
Kendrick Perkins – 72
4)Chicago Bulls :
Derrick Rose – 92
Joakim Noah – 83
Luol Deng – 83
Carlos Boozer – 78
Nate Robinson – 77
Taj Gibson – 77
5)San Antonio Spurs :
Stephen Jackson – 78
Manu Ginobili – 87
Tim Duncan – 87
Tony Parker – 86
Kawhi Leonard – 76
6)Boston Celtics :
Rajon Rondo – 90
Kevin Garnett – 84
Paul Pierce – 82
Avery Bradley – 79
Jeff Green – 78
Jason Terry – 77
7)Dallas Mavericks :
Dirk Nowitzki – 85
Shawn Marion – 79
Elton Brand – 77
O.J. Mayo – 77
Darren Collison
8)Indiana Pacers :
Danny Granger – 84
Roy Hibbert – 79
Paul George – 78
Gerald Green – 75
David West – 75
9)Los Angeles Clippers:
Chris Paul – 94
Blake Griffin – 86
Chauncey Billups – 82
Caron Butler – 81
Jamal Crawford – 78
Grant Hill – 77
10)Memphis Grizzlies :
Rudy Gay – 87
Marc Gasol – 83
Zach Randolph – 83
Mike Conley – 80
Tony Allen – 74
11)Denver Nuggets :
Andre Iguodala – 87
Ty Lawson – 82
Wilson Chandler – 80
Kenneth Faried – 76
Javale McGee – 74
12)New York Knicks :
Carmelo Anthony – 92
Amar'e Stoudemire – 84
Jason Kidd – 80 (rating, not age)
Iman Shumpert – 80
Tyson Chandler -77
13)Golden State Warriors :
David Lee – 82
Stephen Curry – 82
Jarrett Jack – 79
Andrew Bogut – 79
Carl Landry – 79
14)Philadelphia 76ers :
Nick Young – 72
Andrew Bynum – 86
Jrue Holiday – 82
Thaddeus Young – 75
Evan Turner – 75
Jason Richardson – 74
15)Brooklyn Nets :
Deron Williams – 90
Joe Johnson – 85
Gerald Wallace – 81
Brook Lopez – 80
Kris Humphries -74
16)Minnesota Timberwolves :
Kevin Love – 89
Bradon Roy – 80
Ricky Rubio – 78
Nikola Pekovic – 76
Andrei Kirilenko – 74
17)Phoenix Suns :
Marcin Gortat – 80
Luis Scola – 79
Michael Beasley – 79
Shannon Brown – 77
Goran Dragic -77
 18)Atlanta Hawks :
Josh Smith – 87
Al Horford – 82
Lou Williams – 79
Devin Harris – 76
Jeff Teague – 75
19)Utah Jazz :
Al Jefferson – 84
Paul Millsap – 83
Mo Williams – 78
Derrick Favors – 74
Raja Bell – 71
20)Sacramento Kings :
DeMarcus Cousins – 82
Tyreke Evans – 81
Aaron Brooks – 77
Thomas Robinson – 75
Isaiah Thomas – 75
21)Detroit Pistons:
Greg Monroe – 80
Rodney Stuckey – 80
Tayshaun Prince – 75
Corey Maggette – 74
Brandon Knight – 73
22)Milwaukee Bucks:
Monta Ellis – 86
Brandon Jennings – 80
Ersan Ilyasova – 75
Samuel Dalembert – 74
Ekpe Udoh – 70
23)New Orleans Hornets :
Eric Gordon – 85
Anthony Davis – 79
Al-Farouq Aminu – 71
Greivis Vasquez – 70
Ryan Anderson – 69
24)Portland Trail Blazers :
LaMarcus Aldridge -86
Nicolas Batum – 79
Wesley Matthews – 77
J.J. Hickson – 74
Damian Lillard – 70
25)Washington Wizards :
John Wall – 83
Nene – 79
Emeka Okafor – 78
Trevor Ariza – 76
Bradley Beal – 75
26)Houston Rockets:
Kevin Martin – 81
Jeremy Lin – 77
Chandler Parsons – 74
Patrick Patterson – 73
Toney Douglas – 72
27)Toronto Raptors:
Kyle Lowry – 83
Jose Calderon – 75
Andrea Bargnani – 75
DeMar DeRozan – 75
Terrence Ross – 71
28)Cleveland Cavaliers :
Kyrie Irving – 83
Anderson Varejao – 73
Dion Waiters – 71
C.J. Miles – 69
Tristan Thompson – 68
29)Charlotte Bobcats :
Kemba Walker – 78
Michael Kidd-Gilchrist – 77
Ben Gordon – 76
Ramon Sessions – 75
Tyrus Thomas – 72
30)Orlando Magic:
Aaron Afflalo – 79
Jameer Nelson – 75
Hedo Turkoglu – 73
Glen Davis – 72
Al Harrington – 71