NBA Top 10 Dunkers
1.13K //
09 Nov 2012, 18:45 IST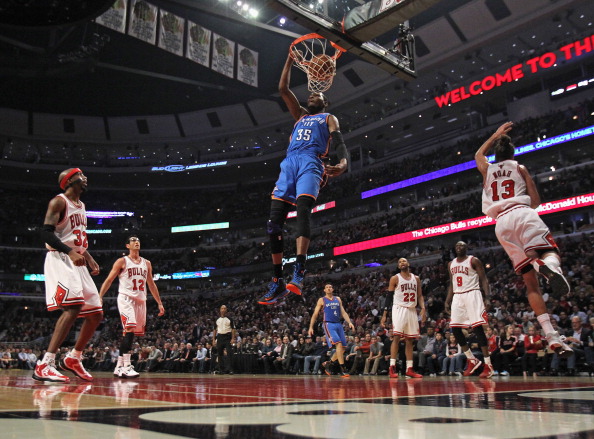 A dunk is the highest percentage shot in basketball. There are no uncertainties which come with shooting jumpers or even a layup. You take the ball and stuff it down the throat of the hoop with such force that it touches the ground before you do. Funny thing, for those who can jump high enough, a dunk is easier than a layup. Leaving aside the physical aspects of it, layups require a lot more skill than a dunk does. Also with a dunk there are higher chances of an 'and-one' play.
An emphatic dunk is also the most electrifying play in basketball. But dunks are often dismissed as being "Just two points." No two types of shots in basketball are worth just two points. A layup, a mid range catch and shoot jumper, a jumper off the dribble, jumper off a screen, each and every one of those are worth just two points but in different capacities. Players who are exceptionally good at dunking are sometimes seen as one-trick ponies. The dumb blonds. It's like being very good at something leads people to identify you with that attribute, sometimes at the expense of others. A dunk is worth two points and a little more.
Slam dunks are more than just the highest percentage shots in basketball. They are momentum shifting plays which can help spark your team and demoralize the opposition. Dunks make a statement. So much so that it's become a saying in itself. Obama's win in the recent elections is being described as 'a slam dunk victory', signifying that his win left no doubt about the margin with which he beat his opponent. Basketball is something the president is familiar with, that probably led to the metaphor here. But the saying stands on its own.
Necessity is the mother of invention. As mentioned, there was a time when slam dunks were illegal in college basketball (between 1967-1976). That restriction actually led to the birth of one of the most creative plays in basketball, the alley oop. There are two stories here about the origin of the alley oop, one has two students at Oklahoma Baptist University coming up with it, the other one is more colourful.
David Thompson, Hall of Fame player with a 44 inch vertical played at North Carolina University. He would have his teammates lob passes at the rim where he would catch and drop them in, almost a dunk but more of a drop in. A loop hole in the no dunking rule led to the alley oop.
If you still think a dunk is just worth two points, remember the dunk of death? Le dunk de la mort? When Vince Carter leaped entirely over Frederic Weis?
Carter is 6″6. But height is no bar to dunking. A sub 6 foot baller dunking can show the world that our only limitations are in our minds.
Some people attribute the vertical of short dunkers to inexplicable magic involving heavy muscles.
How muscular does Kadour Ziani look to you? He attributes his vertical to training 'like a cat/chameleon'.
On the court, it's only worth two points. Off the court it can lead to you earning your name. Mr. 720, Air Up There, Taurian Fontenette:
In women's basketball, the number of women who can dunk can be counted on one hand. Among billions of other women in the world, this one skill sets these handful apart.
Today, alley oops are performed even without dunking as players lay the ball in off a lob. Today the slam dunk and ally oop are both staples in NBA basketball. They are the most common way of finishing off a fast break. And when done in traffic, they can lead to insane posters. A posterization is when you dunk on someone so hard the picture gets circulated all over and is often printed out on posters. These plays send a seismic wave through the game, altering momentum and cowering your opposition.
A dunk is worth more than just two points. It's the most electrifying play in basketball. In the upcoming series you can check out the  top 10 Dunkers in the NBA voted for by five basketball writers at Sportskeeda: Neeraj Grover, Vinay Sundar, Sidhartha Patra (sidhartha), Souvik Roy Chowdhury (souvik) and Siddarth Sharma (Sidbreakball)
Check this space on Sunday for the countdown to begin at number 10!