NBA: Westbrook helps Thunder hold off Lakers
642 //
06 Mar 2013, 16:53 IST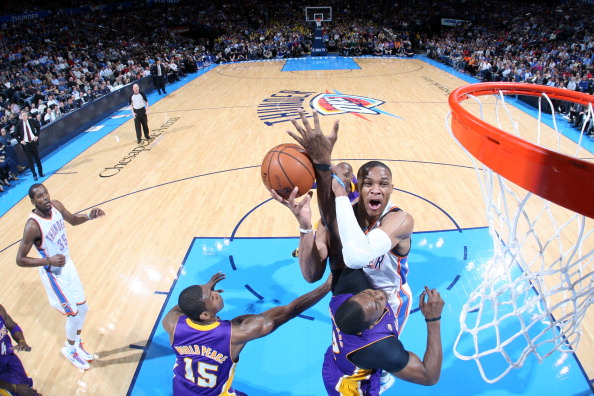 Los Angeles - Russell Westbrook had 37 points and 10 rebounds helping the Oklahoma City Thunder beat the Los Angeles Lakers 122-105 at home in the NBA league.
The Thunder only made two turnovers all through the game, which tied an NBA record for fewest turnovers set by Milwaukee in a game against Indiana April 1, 2006, and Cleveland in an overtime game against Portland March 19, 2009, Xinhua reported Tuesday.
Kobe Bryant scored 30 points after he got injured on his right elbow in the first quarter, and left the court to locker room for therapy four and a half minutes later.
Steve Nash finished with 20 points, matching his season best. World Peace ended up with 16 points and Dwight Howard had six points and 16 rebounds before being fouled out with 2:24 remaining.
Kevin Durant had 26 points, Serge Ibaka donated 13 points, former Laker Derek Fisher added 10 points for the Thunder.