In every game, the characteristics of top-notch players are always similar, that is hard work, athleticism, skills, and the right mindset. In a figurative speech, one can argue that Stephen Curry is the Virat Kohli of basketball. Similarly, a parallel can be drawn between several pairs such as Sachin Tendulkar and Roger Federer on the basis of their records and the reputation at the global level.
It also holds true while comparing two different leagues as well. For example, the IPL can be epitomized as the NBA of the cricket or vice-versa. Expensive contracts for the top athletes across the globe, colossal fan bases, heavy traffic on the internet for live streaming, social media eruption in the playoffs and world-class entertainment are some of the common phenomena in both the leagues. Both the leagues features the most envied rivalries in the sporting world.
This slideshow is my attempt to the highlight the hidden parallelism that exists among several top-notch players, which I believe can be easily envisaged by an ardent fan. The creative evaluation is gleaned from the observations, I have made from several years of watching both cricket and basketball with the utmost zeal.
•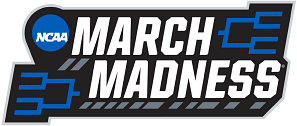 The primal instinct of both the games is to keep the scoreboard running. Several basic skills can be easily compared, Batting with the shooting, defensive play or blocks with the wickets taken, and most importantly in any team game are assists which can be compared with fielding, wicketkeeping, and runouts. Other grounds for comparison are based on the personal records of the player and the type of techniques they adopt.
Apart from that the personal behaviour and type of approach adopted in the play and performance under pressure situation in a decider match is another parameter. The best evidence is the aggression of Virat Kohli on the field is the quintessence of the trash talks of Kobe Bryant who captained the redeem team in 2008.
There several players with a lot of similarities, I have compiled the list of top 5 duos of cricket and the basketball legends.
Here's my compilation:-
#5 Chris Gayle and Russell Westbrook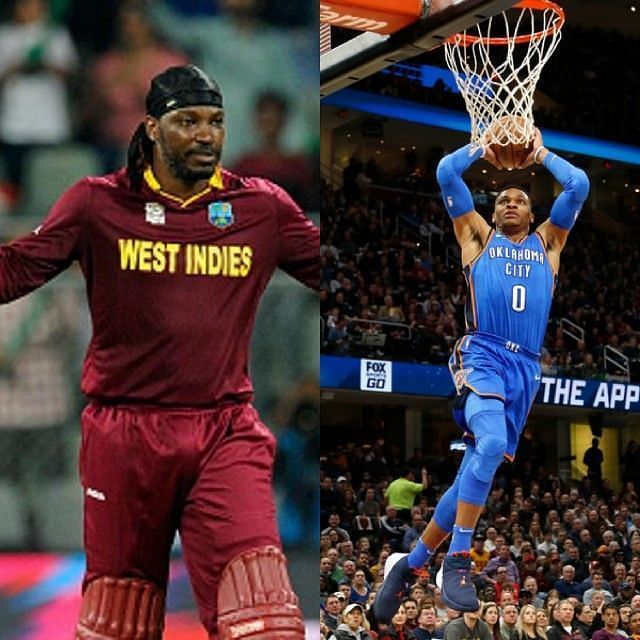 Chris Gayle is one of the most revered batsmen for his destructive abilities to hit gargantuan sixes, which can easily dwarf any bowling attack. Similarly, the reputation of Russell Westbrook is unmatched in present-day NBA. 6 feet and 3 inches are not very impressive on papers, but with unmatched speed and the vertical jump, Russell put himself in his own orbit which can easily belittle any taller defender.
Both players are the powerhouses in themselves able to lighten up the crowd and invigorate the spirit of the teammates at the same time. It is not only the athleticism but also the aggressive play which reinforces their scoring capability One must not forget the consternation in which the opponents are put in by both of them.
Also, the pressure of responsibilities on these players is comparable, as their team heavily rely on their performance for winning the matches, ergo less probabilistic to win the major championships. It has happened several times that both of them are on bench owing to injury, their teams have performed abysmally.
Chris Gayle holds the world record of hitting the fastest T20 hundred in IPL and the highest score in IPL in the same innings. He has been part of World XI and also holds several world records. An estimate can be drawn from his average strike rate of 150 in IPL. The records of Russell are commensurate to that of Chris Gayle. Being part the USA national team, the 29-year old Oklahoma City Thunder star has been the recipient of 2012 Olympics Gold medal and 2010 FIBA World Championship. In 2017 Russell became the MVP and has been part of NBA All-Star Team 7 times.
#4- Hashim Amla v/s James Harden
The tenaciousness and patience play of Hamish is enough to demoralize any bowling attack. Won't be wrong to entitle him as the wall of South-Africa as he is the only consistent player in the precarious South-African squad. Similarly, James Harden is also known for putting the defense in a circling conundrum as his moves are extremely unpredictable.
Harden is not only a good scorer but also draws fouls very successfully. Both of them keep waiting for a long time and when the defense slacks, they go full pace exploiting it. The playing style of Hashim in a test match forces bowlers to commit mistakes similar to Harden's foul-drawing capacity. The 'wristy flick and cover drive' of Amla bring equal delight in the crowd as Harden's 'Stepback' does in the NBA.
Hashim Amla is the fastest man to reach the mark of 2000, 3000, 4000, 5000, 6000 and 7000 runs in ODI also, the first African batsmen to score a triple century in a test match while fasting speaks volumes about his desire to grit it out in adversity- a true testimony of the man's patience, perseverance, tenacity and most importantly the character. On the other side, Harden is a recipient of gold in 2010 FIBA World Championship and an Olympic gold medal in 2012. NBA career is full of milestones for Harden, which includes the 2018 MVP, 6 NBA All-Star and the assists leader in 2017.
#3- Ben Stokes v/s Kevin Durant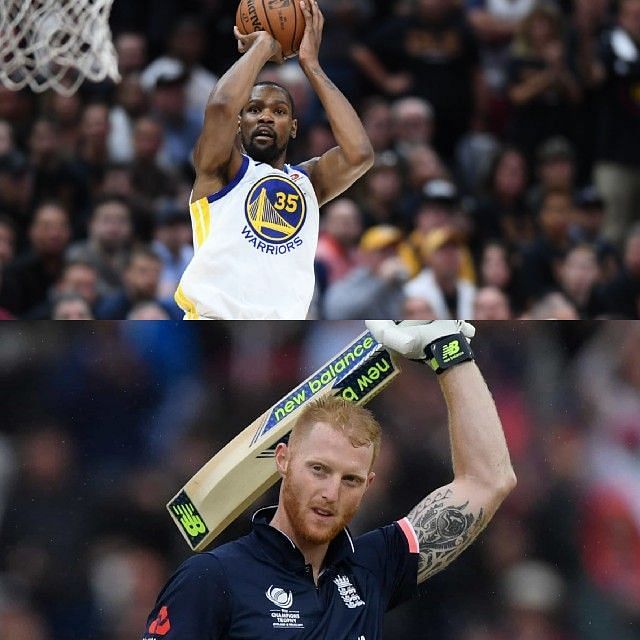 The main criteria which are employed here are the performance at both the offensive and defensive ends. Ben Stokes is considered a world-class all-rounder, able to bring his team out of any rut with both bat and bowl. Similarly, Kevin Durant is revered not only for his offensive play but also for providing good defense and blocks from time to time.
In 2016, Kevin Durant signed with Golden State Warriors to make a super team alongside Stephen Curry, Klay Thompson, and Draymond Green. Similarly, Ben Stokes became the highest paid overseas player in IPL 2017 with 145 million INR. KD is regarded as a scoring machine as he a pure scorer and also the closest competition to LeBron James.
Kevin Durant has a staggering figure of 26.4 points average and whopping 41.9% conversion behind the three-point line in the 2017-18 season. Both players are efficient condition adaptive players with the natural acumen, either to excel fast or give a tight defense. Ben is currently the most explosive all-rounder in the world, able to hit huge sixes to and athletic enough to give high pace with the ball.
Ben holds the record for England's fastest ever Test double-ton (258). Kevin Durant has several titles embodied with his name, 3 Gold Medals - 2010 (FIBA World Cup), 2012 (London Olympics) and 2016 (Rio Olympics). Apart from that, he has been MVP in 2014, 2-time NBA champion, 9-time NBA All-Star team, Rookie of the Year in 2008.
#2- AB de Villiers v/s Kyrie Irving
ABD and Kyrie Irving are the most entertaining personalities in the world with an eclectic range of flamboyant shots, enough to shock everyone. The success of these two counterparts is the rare combination of talent, hard work, and perseverance. The eyes of ABD never goes off the bowl and his footwork can turn a good yorker into a full toss and a good length bowl into a short pitch bowl parking both of them into the crowd- making him truly a 360-degree player.
Both ABD and Kyrie are one of the most versatile players in the world. Kyrie has a large number of moves which include low dribbling, Jab Step, Side Step, Crossovers and Spin variations enabling him to put defender off the foot. Shooting percentage beyond three-point line is near to 40 in 2017 and more than 5 assist per match which is remarkable and enough to make a very big impact.
Lesser known fact is that Irving is Australian born and possess dual citizenship. Decided to play for the USA in 2014 FIBA World Cup and earned not only gold but also MVP title of the tournament. Similar results yielded in the 2016 Rio Olympics. The best thing about both Kyrie and ABD is that despite various minor and major injuries, they are unflagging in creating big results. ABD has an average of 53.5 in ODI with a strike rate of 101.1 and holds the record for the fastest 50, 100 and 150 in ODI cricket.
#1- Virat Kohli v/s Stephen Curry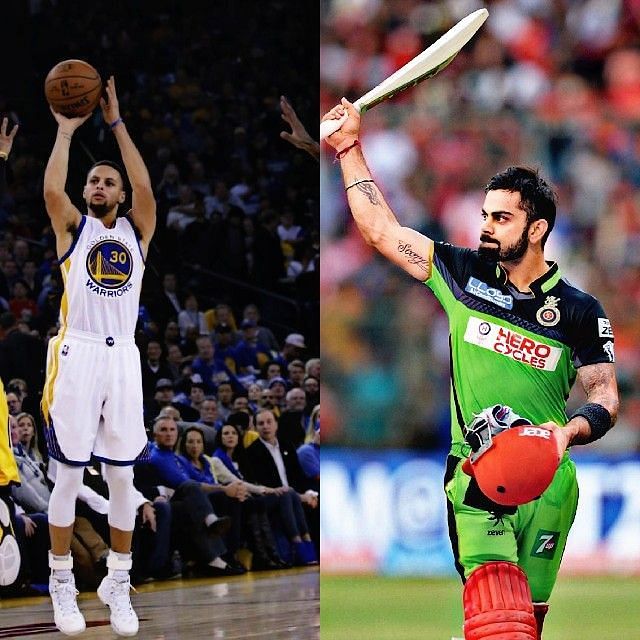 Stephen Curry under the guidance of Steve Kerr and along with fellow teammates KD, Thompson, and Green has been successful in putting forward a super team equipped with best players who have dominated the last couple of years in the NBA. Similarly, Indian Cricket team has been on path achieving new heights, especially under Virat Kohli.
He is considered as the best batsmen in the world across formats, similarly, Stephen Curry is currently the best shooters in the world right now and probably all-time. What stands out in these two players is the infectious desire to improve and win every game possible for their side.
In the arsenal of Curry include moves like hesitation, crossovers, pump fake and shooting abilities far beyond the three-point line which makes him formidable on the court. Defenders always have a hard time guarding curry as he moves way too much and keeps vacillating in terms of intention of passing, shooting or drawing fouls.
The passion of both the players toward their game has turned both players into national icons' for their respective countries, players that kids look-up to. Kohli is called the 'chase master' as his approach is steadfast relying majorly on risk-free cricket and text-book shots coupled with a brilliant game awareness.
For over 6 years Curry has proved to be the quintessence of Virat Kohli. Stephen Curry has a net worth of 60 million in 2017 and multiple endorsements from Under Armour, Brita, and JPMorgan Chase. Kohli's worth is also more than 60 million and has partnered with multiple brands like Puma, Audi, MRF Tyres etc.
The major heists for Stephan Curry in his career thus far include 2 MVP awards, 5-time NBA All-star, NBA scoring champion, FIBA (Gold) 2010 and 2014. Curry has recorded the maximum number of 3s by a single player in a game that is 13 threes against NOP. Virat Kohli has been the ICC ODI Player of the Year in 2012 and 2017, the most run scorer in 2017 and currently number one batsmen in both Test Matches and ODI.