Phil Jackson: The Zen Master
2.17K //
23 Jul 2011, 07:17 IST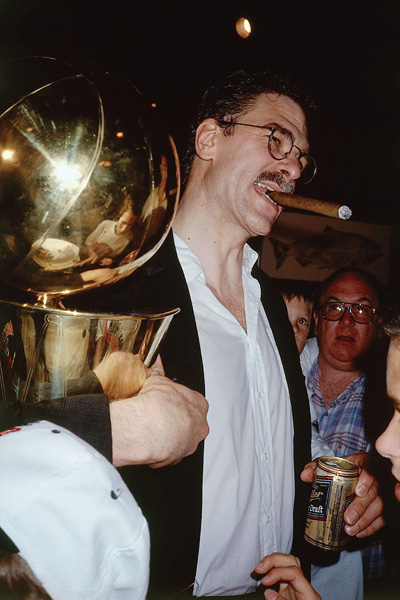 Thirteen.
That's how many times NBA lifer Phil Jackson has come away from the game's biggest stage smoking cigars and drenched in champagne. He has spent more time in the NBA than half a dozen current NBA franchises. When people talk about Michael Jordan, that dude who was the greatest player of all time? They can't but add Phil Jackson somewhere in the same sentence. In the NBA, coaching a team to two, maybe three titles is a sign of greatness; almost a lock to get one into the Hall of Fame. Jackson? He's won eleven titles as a coach. Two more than Red Auerbach, who coached the Boston Celtics' dynasty of the 60s, and about six more than any other coach in NBA history.
To talk about Phil Jackson is to talk about winning. He's coached his teams to a 70% win rate during the regular season (over a 20 year career) and 69% win rate in the play-offs. Above all is this telling statistic: Phil Jackson has never coached a team to losing record over a season. Perhaps this explains why he was the most paid coach in all American professional sports last year, when he earned 12 million dollars. But the story of Phil Jackson is as strange as they come.
Born to devout Christian ministers, Jackson was brought up in an austere and protected environment, and believed he would one day follow in his parents' footsteps and become a minister himself.   He admitted to having played sports, basketball, baseball; you name it, because he felt most like everybody else during these times. After leading his high school team to two state titles, Jackson was recruited to the University of North Dakota after which he was drafted by the New York Knicks in 1967, where he won two titles as a player in 1967 (though he missed the season due to injury) and 1973.
During his playing years, Jackson embraced the hippie culture full on, speaking out in favor of marijuana and sporting prolific facial hair, besides reading beat generation fiction, a characteristic most unusual in NBA players at that time. In fact, dear old Phil actually posed for a photograph nude in the Knicks locker room with a glass of champagne. The path to becoming the Zen Master was well underway.
After his retirement from the NBA in 1980, teams were reluctant to hire him as a coach throughout the 80s on account of his off-beat ways. Besides, the main requirement for coaching in the NBA has long been firm knowledge of the game's X's and O's, but Phil was never that kind of coach, not even when he did eventually get hired as an assistant coach to Doug Collins for the Chicago Bulls in 1987. The Bulls rescued him from a lesser basketball league, the CBA (where he still coached his teams to championships).
Finally, after Doug Collins stepped down as head coach of the Bulls after the 1988-89 season, Jackson was given the job. He led the Bulls to their first championship in his second year, after installing his famed Triangle offense along with assistant Tex Winters. His greatest accomplishment came during this period; he got Michael Jordan to start passing the ball.
Through the late 80s, the Bulls ran their offense entirely through Jordan and had been coming up short against the Detroit Pistons (during their Bad Boy years) in the playoffs. The Pistons ran a defensive scheme called "Jordan Rules" which involved swarming Jordan consistently, picking on his biggest flaw: his ego, which simply wouldn't let him pass on those situations. Jackson changed that with his Triangle offense, which made a post player the focal point of an offense. Though the Triangle offense as administered by Jackson relied heavily on a superstar wing player, using a passing big man opened up the entire court and eventually foiled the "Jordan Rules" scheme in the 1991 playoffs, where the Bulls swept Detroit in 4 games, after having fallen to them for three consecutive years.
The rest, as they say, is history. Jackson led the Bulls to two three-peats (three consecutive championships), including a historic 72-win season, which set the record for the most number of wins in a single season by a team. He later coached the Lakers, Kobe Bryant and Shaquille O'Neal to five championships over the last decade, cementing his position as the greatest coach of all time.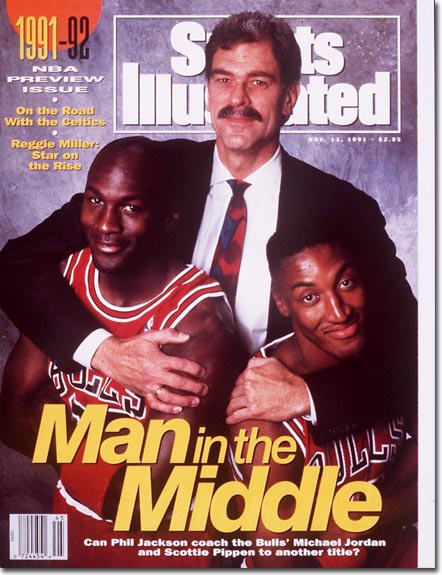 Phil Jackson's real legacy to basketball, however, is the way he changed coaching. He won the hearts of his players by taking the time to know each and every one of them, and was famous for buying books for each of his players in order to motivate them. Steve Kerr, former NBA player and Phoenix Suns GM, once remarked that Jackson cared as much about his 12th man as he did about his superstar. People say that anybody could have coached teams to 11 titles if they had Michael Jordan or Kobe Bryant on their teams, but that's simply not true. Jackson did. Jackson got Michael Jordan, the biggest NBA ego of the 80s and 90s to actually buy into Buddhist philosophy in basketball, even gifting him a book titled Zen Buddhism and the Art of Motorcycle Maintenance, a book that once changed Phil's life. Michael Jordan was among the most selfish players in the NBA before Phil coached him. After? The greatest player of all time. It wasn't all a bed of roses though. Phil is famous for having a king sized ego himself, leading to several skirmishes with Jordan. But Jackson persevered and that was what mattered, with Jordan later stating that he would only play for Phil Jackson.
Kobe Bryant's antics once threatened to ruin him as a player and bring down the powerhouse Lakers as well. He burned bridges with half his team, with Phil Jackson himself, ousting Jackson from the position of head coach of the Lakers into an early retirement after the Shaq trade, leading Jackson to call Kobe "uncoachable" in his book soon after. It took Kobe all of half season to ask for Jackson's return. The result? Two more championships for Kobe, and finally a rest to all those whispers that he couldn't do it without Shaq.
Chicago Bulls GM Jerry Krause had a famously bad relationship with Jackson when he was head coach of the Bulls. When things disintegrated beyond repair prior to the 1997-98 season, Krause told Jackson that he would make sure Jackson didn't come back to coach the Bulls after the next season, even if the Bulls finished 82-0 and won the championship. As it happens, they did win the championship and Jackson retired vowing to never coach again.  The Bulls? They haven't won an NBA title since.
The writing was clear. You either trusted Phil Jackson thereby creating a dynasty, or you doubted him and found nothing but mediocrity.
Jackson won the hearts of the fans and the media with his charming wit and candor. He had a delightful habit of compartmentalizing every incident into a "situation". Kobe not trusting the Triangle and Jackson's plays were waved off by him as "a 1-on-4 situation". A close match botched up by the referees would be lambasted by Jackson as those "refereeing situations". His practice of calling out players in the media made him enemies amongst his players sometimes, but they always came back hard in the next game. The constant references to "Shaquille O'Neal free throw shooting situations" after close losses enraged Shaq consistently, leading to improved playoff free throw shooting. Jackson was not a person who ever lost his cool. Even the media candor was clearly well thought out, not impulsive comments aimed to vent frustration.
The only time I can remember him losing his cool over an entire game was during the recent sweep of the Lakers by the Dallas Mavericks. He even got in Lakers forward Pau Gasol's face, slapping his chest, asking him to man up, while constantly screaming, yelling, shouting and pleading with his players from the sideline to play efficient basketball during Game 3.  I'll choose to remember Phil Jackson not by that series, instead by the absolute calm he displayed even in the tightest of games. In a league where coaches stand most of the time during games, he sat. In a league where coaches vented, yelled, screamed during games, he sat quietly, with a pristine calm on his face, even in "nail-biter situations". He always let his players play through adversity, believing in them and their character, his team's character. He believed the only motivation you have to give a player was to draft him, because he'd come out ready to prove himself for you. There have been few coaches who have trusted his players as much as Phil Jackson, son of devout Christians from Montana.
On the verge of turning 67, Jackson's body has finally given out on him. After multiple surgeries, he is reduced to hobbling, a humbling sight for a 6'8 giant now unable to withstand the rigors of the sport he's devoted his heart and mind to. He's one of basketball's great minds, always given to analysis, be it of his team or any other. Perhaps after two retirements, this is finally it. But then again, 2012-2013 will mark the 40th year since he helped win the New York Knicks their last title. Perhaps it is only fitting that Jackson returns to coach his former team to reclaim its past glory in the Mecca of basketball. Perhaps.
But after nearly forty years of devoting himself to the game, that's no longer the story. The real story is that of the man who sits on a chair higher than all others during games. Of a Christian, a competitor, a hippie, a championship NBA player, a Zen Buddhist, a motivator, a mentor, a friend, an NBA championship coach.
The real story is that of Phil Jackson, legend.