Post NBA Lockout: Season Preview
1.35K //
04 Jul 2011, 07:20 IST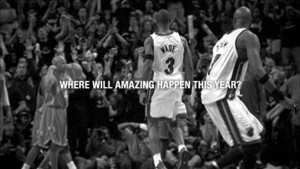 We know where amazing things will happen next. If the 2010-11 NBA season was anything to go by, the 2011-12 season promises a decade's worth of storylines. Will the Miami Heat finally win that darned championship? Will the Oklahoma City Thunder finally make it to the game's biggest stage? Will the Los Angeles Lakers stop clothes-lining opponents? Will the Minnesota Timberwolves add 17492 more point guards to their roster? And more importantly, will LeBron James announce his retirement from basketball and take to fishing in Tuvalu instead? The questions abound and here are 21 things we'll be saying in February next year:
1. Lockout? What lockout? I laugh at your lockout. Samuel Jackson was freakin' cool in Coach Carter though.
2. Did LeBron just bitch slap Zydrunas? LeBron James is evil, pure evil, he's crazier than Stephon Marbury. Wait, what?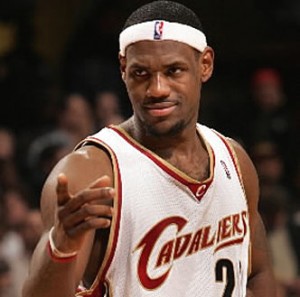 3.  Why is Kobe Bryant averaging only 21 points per game? Mike Brown cannot coach offense and the Lakers should waive Pau Gasol and sign Rafael Nadal. Let's go watch the Clippers instead (somewhere, Donald Sterling whoops in sheer joy)
4. JIMMMMMMMMER! The Kings lost again? But..but..JIMMMMMMMMER (he rhymes with glimmer!)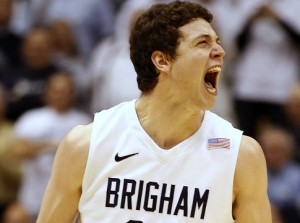 5. The Miami Heat is at least 4 games ahead of second seed Chicago atop the Eastern Conference. Columnists across the world puzzle over how they're going to self-destruct. But they will. They should. Er, what happened to karma?
6. There is no hard-cap. There are no rollbacks in salary. Joe Johnson will earn his 120+ million. As for the starving kids in Africa…and there's another Joe Johnson isolation play.
7. BLAKE GRIFFIN! This sentence hangs in the air as Blake brings the blackboard down with a windmill jam.
8. LeBron's new psychologist releases a media statement that reads "LeBron James is a qualified loser, I hate him." The state of Ohio finally sleeps at night. Then LeBron drops 30-10-10 on the Knicks at the Garden the next day.
9. The Celtics and the Thunder are having serious talks about trading Rajon Rondo and filler for Russell Westbrook in a trade that makes sense for both teams. Wait, that's just my imagination at work. Westbrook continues to pull up for 20 foot jumpers that clank ferociously off the rim as Kevin Durant watches silently from the corner.
10.  The Memphis Grizzlies beat the Spurs again with Marc Gasol posting a 20/15 game and Richard Jefferson shedding a silent tear on the bench. You said something about a trade that made no sense, Mr. Popovich?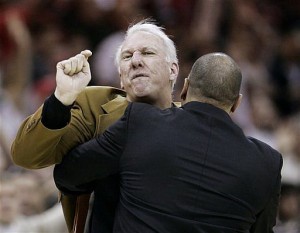 11.  Dirk Nowitzki will finish with a 50-40-90 season (for the uninitiated, this is the threshold for elite shooting in the NBA- 50% on all Field Goals, 40% on a three-point attempts and 90% from the Free Throw line) and join Larry Bird and Steve Nash as the only players to have multiple such seasons. Also, Tyson Chandler has grown 17 inches and is eating every opposing center (with the exception of Joel Anthony). Metaphorically speaking, of course.
12.  The Knicks are trying desperately to swap Iman Shumpert for somebody who can shoot. They've realized that when your 45th pick in the draft is playing better than your 15th pick, you've messed up. "I preferred the other guy we used to have with a weird name, Moz-god something" says Spike Lee. Timofey Mozgov, meanwhile, is giving the Nuggets solid rotation minutes and is now the second coming of Marcin Gortat. Nice try, Mr. Walsh.
13.  A Dwyane Wade 1-2 step (eurostep!) makes Derek Fisher fall flat on his face resulting in boos at Staples Center for the second straight year.
14.  Can somebody please tell the Toronto Raptors that they're supposed to be building an NBA team, not a Eurocup one? If Bargnani posts just one double-double, just ONE, I'll drink only maple syrup for a week (says one angst-ridden Canadian)
15.  An injury free three months has Trailblazers coach Nate McMillan singing "Hallelujah" on the streets of Portland. Greg Oden and Nicholas Batum collide at practice the next day and are out for the season. Such is irony and life.
16.  The Kemba Walker- Bismack Biyombo shoulder bump is the hottest thing in the league (after the Birdman's tattoos, of course) and Charlotte is on the cusp of making the playoffs. In other news, Walker is a shoo-in for Rookie of the Year.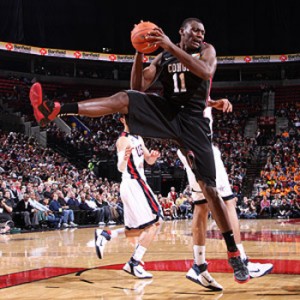 17.  Ricky Rubio's assist-to-turnover ratio is 1. Call him Kahn. David "Isiah Thomas" Kahn. For some perspective, Stephen Curry, Brandon Jennings, Jeff Teague and Ty Lawson were the next four point guards taken (after Ricky Rubio and Johnny Flynn with the 5th and 6th pick) in the 2009 draft.
18.  The Milwaukee Bucks? Didn't they just score <80 points for the fifth straight time? Yawn.
19.   Forget Jan Vesely, whatever happened to his smoking hot European girlfriend?
20.  The New Jersey Nets are on the verge of disaster as Deron Williams takes to pouting at post-match press conferences. Mikhail Prokhorov takes to sending several crates of vodka everyday to Williams' doorstep. Nets fans, on the other hand, have started praying that Anthony Morrow somehow turns into Kobe Bryant overnight.
21.  Everybody in the world spends a week without realizing that the Phoenix Suns still exist. A sad day for basketball.