Prashanti Singh On Basketball
1.23K //
04 Aug 2011, 19:03 IST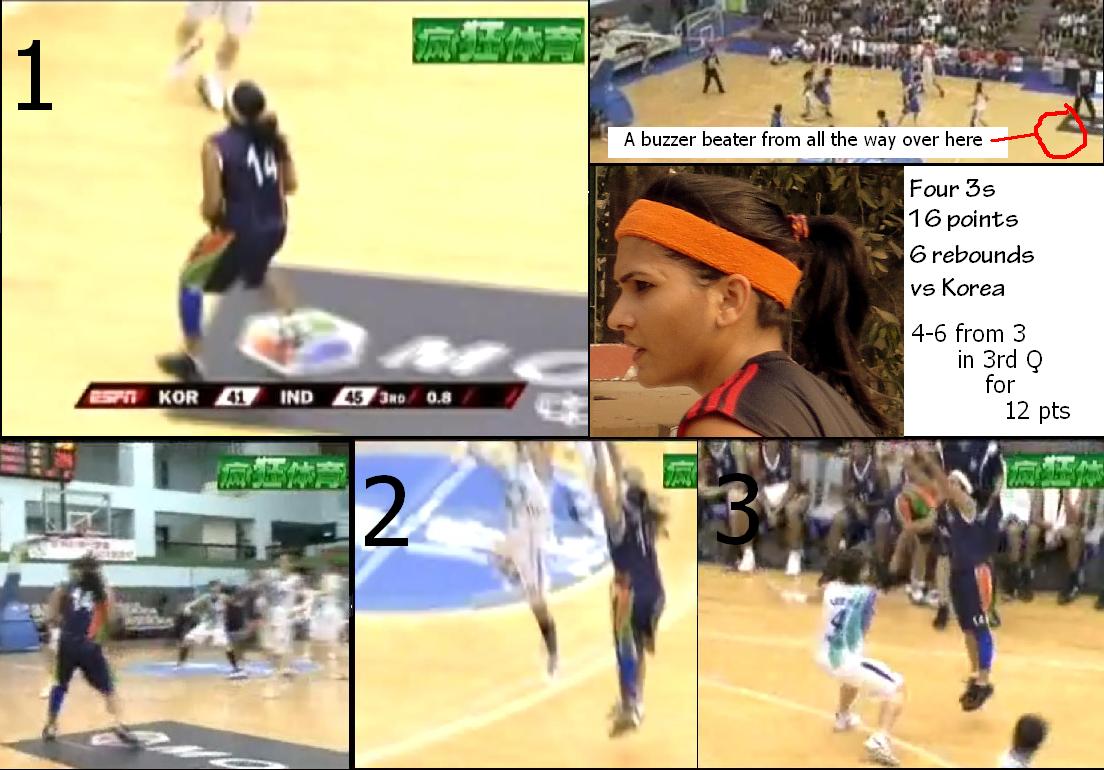 India were down 8 to Korea leading into the 3rd Q in the William Jones Tournament. Then Prashanti Singh hit 4 of 6 3-pointers in the 3rd quarter, including a miraculous buzzer-beater en route to scoring 16 points to help India win one of the most memorable games in it's history. Here's what she has to say on her game, the Indian team and improving the game in India.
Excerpts from an interview by Hoopistani
On her introduction to basketball
"I belong to Varanasi, where most of the children play outdoor games for fun and I was one of them. I saw my sisters playing basketball in school and got motivated by them. Before that, like all children I loved playing hide and seek."
(her sisters Divya, Pratima, and Akanksha have played for India too. Eldest sister Priyanka played state level and is a NIS coach. Supposedly China arranged a marriage between Yao Ming's parents to produce a national level talent based on height. Here's a family which has shared 4 national level players with the country based solely on skill)
"My first ever basketball tournament was an Under-14 event. I didn't get much chance to play in that game but I learned a lot. I was youngest in the team and scored two baskets, which made me happy. I'm fortunate enough to have Amarjeet Singh as my coach. For those two baskets he treated me with sweets. He is my first coach and the person behind molding many basketball talents in India. "
"I used to follow my sisters to the Varanasi courts, and once I started playing the game, I just couldn't stop," says Prashanti, "I was given a break early in a tournament, and ever since, basketball has been my life. I had to find a way to get on the court and play everyday. Our family discussions are always about basketball!"
On getting a start in the Indian team
"When I first came in, the team only had a few youngsters – now, just like the men's squad, the majority of the team is of younger girls, who with the help of a few experienced older players, have been given a chance to grow as a team together. Youth participation is always beneficial. It gives a boost to the team. Any team which is blend of vigour and experience will perform better."
On improving the game in India:
"We need more teams in India," she adds, "College students are now more aware of their careers, why would they join a service for a job that isn't ideal? We need a solution soon, because the good young players won't settle for these jobs anymore."
"We will not improve much by playing in short sporadic tournaments [like the current system]. What we need is a domestic league so that we can get a season of regular games, regular basketball experience of basketball at a competitive level, and thus improve our game."
"Despite all this, we're still playing well; and its all for the love of the game. The good news is that we are moving away from the old system of favouritism for the older players – the new girls are looking to develop their game further holistically. I m very confident about young talent of the team and they are definitely going to take this game to next level in upcoming few years. Everything is becoming commercialized and they are very aware of how basketball is growing in India and around the world. They are learning things off the court too. Many of them are interested in moving on to leagues in other countries."
"If you take the example of cricket: the game only started to gain widespread fame when we won the World Cup in 1983 – and now, 27 years later, with IPL we are at the top of the world. Cricket is a game played by a dozen countries and basketball by over 200 – I'm sure that Indian fans will soon grow fond of basketball, too."
She added, "People in India are aware of sports a lot more than before – we just have to teach the game to them in whatever language that they understand."
"Basketball is played officially in 273 countries in the world, which is the second highest in the world. In the west, the game is already at a much higher level. So to catch up with the same pace, we need better coaching and advanced training. The coaches who are now working with us (Pete Gaudet, coach of women's team and Zak Penwell, strength and conditioning coach) have fair knowledge about the game and can take us to the next level."
"My aim is to play for a good league abroad," says Prashanti, "Anywhere where I can hone and improve my skills."
"I try my level best to live up to my fans and well wishers' expectations. My job is to give my 100  per cent to the game. I'm really thankful to people who support me in my good or bad times."
On the Indian team:
"We start each game with great energy, but begin to struggle whenever the opponents switch tactics to counter us. We need to play more so we can get experienced to deal with different systems and situations. With a league we will learn more about our own potential."
(This was an old interview. Of course today our team hangs with other teams right to the end of the game)
"We're improving on several levels," says Prashanti, "As captain, I have seen great team chemistry between the girls. The youngsters are also gaining confidence and the team doesn't always have to depend on the seniors. Although we are still relatively small, we are good enough now so that our success doesn't start and end with our shooters as it used to."
"It will take time for us to improve – we have to be patient," says Prashanti, "We should play against some Asian countries with which we can compete, and then we can move on step by step to try and match the level of China or South Korea. Given time, we can have world-class players in India, too."
Amen.