Preview - LA Lakers vs Minnesota Timberwolves
900 //
01 Mar 2013, 00:22 IST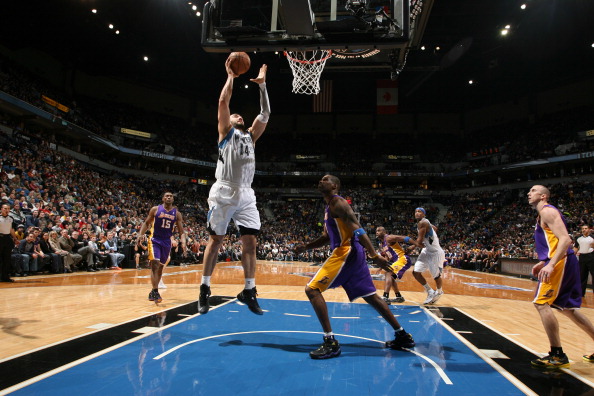 The LA Lakers will face the Minnesota Timberwolves on Friday, 1st March. The match will be live on Sony SIX at 9 AM. The Lakers have won 20 straight games vs the Timberwolves. That's the longest win streak a team has over another in the NBA. Over the last 16 games, the Lakers have gone 11-5. Kobe Bryant has averaged 27 points vs the Wolves over their last 9 games. The Lakers have won 6 of their last 10 games and the Wolves have lost 8 of their last 10. Judging by all streaks, the Lakers ought to make short work of the Wolves. The Lakers are coming off a ugly loss vs the Denver Nuggets in which they missed 17 free throws. Dwight Howard contributed the most to that stat by going 3 of 14 from the line."We missed 17 free throws and you get beat by 11, you can do the math. And it doesn't add up," Lakers coach Mike D'Antoni said. "You can't go 14 for 31 from the line and turn it over on the road and expect to win." They will be hungry to win this one.
Kobe Bryant also picked up a technical foul in that game, which was later rescinded. He is the league leader in technical fouls with 13 total this season. Getting to 16 technical fouls in a season results in an automatic suspension. But Bryant has said that "I'm not concerned." He ought to be. With the thin ice the Lakers are treading currently, they need their squad at full strength if they are to make it to the playoffs. Speaking of full strength, the Wolves may be missing Andrei Kirilenko as he's out with a calf injury.
Here's how the starting lineups stack up.
Dwight Howard vs Nikola Pekovic
Pekovic is an absolute beast down low. He's one of the strongest players in the NBA and there are few centers in the league who can contain him. Dwight Howard is one of them. Howard is averaging 16.3 points per game with 11.9 rebounds and 2.3 blocks. Pek averages 16 points with 9 boards per game and his bruising style of play vs Superman will be a treat to watch.
Clark has been thrust into the spotlight with the injury to Pau Gasol and he hasn't disappointed. He is averaging 8.3 points with 6.3 rebounds per game in 23.8 minutes of action. The Lakers split the minutes at the 4 with Clark and Jamison. Jamison is averaging 8.9 points per game with 4.5 assists in 21.1 minutes of action. Love averages 18.3 points with 14 rebounds. He will be a very tough assignment for Clark.
Metta World Peace vs Mickael Gelabale
World Peace is averaging 12.7 points per game with 5.5 rebounds and 1.7 assists. When he's on his game, he is one of the most tenacious defenders in the NBA. When he is off his game, he throws around elbows and keeps launching up ill advised shots. This season he is shooting less than 40% from the field. Gelabale has only played 17 games this season, he's averaging 5.6 points with 2.8 rebounds in that space.
Kobe Bryant vs Luke Ridnour
The Black Mamba is averaging 27.1 points this season, with 5.6 rebounds and 5.4 assists. He is a man on a mission, a mission to push the Lakers to the playoffs. Kobe has stated that they will certainly make it to the playoffs, but if they end up losing to a team like the Wolves, their chances look bleak. Ridnour averages 12.2 points per game with 3.9 assists, and he will be praying for a cold night from Kobe.
Steve Nash vs Ricky Rubio
The passing of the torch, from Nash to Rubio. While Rubio is a sensational playmaker, he doesn't have the shooting touch of Steve Nash. And the Laker guard is in good form. Nash had one of his best games of this season vs his former team, the Mavericks on 24th February. He had a season high 20 points with 4 assists. The Lakers seem to be going into a Bizzaro dimension as Kobe is embracing his inner playmaker and Nash is turning into more of a scorer. But with the attention that Kobe commands, it's easy for Nash to get good looks at the rim. This season Nash is averaging 12 points per game with 7.1 assists. Alarmingly, he has been re-experiencing those pesky back spasms. Those who watched him in Phoenix will recall how he would lie on the floor when on the bench to rest his bad back. He's said that since last week he's been experiencing those spasms again.
"There were stretches tonight that I didn't feel that great. I just tried to play as hard as I can and figure it out as I went along and try not to think about it."
Rubio hasn't had a injury free season either, he's only played 29 games this season thus far and he's averaging 8.2 points with 6.8 assists per game.
The Lakers stand at 28-30, 9th in the Western Conference. The Wolves are 20-34 for 12th in the West. This is a must win game for the Lakers if they are to make it to the playoffs.