Profile: Biswajit Ojha, FIBA Referee
1.54K //
09 Nov 2012, 22:17 IST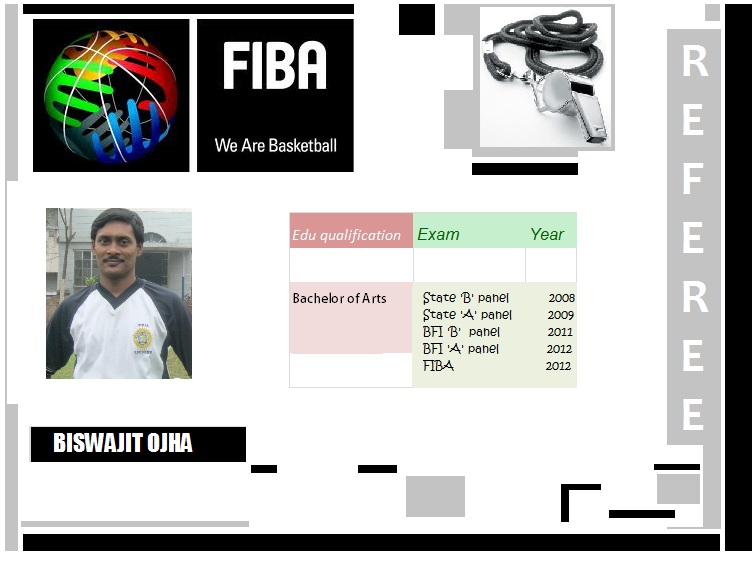 India currently has 15 FIBA referees. And two of them are from Kolkata. Basketball Federation of India (BFI) had organized the FIBA Asia Referee Clinic from October 14- 16, 2012, in New Delhi. The clinic was conducted by FIBA's Sports Director Lubomir Kotleba. Biswajit Ojha is one of the referees who earned a FIBA license here.
Biswajit Ojha has played for 1923 Chhatra Samity in state level tournaments and represented West Bengal in Youth, Junior, Senior and school nationals. Here's what he had to say: "I want to thank these people from my heart- Atanu Banerjee has always guided and helped me. He planted the seed in my mind of become a FIBA official, and always watered it and gave me courage. He helped me in every possible way he could. Without Atanu da, it would not have been possible for me to even become a mere official in my life. The other person I want to thank in this regard is my wife Arpita. She has also represented West Bengal across many age groups and in senior nationals. She has had strong faith in me and always inspired me. I'm very thankful to her. I want to thank my friend Tanmoy Das with whom I started officiating. He is not only my close friend but a well wisher and a good official too."
"I want to thank all who stayed beside me, loving me and supporting me in various matters at every turn of my career. An international official represents his country in international tournaments so I will always try to keep my country's head up."
Speaking of him, Atanu Bannerjee, a fellow FIBA referee deflected the credit and had some words of advice: "All credit to Biswajit. All I can do is inspire and motivate. It's his hard work and dedication which has led him to where he is. Officiating is often a thankless job, but it's a admirable one. Biswajit has been a official for a long time, becoming a FIBA referee is the next step which he has taken. I remember him being apprehensive about going for the FIBA exam, till 10th October he didn't get his tickets because he didn't feel prepared. I told him what's the worst that can happen? You have put in the work now and give it a shot. Now the journey doesn't stop at becoming a FIBA referee. Achieving that is half the battle, now we have to work to maintain that level."
"He's a very friendly and jolly person. He has played the senior nationals as well. Once he played a match with a bleeding arm and led his team to victory." said Saurav Chowdhury, a former junior state player who has played with Biswajit.
I've played with him in casual matches. He's a spot on shooter who plays with a calm demeanor which he carries over in his officiating. Here's hoping he continues to keep our country's head up by representing us at the highest level in officiating across the globe.
A total of 50 international and Indian referees and commissioners attended the 3 day clinic. The Indian contingent consisted of 23 referees 6 new and 15 up for renewal. The 6 Indian New Referees for FIBA Certification were chosen as follows – 39 candidates were nominated by various State Basketball Associations across India and were put through various testing – including fitness, basketball knowledge and English from 12th October to 14th October at IG Stadium, New Delhi. After reviewing all scores, 6 were chosen to attend the FIBA Referees Clinic at Thyagaraj Stadium from 14th to 16th October.
The following passed the test:
4 new referees:
Mr. Naveen Kumar
Mr. Imran Ali Baig
Mr. K. Prem Kumar
Mr. Biswajit Ojha
11 renewal referees:
Mr. Atanu Banerjee
Mr. Sharad Vasant Bansode
Ms. Snehal Bendke
Mr. Petr Santhosh Divaker
Mr. Zanim Mohamed Hashim
Mr. Manoj Subbayya Kotian
Mr. Mecky Fredrick Lobo
Mr. Amarjoth Singh Mavi
Mr. Rajnarayan Patro
Mr. Anupam Sharma
Mr. Michael Ceciline Vinoo