Rejoice, LA Lakers welcome new coach Mike D'Antoni
816 //
12 Nov 2012, 15:44 IST
Goodbye Mike. Hello Mike. There is a God. Hallelujah! Everyone get up and do the Gangnam Style and welcome the savior.
The Lakers had fired Mike Brown as their head coach after a miserable start. The biggest question in the league the last few days has been who will replace Brown and can any coach actually step up to the challenge? This is a challenge, as with such an almighty roster, anything short of a Finals appearance will be seen as a colossal failure.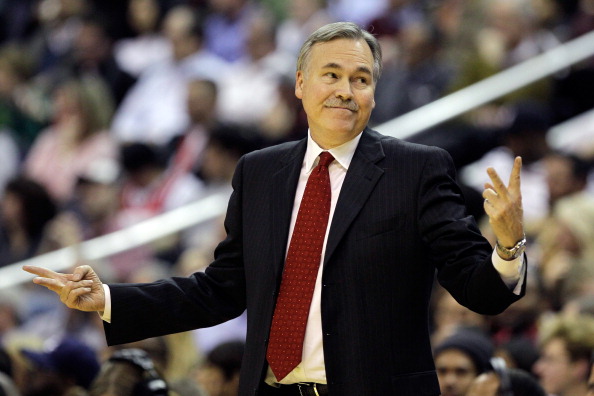 Mike D'Antoni, he who perfected the 7 seconds or less offense with Steve Nash in Phoenix, will step in as the Head Coach of the LA Lakers. Looking at the current Lakers roster and how they were being underutilized made me wince all around. In theory, it makes sense that a scary talented offensive team ought to be headed by a defensive mastermind as the coach. But Mike Brown's stay in Los Angles proved that wrong. The unrelenting hype around the addition of Dwight Howard and Steve Nash made basketball fans all over salivate at the unlimited possibilities this roster had to offer. And then, as a cruel joke, they implemented the Princeton offense under Mike Brown and we saw first hand how a hall of fame team can have its legs chopped off by the coach.
We longed dearly for a replacement coach, any coach besides Mike Brown. Heck, even no coach would do, just let Steve Nash run 90 screens a game and watch the magic. How hard is the math? Nash did wizardry with his playmaking when he had average players at his disposal. Give him Bryant, Gasol, Howard et all and let him unleash a basketball fan's dream, an all star cast playing basketball with 7 seconds or less offense. Even make it 15 or less. Anything besides Princeton. Lakers assistant coach Bernie Bickerstaff was named interim coach when Brown was fired on Friday morning after a 1-4 start. The Lakers are 2-0 under Bickerstaff, with wins over the Warriors on Friday and the Kings on Sunday.
Any replacement coach would do in place of Mike Brown. Rumours abounded of Phil Jackson floating in on his Zen cloud. But more rumours surfaced that he wanted too much, earlier his salary was over 10 million. On an average, an NBA coach earns $3.1 million. Really, anyone would do at this point. Even if not Phil. A few days ago I wrote that it would be a dream come true if Mike D'Antoni would come over at the helm of the Lakers. New York Knicks, I thank you from the bottom of my heart for letting Mike D'Antoni go when he resigned.
"Obviously I think everyone knows how much I love Mike," said Nash last week. "If [D'Antoni] were to coach, it would be seamless and terrific for me, and I think the team as well." Nash won two MVP awards under Mike D'Antoni. Nash and D'Antoni have more in common now that they are both battling leg injuries and it is unsure when they will be able to get on the floor and sidelines respectively. Spoke Lakers spokesman John Black: "Dr. [Jerry] Buss, Jim Buss + Mitch [Kupchak] were unanimous that Mike D'Antoni was the best coach for the team at this time."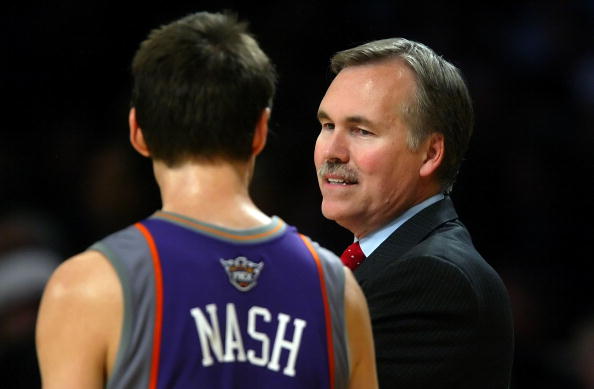 While his winning percentage of .534 (388-339) isn't on par with Mike Brown (314-167, .653), he is much better suited to take over this Lakers roster. He has also coached Howard as an assistant coach in the 2008 Olympics. Bryant also idolized D'Antoni while growing up in Italy, where D'Antoni was a star player in the Italian league.
More connection – there is another reunion here, backup point guard Chris Duhon with coach D'Antoni. He averaged 11.1 points and 7.2 assists per game under Coach D'Antoni in New York and he also set the Knicks franchise record for most assists in a game with 22.
On offense this team looks pretty set, and for those worried about D'Antoni on defense, Knicks were in the Top 5 in defensive efficiency under him last season. And he has Dwight Howard, Metta World Peace and Kobe Bryant to play tenacious and lockdown D and elbow one and all on defense.
To be fair to Coach Brown, he didn't have enough time to try and make a proper adjustment. 5 games into the season and Bam! You're fired. That's not really fair. But it allowed Mike D'Antoni to step in. Once again, thank you God for this magical pairing.
And talk about timing. Here at Sportskeeda we are about to start off a series on Top 5 Coaches in the NBA, this week. Keep an eye out on a rundown of coaches in the league.