Review: LA Lakers vs Phoenix Suns
779 //
17 Nov 2012, 13:12 IST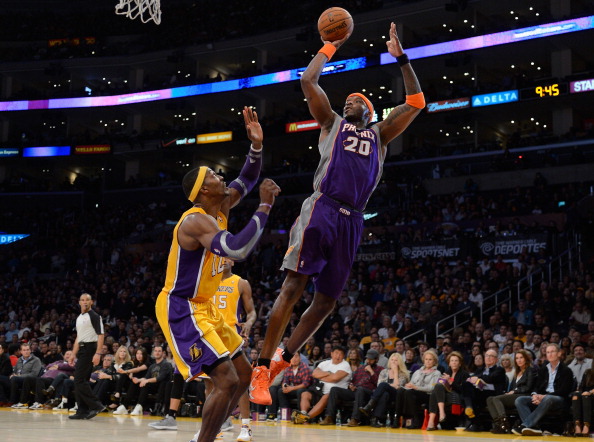 Watching the Lakers is fun. Not as much fun as it ought to be with their loaded roster- the return of Steve Nash ought to bring that back. Speaking of back, Dwight Howard had a very real problem with his back, and even Nash's return won't fuel this team to its full potential until Howard recovers. Dwight Howard is not himself. Well, he is Dwight Howard, just not the Dwight Howard we have been accustomed to watch. In the Dwightmare of last season, with him vaccilating between different teams to be traded to, him sitting out of the playoffs was tinged with a suspicion of him sulking. He actually had a very real problem with his back and its clear its still bothering him.
This is a player who raised the hoop 12 feet high to dunk on. He barely got above the rim in this one. Its a testament to Howard's greatness that he still is playing great in spite of not being 100%. Playing great, but is capable of playing super. Its painfully clear that Dwight Howard needs a point guard to create good position for him and work pick and rolls. Steve Nash can't return sooner.
It didn't matter much vs the Suns. Metta World Peace got things going for the Lakers with 11 points including 3 of 3 from three point range. The game started off fast for both teams with the Lakers leading 35-30 at the end of the first quarter. Phoenix fought back to tie the game at 50 after a 10-0 run. World Peace also got into it with P.J. Tucker of the Suns for fun. Its always funny hearing commentators describe altercations involving the former Ron Artest. "World Peace is about to punch the living daylights out of him." is not a sentence you will hear anywhere else.
The Lakers played under interim coach Bernie Bickerstaff, who as his name implies bickers with the staff and thus won't be a permanent coach. Mike D'Antoni is expected to step in the Lakers match vs Houston, that ought to restore some balance across the scoreboard. One welcome surprise for the Lakers has been Jordan Hill. Especially on the offensive glass where he cleaned up 4 boards. The league is small. Shannon Brown, the former Laker, was now trying to light up the Lakers as a Sun, while two former Suns were on the sidelines of the Lakers, while two former teammates were battling in center position. The matchup between Gortat and Howard wasn't close, Gortat just managed 6 points and 8 rebounds to Howard's double double.
Kobe Bryant finished with 31 points. Dwight Howard added 18 points and 12 rebounds. Steve Nash's prodigy Goran Dragic gave 22 points. Luis Scola scored 18 points, while Michael Beasley added 14 points and a career-high nine assists. Five of the Suns players scored in double figures, as did five Lakers.
Kobe Bryant is not old. He is still the best player on the Lakers. But not good enough to take over 15 shots in the first half when he has Gasol and Howard. He finished with 31 on 10-24 shooting. And his minutes ought to be moderated to keep his legs fresh, playing over 38 vs the Suns and taking so many shots is a symptom of having no coach. Mike D'Antoni has said "If we're not scoring 110, 115 points, we need to talk." He was saved the trouble this time. Even though the Lakers played porous defense, luckily the Suns were even more porous. This was a high scoring affair with the Lakers winning 114-102.