Review: Uttarakhand defeat Punjab at 63rd Basketball Nationals
4.95K //
04 Jan 2013, 22:47 IST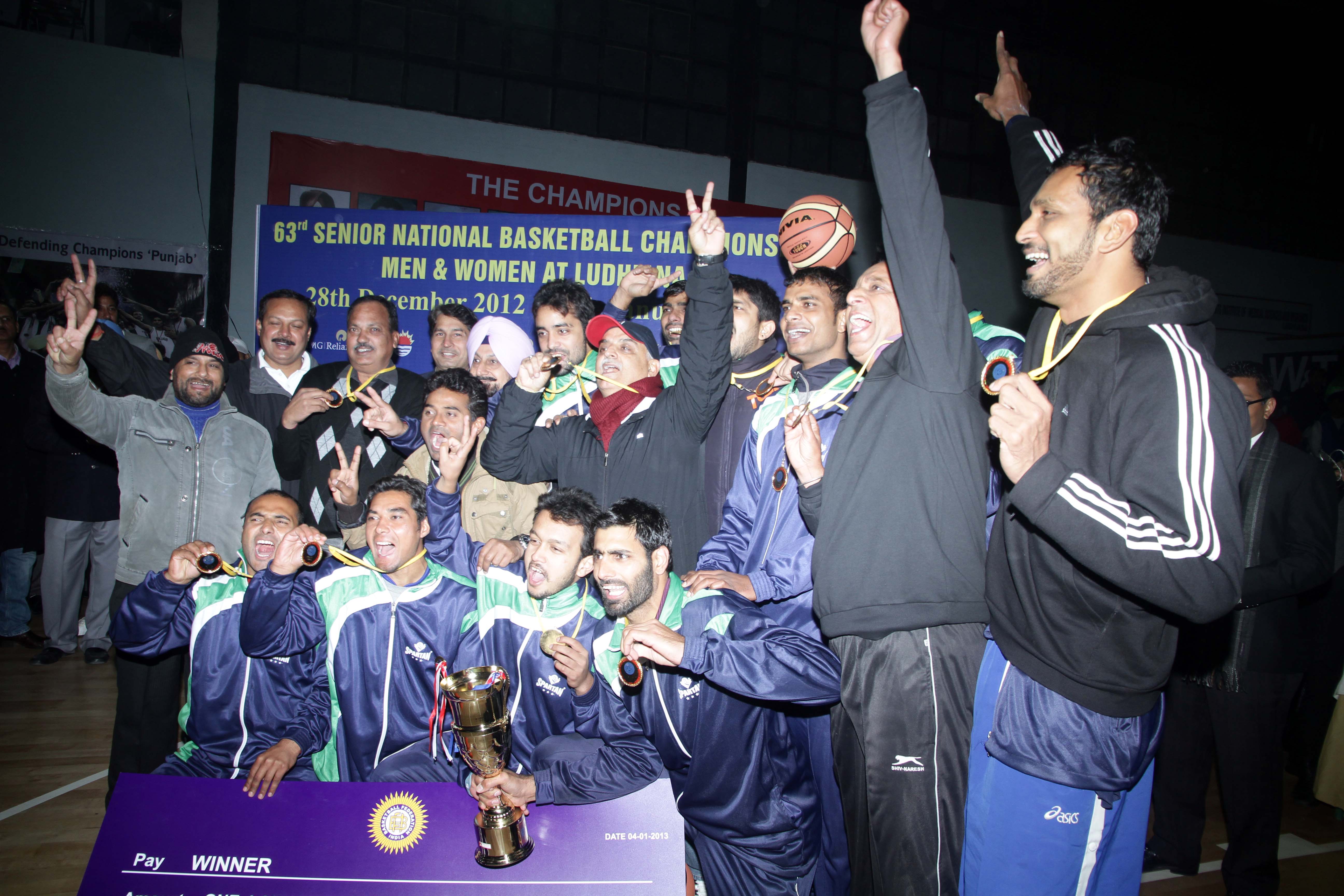 Last year, Punjab defeated Tamil Nadu in the finals to win the title. This year they have given another blow to Tamil Nadu as Amjyot Singh, who had left Punjab Police for Tamil Nadu, did not get a No Objection Certificate to represent his new team, as a result Tamil Nadu could not use him. Tamil Nadu lost to Punjab in the semi finals yesterday.
A similar situation with the NOC happened with Vishesh Bhriguvanshi and Yadwinder Singh last year. They had left the Railways for ONGC and were not allowed to play for Uttarakhand in the Nationals. This time they are in fine form as Vishesh, the leading scorer in the nationals, is making his case for best player at the nationals. He is averaging 28.6 points per game in the six games Uttarakhand has played.
Punjab's frontline boasts of the future. Satnam Singh and Palpreet Singh Brar are two youngsters who have made a name for themselves in the international youth competitions in Asia. Satnam is currently training at IMG Academy in Florida in the hopes of making it to the NBA. Palpreet was instrumental in defeating Tamil Nadu with his defense yesterday. ONGC countered with the experienced Murali, who is captaining them, and Yadwinder Singh, who is one of the most energetic fours in India.
Jagdeep Singh hasn't played because he is still recovering from a back injury. But he played a little in the second half today. The captain TJ Sahi is doing well to shoulder the load in scoring, Punjab are led by him as he's averaging 25 points per game over six games in the nationals. Uttarakhand's SG, Trideep Rai, was a former captain of India and is one of the most experienced players and accurate shooters in the country.
Point guard position is manned by Amritpal Singh (Sr.) for Punjab, his 26 points led the way for them to defeat Tamil Nadu in the semifinals. He faced Vishesh Bhriguvanshi who is on a tear right now with his sizzling form. He dropped 40 points vs Tamil Nadu in the nationals this time. Starting small forwards were Anoop for Uttarakhand and Ranbir for Punjab.
These two teams, albeit with a little different roster, faced off at the Savio Cup last year in the finals where ONGC beat Punjab. ONGC team is mostly comprised of Uttarakhand players. Here are the video highlights of that contest:
Both teams came in to the finals undefeated. Here are the teams these two have gone through at the nationals this time-
Punjab have defeated:
Rajasthan, 85-74
Services, 86-66
Karnataka, 87-79
Delhi, 98-76
Kerala, 90-66
Tamil Nadu, 79-59
Average margin of victory- 17.5 points
Uttarakhand have defeated:
Services, 83-66
Chhattisgarh, 77-52
Railways, 88-70
Tamil nadu, 96-70
Haryana, 71-54
Andhra Pradesh, 87-48
Average margin of victory- 23.6 points
This was shown live on DD Sports. Here's how the match went down:
Not more than a few seconds after tipoff, Trideep Rai opened the scoring column for Uttarakhand with a three.
Palpreet Singh answered back with a free throw line jumper.
Vishesh got to the line for Uttarakhand to increase the lead.
"Galti karoge to uski bharpai karni hogi." Golden commentary from DD Sports. In English, that means "Vishesh is fouled and sent to the line."
This match was all about Yadwinder Singh. For his first basket, he faked both Satnam and Palpreet out of their shoes and dropped in a jumper from close.
Commentator was calling TJ Sahi as Amritpal Singh for some strange reason.
Palpreet goaltended at the rim in a careless act.
Satnam got his first points at 7:26, dribbling under and putting up a reverse shot over Murali, the captain of Uttarakhand.
Score was 9-4 in favour of Uttarakhand with 6:30 left in the first quarter.
Satnam got a offensive rebound and laid it in.
Captain TJ (Amritpal to the commentator), drove in and lofted in a teardrop shot.
Ranbir for Punjab dropped in a layup. It looked like Punjab were going to pull away
Thank goodness Shiba Magon came in to help out with commentary at this point.
Murali slammed it home emphatically to make a statement that they have come to Punjab to take the title away.
Next possession for Punjab, Yadwinder ran in all the way from the free throw line to block Satnam right at the rim.
TJ was then whistled for a clear path foul on Vishesh, two free throws and possession for Uttarakhand.
Yadwinder got in close and went right over Satnam to lay it in.
Satnam replied with a cool jumper from the baseline.
Yadwinder again with an And 1.
Score was 23-16 at the end of 1st quarter in favour of Uttarakhand. Shiba commented that usually teams start off with high scoring quarters and then slow down as fatigue kicks in.
2nd quarter, Murali blocked TJ to open things off.
Shiba commented that Amritpal Singh, who could have been playing for Uttarakhand, did not get to do so as he didn't get NOC from Punjab. She said that Uttarakhand has come in with an attitude to prove that 'Take away as many players as you want, we will still win this one."
Pick and roll with TJ Sahi and Satnam Singh gets Satnam an easy two.
Trideep Rai drove in and laid in a floater.
Satnam got his first dunk, a one hander off a nifty dish from Loveneet Singh.
Yadwinder got the ball at the baseline. Coolly turned the corner and went reverse to lay it in around Satnam. Satnam may have half a foot on Yadwinder, but the latter is spry, nimble and experienced. His footwork and vertical enable him to get clear looks at the rim all game long.
Vishesh streaked ahead for a fast break layup but was fouled from behind for another clear path foul.
Score was 31-20 with 6:16 left in 2nd quarter.
Yadwinder gets two more.
TJ knocks in a long three from 45.
Incredible hustle with TJ and three Uttarakhand players taking it to the floor.
Uttarakhand players were able to get in with ease all night long and find holes in the defense of Punjab for easy buckets up close.
Palpreet Singh knocked in a free throw line jumper.
Murali dropped in two over Satnam's outstretched hands.
Great drive and dish by Loveneet Singh. He thrives at driving in, drawing the defense on a layup and then dishing it off at the last moment.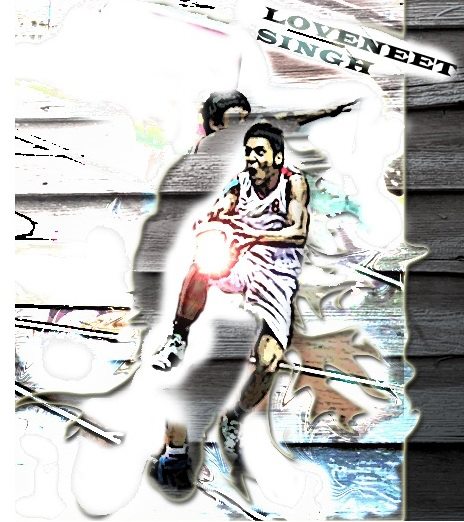 Yadwinder with a fadeaway over Satnam. Satnam answers with a power move inside for two.
Vishesh drove in and layed in two over Satnam.
Amritpal Singh aka Jagdeep Singh to the commentator, makes two.
Palpreet Singh with another freethrow line jumper.
Satnam airballed a three trying to go two-for-one with 30 seconds left.
Vishesh backed Loveneet inside and dropped in a hook shot.
Score was 45-34 at halftime in favour of Uttarakhand.
This is the 17th final Punjab has played.
Satnam started off the third quarter with a power move inside.
Vishesh drove in with a Euro step, past Satnam, but he missed it. Murali was there to clean up the miss.
Yadwinder knocked in a three pointer.
Palpreet faked a shot and pulled up for yet another.
"America ki NBA ka prabhav." More golden commentary from DD Sports.
Yadwinder dropped in two over Palpreet and the two got face to face for a second. Yadu ended it with a hug.
Score read 54-38. The lead was getting out of hand.
Yadwinder drove in for a free throw line jumper.
Jagdeep Singh SR checked in and prevented a layup from Vishesh by knocking it off.
"Aur yeh UNDERBASKET MISSING!!"
Yadwinder again
58-41 lead for Uttarakhand.
Fourth quarter saw the lead come down to 46-63 off a 3 by TJ
"Karo ya maro ki niti apnani hogi." Get Greg Popovic to find that in his playbook. Wish Shiba had done the entire commentary.
The final score read 79-61 in favour of Uttarakhand. It should be noted that these games are of 40 minutes, not 48 like in the NBA. Overcoming a double digit lead in the fourth quarter is a lot more difficult here. The final was very entertaining and both teams came into the finals with equally impressive form, the one sided scoreline is credit to Yadwinder Singh and his 33 points and 12 rebounds.
We won't have to wait long for a rematch, the Federation cup will be held soon where ONGC and Punjab Police will probably square off once again. By then, Amritpal Singh Jr. may get to play for ONGC too.
Heartiest congratulations to Uttarakhand on a well deserved win. Last year, Trideep Rai was the leading scorer at the nationals but he couldn't do it all on his own. The moment when he and Vishesh shared a hug at the end of the game spoke of the long time they had been waiting for vindication.
Here's the stat sheet: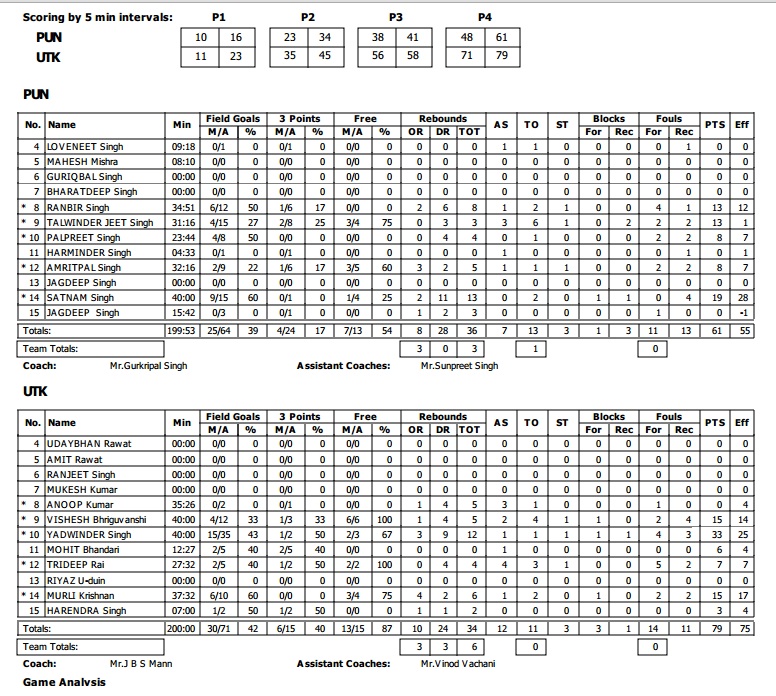 For those who think that Satnam ought to have played better, he is only 17 and he scored 19 points with 13 rebounds at the biggest national stage. His game will evolve as he ages.
The women's finals was won by Indian Railways, after they defeated Tamil Nadu. Check back for a review of the run by the Railways soon.