Ruminating on the anomaly that is Ricky Rubio
1.32K //
18 Dec 2012, 19:53 IST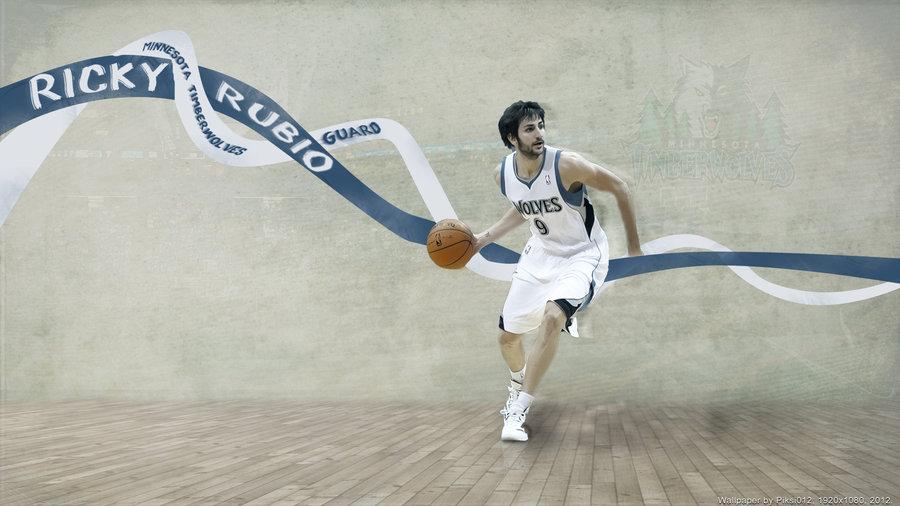 A fourteen-year-old playing in the Spanish ACB league is an anomaly. A sixteen-year-old playing in the Euroleague is extreme. A seventeen-year-old representing the senior team of his country in the Olympics is an extreme anomaly. Even someone like Pau Gasol wasn't given playing time in the 2000 Olympics, and he was drafted 3rd overall in the 2001 NBA draft. Ricky Rubio is an anomaly, read on to find out why.
"When I was 12 I heard one of the best sentences in my life, it came from Magic Johnson. 'A basket makes one guy happy. An assist makes two guys happy.'"- Ricky Rubio
If I had to choose which point guards to watch ply their trade, I'd choose Chris Paul and Ricky Rubio over Rajon Rondo, Deron Williams and every other point guard in the league. Why I can't get enough of Chris Paul is readily evident to anyone who has ever watched him in action. The man defies belief. He is one of the best scorers in the league and there is no player in the league more adept at creating off the dribble. Durant may launch it over the outstretched arms of 'Saabu' as if the defender is no more than a tiny, motionless mannequin. Kobe breaks defenses down by working his way in with decisive footwork and when he can't get the look he wants, he just lets fly with the look he gets and it's often as good as the look he wanted. But Chris Paul's crossovers are the trickiest in the league and the way he creates space from nothing, is nothing short of amazing. His off balance floaters on unusual angles have an improbable tendency to fall and he isn't even the fastest point guard. His mesmerizing display of skills coupled with a stellar will to win makes his every game a compelling watch.
"When he has the ball in his hand, I'm a much better coach."- Rick Adelman
As far as mesmerizing point guards go, Ricky Rubio is right up there with Chris Paul, blasphemous as that may seem. Granted Rubio doesn't average Paul's otherworldly numbers, nor does he have the vicious and commanding presence which makes a defender second guess himself and his teammates beguilingly fall in line. I'm not saying that Rubio has a similar impact on court as Chris Paul, my stand is that he is every bit as mesmerizing. In 2010, Ricky Rubio won the trophy for Most Spectacular Player of the Year in the Spanish ACB league. That describes him to a T. A 6 foot 3 floppy haired bag of skin and bones who isn't the fastest, strongest or the most explosive player at his position. Nor does he have the most reliable accuracy or range on his nascent jumper. What then is so special about him? Ricky Rubio's most prized attribute is his mind.
Back in 2008, one GM remarked of Rubio: "He is a real point guard, he defends, he plays hard, and he's got some pizazz to his game. The kid just knows how to play. He's been playing with men the past three or four years, for one of the better teams in Spain."
You don't get to play hoops at the highest level just on the strength of your physique. There is a hierarchy to surpass. Unless you are as gifted in the gray matter as Ricky Rubio. Growing up, we were taught the three types of passes. Chest pass, bounce pass and overhead pass.
Ricky Rubio missed that class. His passing makes you stand up and take notice. His passing makes me realize that there is hope for humanity. His passing could cure cancer if it were a disease beautiful basketball could cure. It is not always something which will jump out at you. Those one hand bounce passes which aren't directed at a player, rather at a spot where a player will come to be. The slow but methodical crossover which makes the defenders snap their eyes away for a instant, and before they recover, their man has got a perfect dish from Rubio while rolling to the rack. What Iverson did for the crossover, Rubio can do for passing.
"With Ricky, you better keep your eye on the ball or you'll get hit in the head."- Wesley Johnson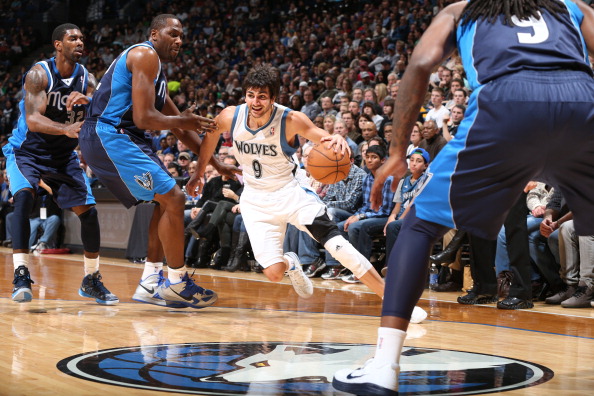 If someone kept a stat on the number of passes through the legs of opponents, Ricky Rubio would lead the league. I'd love to watch an experiment where Rubio's teammates' heads were wired up and the activity level in the prefrontal cortex of their brains recorded when Ricky has the ball. And compare it with the teammates of any other point guard in the league. When Ricky has the ball, every second is a potential highlight play and his teammates are on the edge every second expecting a pass. With someone like Blake Griffin, you know what is coming when he thunders down the lane. With Ricky Rubio, you never know what's next. He may be the most innovative passer in the NBA today and when he has the ball, every second is a potential highlight play. He keeps trajectory in mind when he passes. His alley oop passes are sometimes at bullet speed, sometimes they are dinky lobs, every time they are unexpected and right on the mark. He keeps the defender's mind in mind when he passes. No other player is more deceptive with his no look or behind the back dishes. He keeps everything in mind when he passes and he operates on a subconscious level which is sublime to watch.
Tony Parker got his first triple double after playing over ten years in the NBA and got a custom cake for it. Ricky Rubio had a triple double in his third NBA game vs the Miami Heat where he totaled 12 points, 12 rebounds and 12 assists. Rubio had a double double in 11 of his first 23 career games, and he didn't even start until the 11th game of the season. Rubio is the only player in the NBA with a quadruple single; he had 9 points, 8 assists, 7 rebounds and 6 steals vs the Pistons last year. Not that it's a very impressive stat, lot of players have had quadruple doubles, but that's just Rubio making his mark in history in unexpected ways. Even his numbers defy the norm. Before getting injured, Rubio was averaging 10.6 points, 8.2 assists, 4.2 points rebounds and 2.2 assists over 41 games. Extrapolate that for the entire season and you have a strong candidate for rookie of the year.
Then came the ACL tear while defending Kobe Bryant. The man who was the MVP of the FIBA Europe U-16 championship was sidelined for nine months. Time for purgatory has passed and three days ago when the Dallas Mavericks came to visit the Target Center, there was a exercise bike behind the Wolves' bench. There was Rubio, pedalling hard on it for 10 minutes before jogging over to the scorer's table to be substituted. Someone outside the arena must have thought the Wolves won the game prematurely upon the roof being raised by the howls of the Wolves' fans inside at the sight of Rubio about to check into action. The savior, messiah, alpha wolf who is gentle, the hope of a entire city on his shoulders, Ricky Rubio stepped within the sidelines to roaring ovations.
In 18 minutes of action, Ricky Rubio amassed 8 points, 9 assists and 3 steals to help the Minnesota Timberwolves defeat the Dallas Mavericks 114-106 (OT). In his return to action vs Dallas Mavericks, Rubio showed us what we have been missing for the better part of last year. Ricky Rubio is still not cleared to play back to back games, or play more than 20 minutes in a game so he won't be playing vs the Miami Heat tomorrow. Coming back from ACL and MCL surgery is no joke. Almost like a man who has been told he has a few years to live, he has taken it upon himself to knock off a bucket list of impressive plays on court in the limited time he is allowed to be on it. Even in his limited minutes of action, he is mesmerizing us with nonchalant ease. This season the Timberwolves are placed to make some serious noise out west and Rubio will be leading the pack out of the backwoods of the lottery.
Enjoy this once in a generation gift, the maestro that is Ricky "Tricky" Rubio.