Struggling Lakers await the return of the saviour Steve Nash
749 //
30 Nov 2012, 00:39 IST
"In Phoenix, we couldn't win without him. Not even a game. Nash can do everything. He doesn't need an offense. He just needs the ball."- Lakers coach, Mike D'Antoni.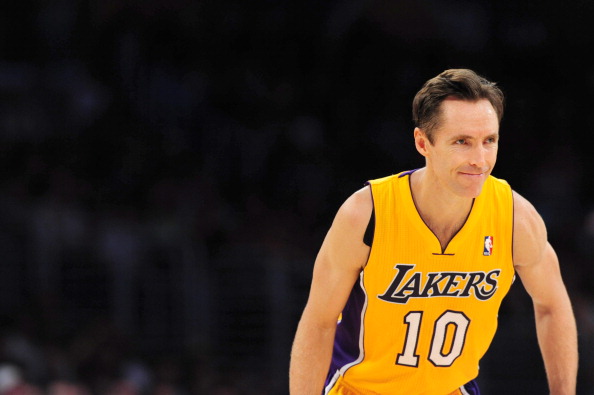 There aren't many players for whom that can hold true. Of course, Kobe just needs the ball and the rim. He doesn't need teammates, opponents, arena, fans, whatever. Kobe "Pass? Just get the rebound!" Bryant may not think he needs anyone to put up otherworldly numbers, but he needs help to play towards winning. He put up 40 points versus the Pacers recently, but he did so on 28 shots. Kobe can do everything, but that won't always result in wins for the Lakers.
"We're doing it without (Nash), who is kind of the engine that is going to drive us forward. So we're going to have some bumps along the road."- D'Antoni said.
Race a pimped out bullock cart vs Dhanno and Basanti. The latter would win in a flash. It's not about how fancy the chassis of the vehicle is, its about the engine which drives it.
A world class car is only as good as its engine. The Lakers have the best looking chassis in the league. The biggest alpha dog in basketball, Kobe Bryant can single handedly change the course of any game with his mere presence. No other player in the league commands more awe and respect and is more aware of it. But he needs a point guard who will have a steady influence on the game.
The fancy purple and gold car doesn't have the corresponding fancy wheels. It has monster truck sized giant wheels. Dwight Howard and Pau Gasol make for a set of wheels which allow this Goliath of monstrosity to rumble and tumble over and steamroll the opposition. But Howard is not at 100% right now. Superman has been more of a Clark Kent this season, his explosiveness has been limited by his injury. The tires are a little deflated right now. With Nash in the lineup, the man who made Marcin Gortat look amazing, covering up the weakness in Howard's explosiveness will be a cinch. In what has been an unexpected surprise, Metta World Peace is actually averaging more points than Pau Gasol. Expect that to change with Nash's arrival. Not because World Peace's touches will be limited, rather Nash will be able to exploit the versatile Gasol to his full potential.
"It's hard. I have my moments where I get down," Nash said. "I haven't been out this long in 10 years. It's hard. It's frustrating. I worked really hard this summer and through training camp this year. I was just starting to come into myself. Now how long is that going to get that back when I'm healthy. It all plays in your mind and makes you really eager."
Imagine the years and years of bitter disappointments which Nash endured in Phoenix. Making the playoffs, only to be knocked out time and again. Finally having the team gel together, then watching Robert Sarver jettison Joe Johnson and later Amare Stoudemire, and pass on other pieces, time and time again. The bitterness is overwhelming. Now imagine finally getting to be on a team which is best suited to serve his talents, and then getting injured and having to watch from the sidelines.
The man is hungry to get things started.
"I mean, in my eyes, he's the one that pretty much invented this offense," Jamison said. "Steve, he just creates so many easy opportunities for his teammates. He knows how to put the pressure on the defense. He knows where guys need to be. It's almost like having another coach on the floor."
There is only one ball. And five players who are eager to put it in the hole. All five convinced that they are the best at putting the ball in. You need that one player who knows where to get the ball and when. The point guard who can make decisions under duress and make things happen for his teammates and himself. Nash is that man.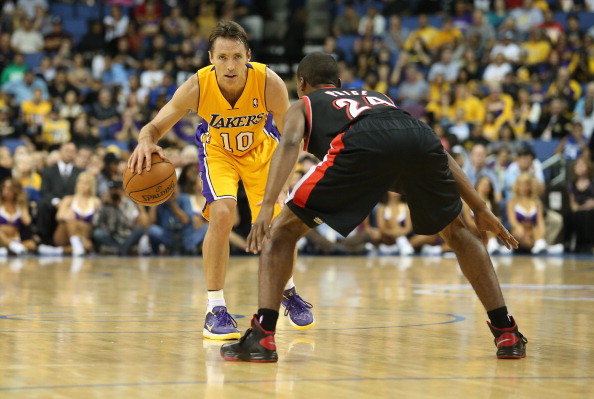 "Just from the standpoint from Steve's . . . three-point shooting, that alone makes it much tougher to defend us," said Kobe Bryant. "Then you add in his passing ability, his ability to facilitate where I don't have to be at the top of the floor. I can kind of be in a strike position."
Don't forget that Nash is in the elite group of 90-50-40, averaging above 90% from the free throw line, above 50% from the field and above 40% from the free throw line. He isn't just a playmaker because of his excellent court vision and ball handling ability. Nash commands respect from the defense because of his lethal touch from outside.
"He's a great point guard and he's familiar with the system and the coach, so he will definitely help. He won't solve everything but he will have a positive impact for sure."- said Pau Gasol
As good as Nash is, his insertion in the lineup won't magically cure all the woes of the Lakers. This is a team with almost limitless potential because of the way it's built. Once Nash eases in to his role, the sky is the limit for how good the Lakers can be. But it won't likely be immediate.