The shooter named Reggie Miller
2.14K //
29 Nov 2012, 01:08 IST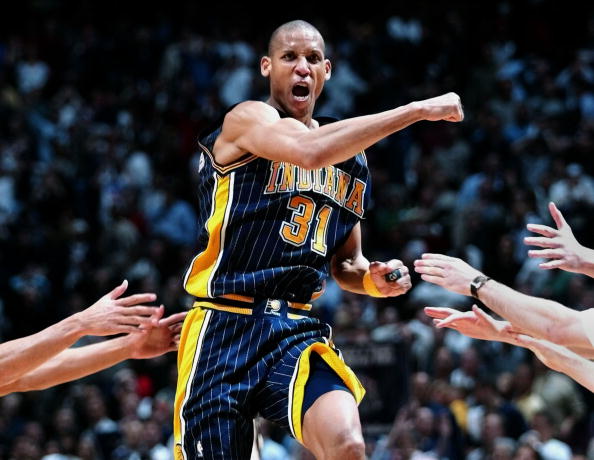 There was a time when there wasn't a Kobe Bryant, Kevin Durant or LeBron James. It was the time when Jordan was about to retire and big men like Shaq, Tim Duncan and Kevin Garnett were too young to be judged as primos. The time unanimously belonged to one man but he never saw his team win the NBA. He made every shot that his fans cheered out, sometimes shot 10 points in less than 20 seconds or if needed, did it twice. People loved him, admired him and definitely envied him. After all, he shot the ball better than any active player – some would argue better than Jordan.
Last name: Miller and first name: Reginald – yes, ladies and gentleman, our dear Reggie.
For 18 illustrious years, Reggie governed Indy town like Peyton Manning did with the Colts. When he shot, fans' jaws dropped in awe at his art. Many thought when he retired; the game's best shooter was gone. Till today, the Pacers haven't found him a substitute. Granger is getting there they say, never will he be Reggie they know. The Bulls found Rose, the Lakers found Bryant and the Celtics found Pierce. For sad old downtown Indianapolis, Reggie is still the best thing that happened to them in years. And I being a Celtics fan still believe he shot the ball better than Ray Allen.
Miller wasn't instantly meant to be a prodigy. You hear of those stories: "Oh as soon as he was born, he yelled basketball and I knew he would be a show stopper." OR "Mah dude dunked all over the town that the Lakers had to spot him. Boy O Boy, he was the next big thing!"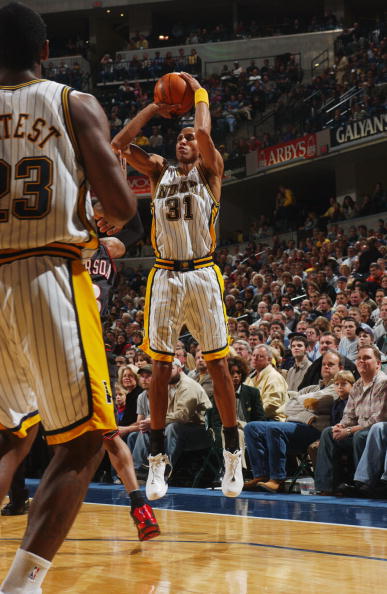 For Reggie, he started with a hip deformation. Life was meant to be hard. Doctors thought he couldn't walk unassisted and many questioned his ability to run, let alone jump. Nearly 50 years later, here we are, talking about this legend that almost never played the game. If inspiration ever needs to inspire itself anymore, Reggie Miller will sure assist it. At the age of 5, his leg braces came off and the legend was born once again. His athletic family helped him but Reggie's brave attitude never shooed him from glory. He started out with baseball but like what many smart kids did, he switched to the sport that wouldn't elude him off success. At Riverside Polytechnic High School, he became a folk hero and at UCLA, he graduated with 2095 points, second only to "His Hoopness" Kareem Abdul Jabbar. In the 1987 Draft, the Pacers picked Reggie Miller as a first round pick and thereby began the love affair between the city of Indiana and Miller which only Peyton Manning can let alone compare his affair to.
Miller's career in the Pros wasn't perfect. He never won the elusive NBA title and he enjoyed a whole host of publicized feuds. Miller and director, Spike Lee showered each other with "praises" off court during the playoffs and Lee is now a two time famous recipient of the "I got TROLLED by Reggie Miller award". The Pacers were never the storied franchise of the league and as Donnie Walsh describes it, Miller did try to put everything in place single-handedly. Moreover, he was physically leaps away from the league's elite. Donnie Walsh, the former President of the Pacers organization had the following things to say to the New York Times, "He took a very troubled franchise and ended up in the Eastern Conference Finals six times. That's pretty impressive for a guy who weighs about 185 pounds, and in the years that he did it, he was a marked guy and he relished it. I feel very thankful to Reggie to what he did for the Pacers and I just feel he deserves to be inducted into the Basketball Hall of Fame, whether it comes now, later or whatever."
Walsh is right. The lad from California didn't win a whole lot and may never be the hero who our grand kids grow up to hear stories of but Reggie Miller owned defenses like nobody did. And to evince that, the game against the Knicks in the `94 Eastern Conference Finals, Miller played one of the craftiest fourth quarter performances ever witnessed.
Game 5, Madison Square Garden and the Pacers are being drubbed by the heavily favored Knicks. To make it worse for the Pacers, Knicks' greatest known fan, Spike Lee is next to the bench cheering them all along and booing every one of Reggie's shots. Things changed in the fourth quarter and what the fans witnessed hadn't happened often before. Miller shot 25 points in the final 12 minutes and an astonishing 8 points in the last 18 seconds of the game. YES, 8 in 18, UNBELIEVABLE!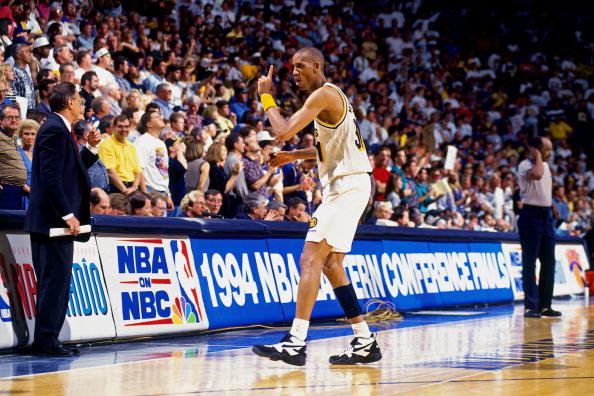 "Miller with the ball, turns around and shoots. IN!" "Miller for three, OHHHHHH!, Reggie Miller is now on showtime mode!" "Is this real? Reginald Miller, a graduate of UCLA has now shot 8 points in 18 seconds and just when it looked like the Knicks had won it all, Miller takes the Pacers back home with a 3-2 lead in this playoff series." What happened after that didn't help Miller as the Pacers lost the series 3-4 to a rejuvenated Knicks team but Miller time came back a year later in the playoffs. THIS TIME – 8 points in 8.9 seconds!
The Pacers were down 99-105 and Mark Jackson had the ball down court for the Pacers. Just when the Knicks should have shut the game down, Miller gets the ball and then, the game belonged to one man only. Shoot, basket, intercept, and shoot, basket, fouled and game over! Anthony Stark missed two free throws in the middle and Patrick Ewing hauled a 'lollypop' over the basket, but Miller knew with less than 10 seconds to go in the game, he certified himself to the superstar status. Stars make it happen once but legends take it one step forward and repeat it. That is what Reggie Miller showcased to the basketball fraternity.
When Ray Allen jumped ahead of Reggie in most three point field goals made, he had nothing but praise for Reggie. And what better way than not to quote him, "It's so serendipitous that it happened the way it happened. For us to be sitting here, Reggie's in the building and he's in the building able to work the game." (UT, San Diego)
The career spanned for another decade and at retirement, Miller had a huge host of personal accolades to cherish. His jersey #31 was retired by the Pacers and for a long time, he held the record for the most three point field goals made. The city of Indianapolis silently wept for the Gods when Miller announced his retirement through his sister, Cheryl on public television. Game over, Reggie but the show never ended. Today, he is a host of TNT's NBA telecast and his humor still stays beside him. The court misses its sharp shooter but the game still holds onto the hero.