Women's Basketball: India vs Taiwan WUG. Recap and Gallery
1.32K //
31 Jul 2011, 23:10 IST
Indian women lost to Taiwan WUG/Chinese Taipei U today in their first game in the William Jones Basketball Tournament/Taiyan Jones Cup. (There were different names used in the English and Chinese websites. The names after / are as shown on the Chinese coverage of the game)
Here are some observations about the game:
They had 3 players in double figures. We had 2.
They had an advantage of:
19-14 assists.
42-36 boards. They had 19 offensive rebounds.
14-13 steals.
16-23 turnovers.
They missed all 9 of their 3s and shot 42% from the field. We shot 53%.
India was pressured into a bunch of turnovers through a full court press which led to easy shots for them. It's a testament to the Indian team that they were able to keep the game close in spite of so many points off turnovers.
Here's the division of scores by quarter:

The second quarter saw India fall into a hole from which they never recovered, even though we played really well down the stretch.

The final quarter was a delight for an Indian fan, although the finish wasn't there.
Read the in game commentary to see how things went down from the 2nd quarter onwards:
_________________________________________________
Commentary starting from ?2nd Quarter with 2:30 mins left.
India down 31-22
·
Half time. India down 35-22. We almost made a buzzer beater to end the 2nd quarter.
·
Halftime highlights reel dominated by TWUG. Also shows Geethu Anna Jose getting a turnaround jumper and another close one down low. Also a snappy assist by Prashanti Singh. And a 3 by Pushpa Maddu.
·
Geethu hits another. 37-24.
·
Drive by Prashanti Singh. 37-26!
·
They are using a full court press. India lost possession bringing it up twice and they got easy baskets. Then India passed it around right under their rim for a score.
·
Baskets by Geethu Anna Jose and Prashanti Singh.
·
India down 45-32. Geethu almost got an And 1, missed the free throw. 6 mins left in 3rd.
·
Geethu makes it 34-45.
·
India down 34-47. 5 mins left in 3rd.
·
36-49. Nice passing leading to Geethu's score.
·
Nice driving layup by 7 for India. 38-53. 2 mins in 3rd.
·
India down. 40-57. 40 secs in 3rd.
·
India converts off an offensive rebound. 42-57.
·
End of 3rd. India down 59-42. TWUG's full court press got them some open shots in the 3rd.
·
3 pointer by Anitha Pauldurai to open the 4th quarter.
·
.
Geethu Anna Jose hit 6 of 7 shots in the 4th, outscoring the opposition by 1 in that quarter.
.
Geethu swats a layup.
·
India down 48-61.
·
.
Couple of drives by Geethu. 69-56. 4 mins left.
·
India forces a shot clock violation. Down 11 with 3:30.
·
Down 9 with 3! India scores off a forced turnover!
·
Block by Geethu!
·
Spin n drive by Geethu. Down 9, 1:30 left!
·
Another basket by Geethu. Down 7!
·
The comeback fell short. India lost 71-64.
·
Geethu Anna Jose had 34 points and 18 boards shooting 67% from the field. She played all but 35 seconds in the game.
·
Some more stats:
Our second best player in this one, Anitha Pauldurai had 11 points 4 assists and 1 steal. But she also had 7 turnovers because of the pressing defense of our opponents.
Six of our players shot over 60%, the shot attempts were low spread through the team. Only three players attempted more than 5 shots (Prashanti Singh 3-5, Anitha Pauldurai 4-13 and Geethu Anna Jose 16-24.)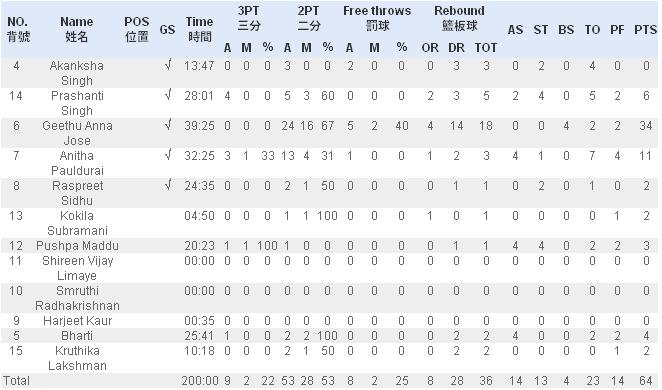 Profiles of 4 of our starters:
https://www.sportskeeda.com/2011/05/30/indian-women-basketball-a-ranked-player-profiles/
Info on most of our team can be found here:
https://www.sportskeeda.com/2010/10/25/indian-womens-basketball-team-for-asian-games-a-brief-glance/
_________________________________________________
Our next match is on 1st August at 4:30 PM. Wish our team all the best!