Yao Ming lifted basketball in China, gave hope to the game in India
854 //
10 Jul 2011, 14:04 IST
There is a major reason that we have hope in the rise of basketball in India today. A reason why we feel that, one day, the game can grow in India, one day we can produce our own NBA superstar, and one day, we can challenge the world's best hoop-playing nations at the biggest stage.
And that reason is China. Of course, we have our own way of doing things, our own history in the game, and our own legends of the game, but it has been China's sudden rise that has allowed Indian basketball to hope that one day we can too turn our basketball potential into actuality. Over the past 12-13 years, basketball has seen a meteoric rise in our northern, (sometimes unfriendly) neighbours. It has risen above all to become one of the most popular sports in the country, along with football and table-tennis. In a little over a decade, the Chinese basketball team has gone from strong performances in Asian championships to making a mark amongst the world's best country's, including the US, Spain, Argentina, Serbia, etc. In that same time span, the Chinese Basketball League (CBA) has become a lucrative venture, even attracting former NBA stars Bonzi Wells, Stephon Marbury, and Steve Francis to star in the league. From the grassroots development of the game to the popular fan-frenzy for the Kobe Bryants and the Allen Iversons… China has gone from becoming a sleeping giant in the game to the NBA's largest market outside the US.
And there is a major reason why basketball is so popular in China today. A reason why Stephon Marbury played in the CBA. A reason why China ranks 10th in the FIBA rankings. Why more and more Chinese youngsters want to grow up and become basketball stars. Why Iverson jerseys flew off the shelves across the country over the past decade.
And that reason is Yao Ming.
Two days ago, news leaked that Yao Ming had told the Houston Rockets, the only team for whom he had ever donned an NBA jersey, that he was planning to retire. The announcement brought a sudden, depressing, yet not wholly unexpected end to a short, brilliant, and much-maligned career. China's biggest sporting icon, the man who had opened more possibilities than ever for basketball in the world's most populous country, and thus given hope for a future in basketball for us in India, the second-most populous country, was calling it a day.
By most standards, Yao Ming did not have a super-spectacular career on the court, yet as Adrian Wojnarowski of Yahoo! NBA argues, it is his global impact on the game of basketball that should be enough to make him a Basketball Hall of Famer. The 7-foot-6 giant was the first pick of the NBA draft in 2002 by the Houston Rockets, a choice that immediately brought the NBA to China and had more Chinese fans wearing Steve Francis Rockets jerseys than American ones. That was bound to happen, right – Yao was the icon, but it was his teammate Francis whose game and size fans could relate to more. After Francis left Houston, it was Tracy McGrady. And all this because of Yao.
From 2002-2011 Yao spent just nine seasons in the NBA, averaging 19 points and 9.2 rebounds per game over his career. After a quiet first season, he soon became a force to be reckoned with. He arrived into the NBA just as Shaquille O'Neal sipped on the champagne of his third straight NBA championship with the Lakers. I still remember how Yao was supposed to be the guy to one day match Shaq. The behemoth clash never really lived up to its fullest potential. By the time Yao got into his prime (2006), Shaq was already done with his. The best thing that ever happened of the Shaq-Yao media-hyped-rivalry was a mixtape rap song released by Shaq called 'How to Rob the NBA League', where O'Neal hilariously bragged: "I got three rings, fool; Yao Ming, who?"
Yao didn't have the rings, but he did have a popularity to match Shaq. With or without injury, Yao was voted eight times as an NBA All Star, mostly thanks to his devoted fan-following in China. It is bitter irony then that, within one month, NBA fans have had to bid farewell to both these memorable giants.
Yao never played a full NBA season after his second one. His injury troubles began in 2005-06. From 2005-2008 three seasons, Yao only managed to average 53 games during the regular season. This injury-riddled time also coincided with his peak, as he averaged 22.4 ppg and 10.1 rpg during this time. This fact makes the Yao tragedy perhaps even more tragic – it was in his worst years where he was at his best.
Yao recovered valiantly to play 77 games in 2008-09, but then sat out all of the 2009-10 season, and only managed to notch five games in his attempted comeback in 2010-11. Through this time, his most gifted teammate, Tracy McGrady, also suffered from various ailments, and the talented duo could never have the success together that they deserved to enjoy.,
His injury list during this period has been long and horrifying, from developing osteomyelitis in the big toe on his left foot, breaking his right knee, getting a stress fracture in his left foot, and a broken bone in his left foot. It was the stress fracture on his left ankle that was finally aggravated again last season and took him out of the game for good.
Even Yao Ming's giant legs weren't strong enough to carry the weight burdened on to him. The weight of expectation from all of China, the expectation of carrying both the Rockets and the Chinese National team, and carrying them as often as he could. His knees had been overworked, his feet had run up-and-down the court way too many times. Big men are notoriously infamous for having career-riddling injuries – Yao was amongst the biggest of them all, and even though injuries shortened his career, he was still able to make the most of his time on the court.
New Delhi, India, thousands of miles away from Yao's hometown of Shanghai, and thousands more from Yao's adopted hometown of Houston. I'm watching the teenager supposed to shoulder India's basketball aspirations, the 15-year-old, seven-foot-one gentle giant, Satnam Singh Bhamara, who has already drawn unfair comparisons to Yao Ming solely due to the similarity in the country's from which they both hail, the potential of where India stands now in world basketball as compared to where China stood 15 or so years ago, and of course, their size. Bhamara is playing for Junior Nationals Championships for Punjab, dominating the competition with a sleek combination of size, strength, speed, and dexterity. His potential, like Yao's potential, is scary good.
Yao's story, for the sake of Satnam and others, should be a lesson learnt, a parable for how to be responsible superstar carrying the homes of ones countrymen, and how to be careful as a big man and make sure to elongate a potentially great career the way Yao unfortunately couldn't. Satnam may just be the first, but from henceforth, every talented seven-footer from India will be compared to Yao, until the first one makes the breakthrough into global basketball for India the way Yao did for his country. For this, we will never ever be forgotten.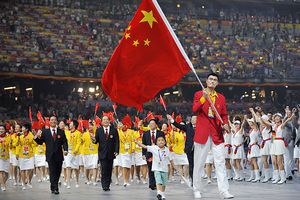 I'm going to finish with this: My most vivid memory of Yao Ming took place off the court. It was the 2008 Beijing Olympics. The opening ceremony of sport's grandest stage was the grandest opening ceremony of them all, marking China's "coming out party" economically and culturally into the West and the rest of the world. It was an occasion where China got to showcase the best it had to offer in its history, its tradition, it's economy, and ultimately its sport.
And there was a man carrying Chinese flag on this opening ceremony, the man who led the Chinese contingent, who was chosen ahead of all the others, towering over, giving the athletes and the rest of his countrymen the confidence and the belief that they could stand tall with the rest of the superpowers in the world.