You decide who plays in NBA All Star Game 2013
751 //
15 Nov 2012, 13:24 IST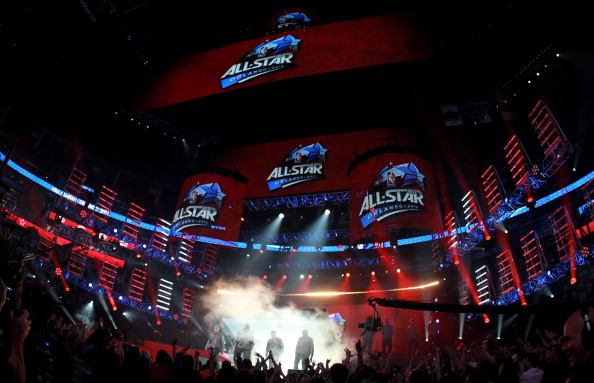 You, the fan, can choose which players are in the all star game. The voting is democratic, we decide who starts. And we can do so from our armchairs. But we have to choose among the list of 120 players available to vote for. That is the only thing which ruled White Mamba out.
For the first time, fans can vote using social media networks, including Facebook and Twitter, and Sina Weibo and Tencent QQ in China. Not that any of us have an idea about the last two. I like the part about Twitter voting. It allows for exponential increase in the votes. As people watch the votes on Twitter, it gives the player being voted more visibility thus resulting in more votes.
Here's how the social media voting works:
Twitter voting will allow fans to tweet a vote for one player each day throughout the All-Star balloting period. The tweet must include a player's first and last name, along with hash tag #NBABALLOT.
Facebook voting will allow fans to fill out one full ballot (three frontcourt and two guards from each conference) per day, through a custom application on Facebook.
Of course, social media voting also increases the brand presence of NBA across the social media platforms. The better part about it is the visibility of votes. A lot of die hard fans vote every single day just to watch their favourite star take the court. With social media voting, those fans can show their loyalty in a better way than marking a spot on their thumb.
The other ways of casting votes are through the NBA Game Time apps, go vote on the website of NBA, SMS voting (which I don't see any Indian doing unless its toll free).
Every day fans can vote for 10 different players. Balloting will conclude on Jan. 14, and starters will be announced live on TNT on Jan. 17, during a special one-hour pregame show at 7 p.m. ET featuring Ernie Johnson, Charles Barkley, Shaquille O'Neal and Kenny Smith.
The NBA All-Star ballot lists 120 players – 60 each from the Eastern and Western conferences – with 36 frontcourt and 24 guards from each conference comprising the list. Voters select three frontcourt and two guards from each conference. Previously, the ballot featured three positions with fans picking two guards, two forwards and a center.
That is a very curious aspect, not the removal of the center,which is welcome. The NBA is fast evolving in a positionless league with Andrew Bynum shooting 3s. The players these days are very versatile and tend to play multiple positions. The curious aspect is that Dwight Howard is unhappy with this decision. The only reason I can think of for him being displeased with this voting is that he is going to garner fewer votes when he is clumped together with other frontcourt players, instead of being pooled with centers where the crop is not as elite as the frontcourt players are. That doesn't speak much for his confidence.
The 120 players on the ballot were selected by a panel of media who regularly cover the NBA, not including yours truly.
The all-star game will be held on February 17 in Houston. Following events will take place:
NBA All-Star Shooting Stars
Taco Bell Skills Challenge
Foot Locker Three-Point Contest
Sprite Slam Dunk
BBVA Rising Stars Challenge
Sprint NBA All-Star Celebrity Game
NBA All-Star Jam Session.
Here's my pick for the all star squad:
West:
DeAndre Jordan (Hey, Shaq just called him the best center in the West, who are we to disagree)
Blake Griffin
Kevin Durant
Kobe Bryant
Chris Paul
East:
Andrew Bynum
Chris Bosh
Carmelo Anthony
Dwyane Wade
Rajon Rondo
Following are the players who can be voted for in the All Star game.
2013 NBA ALL-STAR EASTERN CONFERENCE BALLOT
EAST GUARDS (24) 
Afflalo Arron, Orlando
Allen Ray, Miami
Calderon Jose, Toronto
DeRozan DeMar, Toronto
Ellis Monta, Milwaukee
Felton Raymond, New York
George Paul, Indiana
Henderson Gerald, Charlotte
Hill George, Indiana
Hinrich Kirk, Chicago
Holiday Jrue, Philadelphia
Irving Kyrie, Cleveland
Jennings Brandon, Milwaukee
Johnson Joe, Brooklyn
Knight Brandon, Detroit
Lowry Kyle, Toronto
Rondo Rajon, Boston
Stuckey Rodney, Detroit
Teague Jeff, Atlanta
Terry Jason, Boston
Wade Dwyane, Miami
Walker Kemba, Charlotte
Wall John, Washington
Williams Deron, Brooklyn
EAST FRONTCOURT (36)
Anthony Carmelo, New York
Bargnani Andrea, Toronto
Battier Shane, Miami
Boozer Carlos, Chicago
Bosh Chris, Miami
Bynum Andrew, Philadelphia
Casspi Omri, Cleveland
Chandler Tyson, New York
Dalembert Samuel, Milwaukee
Davis Glen, Orlando
Deng Luol, Chicago
Garnett Kevin, Boston
Gibson Taj, Chicago
Granger Danny, Indiana
Green Jeff, Boston
Harrington Al, Orlando
Hawes Spencer, Philadelphia
Hibbert Roy, Indiana
Horford Al, Atlanta
Humphries Kris, Brooklyn
Ilyasova Ersan, Milwaukee
James LeBron, Miami
Lopez Brook, Brooklyn
Monroe Greg, Detroit
Mullens Byron, Charlotte
Nene, Washington
Noah Joakim, Chicago
Okafor Emeka, Washington
Pierce Paul, Boston
Prince Tayshaun, Detroit
Smith Josh, Atlanta
Stoudemire Amar'e, New York
Varejao Anderson, Cleveland
Wallace Gerald, Brooklyn
West David, Indiana
Young Thaddeus, Philadelphia
2013 NBA ALL-STAR WESTERN CONFERENCE BALLOT
WEST GUARDS (24)
Allen Tony, Memphis
Billups Chauncey, LA Clippers
Bryant Kobe, LA Lakers
Collison Darren, Dallas
Conley Mike, Memphis
Curry Stephen, Golden State
Dragic Goran, Phoenix
Evans Tyreke, Sacramento
Ginobili Manu, San Antonio
Gordon Eric, New Orleans
Harden James, Houston
Lawson Ty, Denver
Lin Jeremy, Houston
Martin Kevin, Oklahoma City
Matthews, Wesley, Portland
Mayo O.J., Dallas
Miller Andre, Denver
Nash Steve, LA Lakers
Parker Tony, San Antonio
Paul Chris, LA Clippers
Rubio Ricky, Minnesota
Thompson Klay, Golden State
Thornton Marcus, Sacramento
Westbrook Russell, Oklahoma City
WEST FRONTCOURT (36)
Aldridge LaMarcus, Portland
Anderson Ryan, New Orleans
Asik Omer, Houston
Batum Nicolas, Portland
Bogut Andrew, Golden State
Cousins DeMarcus, Sacramento
Davis Anthony, New Orleans
Duncan Tim, San Antonio
Durant Kevin, Oklahoma City
Faried Kenneth, Denver
Favors Derrick, Utah
Gallinari Danilo, Denver
Gasol Marc, Memphis
Gasol Pau, LA Lakers
Gay Rudy, Memphis
Gortat Marcin, Phoenix
Griffin Blake, LA Clippers
Hill Grant, LA Clippers
Howard Dwight, LA Lakers
Ibaka Serge, Oklahoma City
Iguodala Andre, Denver
Jefferson Al, Utah
Kaman Chris, Dallas
Kirilenko Andrei, Minnesota
Lee David, Golden State
Leonard Kawhi, San Antonio
Love Kevin, Minnesota
Marion Shawn, Dallas
Millsap Paul, Utah
Nowitzki Dirk, Dallas
Parsons Chandler, Houston
Pekovic Nikola, Minnesota
Perkins Kendrick, Oklahoma City
Randolph Zach, Memphis
Scola Luis, Phoenix
World Peace Metta, LA Lakers