IPL 2013 Team Preview – Part 2
3.96K //
29 Mar 2013, 12:38 IST
With the IPL about to begin, we take a look at all the teams involved. You can read part 1 here.
Royal Challengers Bangalore (RCB)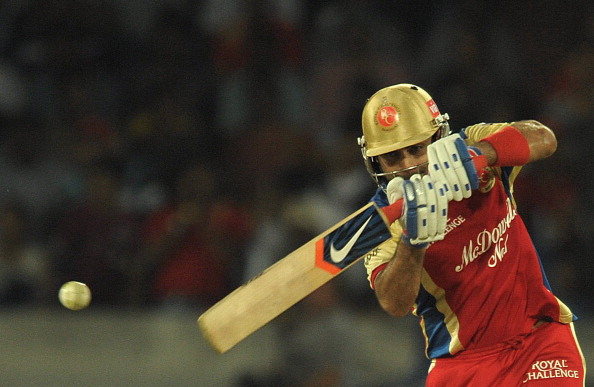 RCB will rely heavily on his "Have money? Will bat" man, Chris Gayle. Him, AB, Kohli and Dilshan form together an explosive top order worth dying for. RCB is a strong believer in keeping the balance in the game. The bowling attack comprising of RP Singh, Abhimanyu Mithun, Unadkat and Vinay Kumar provides just that. Or one can say that, with only such bowling attack one can set a target challenging enough for the kind of top order RCB has. RCB seems to have left their bowling in the hands of Gods – maybe that's why the names like Muralitharan, Ram, Rudra and Jaydev.
Maybe Zaheer Khan will give us some hope of a comeback. Maybe Harshal Patel will give us some hope for the future. Pankaj Singh's presence, the man with a heartening story, will once again show us the positive sides of IPL. I hope Virat is smart enough to hide his lips.
Forget cricket. Who follows RCB for cricket, especially after the departure of Dravid and Kumble? Whatever RCB is better known for, we shall surely get plenty of it. Glad to see that the name of Luke Anthony Pomersbach is missing from RCB's team list. He was anyhow better suited for Delhi Daredevils.
Delhi Daredevils (DD)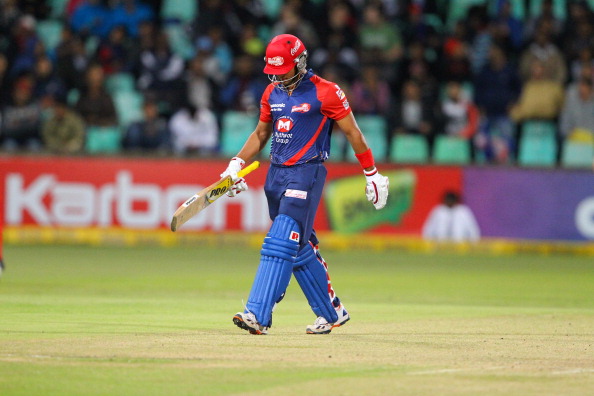 In the form of David Warner, DD has a wannabe Sehwag. In the form of Unmukt Chand, they have wannabe Virat Kohli. Shahbaz Nadeem may well become the next Murali Karthik. The way Irfan Pathan goes for runs nowadays, he seems to be hellbent on becoming another Ajit Agarkar. Maybe this is the problem with DD. Nobody is himself – everyone is someone else in their own side. And the ones who are idols, they themselves are no better than those who are idolizing them. The only exception in this theory is Venugopal Rao, who looks like actor Nagarjuna.
That's why Ashish Nehra is my favorite player in DD – he has always been and will always be Ashish Nehra, the only originality in their side. It is impossible to emulate him and Ashish Nehra is incorrigible.
On a serious note, I have no hopes from this team. Maybe Sehwag will win a match or two. Maybe Mahela will flourish. Maybe Andre Russell will show us some Gangnam style steps.
However, one man who I will surely be watching in this side is none other than Ajit Agarkar. Oh those juicy full tosses at least once in an over and those innocent looks on the face, "What? He is allowed to hit those? Hell, I keep scoring blobs in vain". He will be the man to watch in this side.
Rajasthan Royals (RR)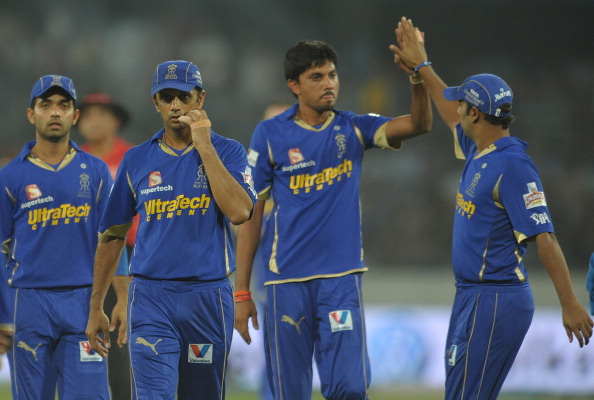 This team has got fire. This team has got ice. With Rahul Dravid and Brad Hodge, this team will have experience providing stability in batting. Rahane will be keen to start from zero – that's where he left in Kotla. It is always fun watching Brad Hogg bowl – born a few years later, he would have been a star of international quality. Siddharth Trivedi is a poor man's Venketesh Prasad. That's all fine. This was mainly ice.
The two men expected to provide all the fire to this side are – Shanthakumaran "the man who moon walks" Sreesanth and Shaun "I retire twice everyday" Tait. While Sreesath's fantastic seam position will make us wonder why we are missing what we are, his "blow hot blow cold" performances will tell us why. Shaun Tait's bowling will tell us that unless well directed, pace is just a number. But these two will be fun to watch.
There are two reasons why RR is my favorite team. First one is Rahul Dravid. But second reason is more significant. In the times when HE is showing the mortal side of God, people are saying that Sachin is getting the Tendulkar treatment, his devotees are fast losing the battle of statistics against the bashers and even God may be asking the retirement question, RR provides us the hope for the future. In the times when we all are worried about life after Sachin, RR is going to announce Baby Sachin to the world. Or in simple English, RR is going to announce Sachin Baby to the world.
Sunrisers Hyderabad (SH)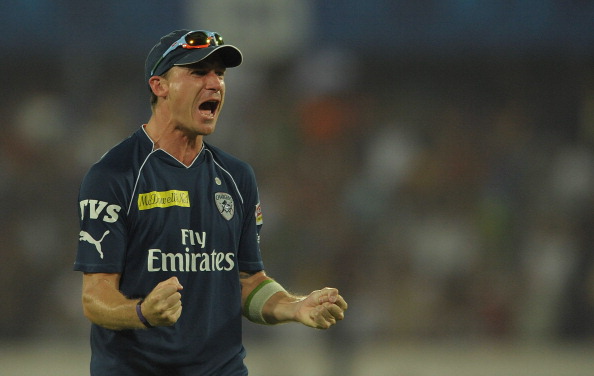 It wouldn't have mattered one single bit if Mumbai Dabbawallah would have sponsored MI in place of Reliance – people would have supported MI because of Sachin. Same can be said about CSK. I say the same for Hyderabad. Alas, the case is a bit different.
I liked Hyderabad (Deccan Chargers rather) for one reason – Gayathri Reddy. I loved the way she rooted for her team – every single time, didn't matter if they lost or won. I loved the tinkles in her eyes when her team won – the team didn't win much in the first season. I sulked with the tears in her eyes when her team lost – they have lost more than they have won. Normally, you follow a side for the the players – someone you always wanted to be. I followed Hyderabad for someone I am – the fan. I followed Hyderabad for Miss Reddy. Alas, she will not be around this time as sponsors have changed.
I am not sure if I shall watch any of the SH matches. Why would I or for whom – for Parthiv "the young and upcoming keeper" Patel or for Ishant "I am unlucky. I have time for love" Sharma or for Shikhar "187 in 187" Dhawan. Maybe for Dale Steyn but he can only lure the viewer in me for four overs.
Sorry SH, you are not my team.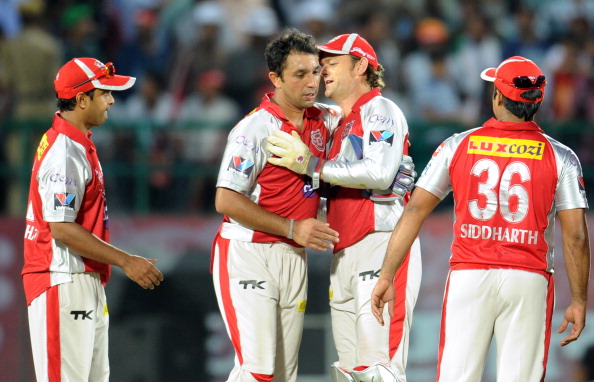 I almost forgot them. They are still around? Well, they are. Interestingly, they have a few players who are unique in their own ways. Piyush Chawala is the only leg spinner in the world to have dimple cheeks. Azhar Mahmood is the only Pakistani cricketer allowed on Indian soil. Praveen Kumar must be the only cricketer termed as "Mentally unfit" to play by the match referee. They even have Luke Pomersbach in their side. All these players are quite unique in their own ways.
I am not sure if Gilchrist is still the force he used to be. David Hussey will be the key to their batting. Paul Valthaty will also play. Shaun Marsh will hope that his fortune of the first IPL is back. Who to watch out for in this team? I don't think there is anybody better than Preity Zinta. Hope she spares the umpires this time.
This concludes the preview. There has been an interesting trend being followed by IPL tournaments for the last three years. Boredom of IPL2011 didn't allow the feeling of winning a world cup in 2011. IPL 2012 looked like it was thrust upon us after the catastrophe that followed the world cup. We are entering IPL 2013 after the euphoria of 4-0 win against Australia. I hope the trend keeps following. I don't mind the boredom of IPL 2015 killing another joyous feeling.