| | | | | |
| --- | --- | --- | --- | --- |
| Commentator | Age | Career | TV Channel | Language |
| Ian Bishop | 54 | Former cricketer | Star Sports 1 | English |
| Morne Morkel | 37 | Former cricketer | Star Sports 1 | English |
| Harsha Bhogle | 60 | Presenter | Star Sports 1 | English |
| Graeme Smith | 41 | Former cricketer | Star Sports 1 | English |
| Danny Morrison | 56 | Former cricketer | Star Sports 1 | English |
| Matthew Hayden | 50 | Former cricketer | Star Sports 1 | English |
| Murali Kartik | 45 | Former cricketer | Star Sports 1 | English |
| Graeme Swann | 43 | Former cricketer | Star Sports 1 | English |
| Anjum Chopra | 44 | Former cricketer | Star Sports 1 | English |
| Alan Wilkins | 68 | Former cricketer | Star Sports 1 | English |
| Simon Doull | 52 | Former cricketer | Star Sports 1 | English |
| Nicholas Knight | 52 | Former cricketer | Star Sports 1 | English |
| WV Raman | 56 | Former cricketer | Star Sports 1 | English |
| Daren Ganga | 43 | Former cricketer | Star Sports 1 | English |
| Rohan Gavaskar | 46 | Former cricketer | Star Sports 1 | English |
| Laxman Sivaramakrishnan | 56 | Former cricketer | Star Sports 1 | English |
| Sunil Gavaskar | 72 | Former cricketer | Star Sports 1 | English |
| Kevin Pietersen | 41 | Former cricketer | Star Sports 1 | English |
| Deep Dasgupta | 44 | Former cricketer | Star Sports 1 Hindi | Hindi |
| Pommie Mbangwa | 45 | Former cricketer | Star Sports 1 | English |
| Aakash Chopra | 44 | Former cricketer | Star Sports 1/ Star Sports 1 Hindi | English/Hindi |
| Jatin Sapru | 35 | Sports Anchor | Star Sports 1/ Star Sports 1 Hindi | English/Hindi |
| Nikhil Chopra | 48 | Former cricketer | Star Sports 1/ Star Sports 1 Hindi | English/Hindi |
| Irfan Pathan | 37 | Former cricketer | Star Sports 1/ Star Sports 1 Hindi | English/Hindi |
| Suresh Raina | 35 | Former cricketer | Star Sports 1/ Star Sports 1 Hindi | English/Hindi |
| Mayanti Langer Binny | 37 | Sports Presenter | Star Sports 1/ Star Sports 1 Hindi | English/Hindi |
| Anant Tyagi | 34 | Sports Presenter | Star Sports 1/ Star Sports 1 Hindi | English/Hindi |
| Dhawal Kulkarni | 33 | Former cricketer | Star Sports 1 Hindi | Hindi |
| Piyush Chawla | 33 | Former cricketer | Star Sports 1/ Star Sports 1 Hindi | English/Hindi |
| Ravi Shastri | 59 | Former cricketer | Star Sports 1/ Star Sports 1 Hindi | English/Hindi |
| Harbhajan Singh | 41 | Former cricketer | Star Sports 1/ Star Sports 1 Hindi | English/Hindi |
| Rajagopal Sathish | 41 | Former cricketer | Star Sports 1 Tamil | Tamil |
| RJ Balaji | 33 | Presenter | Star Sports 1 Tamil | Tamil |
| Abhinav Mukund | 32 | Former cricketer | Star Sports 1 Tamil | Tamil |
| KV Sathyanarayanan | - | TV Personality | Star Sports 1 Tamil | Tamil |
| Subramaniam Badrinath | 41 | Former cricketer | Star Sports 1 Tamil | Tamil |
| Bhavna Balakrishnan | 39 | Video Jockey | Star Sports 1 Tamil | Tamil |
| Russel Arnold | 48 | Former cricketer | Star Sports 1 Tamil | Tamil |
| Kris Srikkanth | 62 | Former cricketer | Star Sports 1 Tamil | Tamil |
| Yo Mahesh | 34 | Former cricketer | Star Sports 1 Tamil | Tamil |
| Vishnu Hariharan | – | Sports Presenter | Star Sports 1 Tamil | Tamil |
| Radhakrishnan Sreenivasan | - | Sports Broadcaster | Star Sports 1 Tamil | Tamil |
| Kunal Date | 38 | Former cricketer | Star Sports 1 Marathi | Marathi |
| Prasanna Sant | - | Sports Broadcaster | Star Sports 1 Marathi | Marathi |
| Chaitanya Sant | - | Sports Broadcaster | Star Sports 1 Marathi | Marathi |
| Snehal Pradhan | 36 | Former cricketer | Star Sports 1 Marathi | Marathi |
| Sandeep Patil | 66 | Former cricketer | Star Sports 1 Marathi | Marathi |
| Madhu Mailankody | - | Sports Anchor | Star Sports 1 Kannada | Kannada |
| Kiran Srinivas | 36 | Actor | Star Sports 1 Kannada | Kannada |
| Srinivasa Murthy P | 72 | Actor, television director | Star Sports 1 Kannada | Kannada |
| Vijay Bharadwaj | 46 | Former cricketer | Star Sports 1 Kannada | Kannada |
| Bharath Chipli | 39 | Former cricketer | Star Sports 1 Kannada | Kannada |
| GK Anil Kumar | 48 | Former cricketer | Star Sports 1 Kannada | Kannada |
| Venkatesh Prasad | 52 | Former cricketer | Star Sports 1 Kannada | Kannada |
| Veda Krishnamurthy | 26 | Former cricketer | Star Sports 1 Kannada | Kannada |
| Sumesh Goni | - | Radio Jockey, Creative head, Sports commentator | Star Sports 1 Kannada | Kannada |
| Vinay Kumar R | 38 | Former cricketer | Star Sports 1 Kannada | Kannada |
| Sanjeeb Mukherjea | - | Cricket Commentator | Star Sports 1 Bengali | Bengali |
| Saradindu Mukherjee | 57 | Former cricketer | Star Sports 1 Bengali | Bengali |
| Gautam Bhattacharya | - | Sports Journalist | Star Sports 1 Bengali | Bengali |
| Joydeep Mukherjee | 55 | Former cricketer | Star Sports 1 Bengali | Bengali |
| Debasish Datta | - | - | Star Sports 1 Bengali | Bengali |
| M A S Krishna | 56 | Former cricketer | Star Sports 1 Telugu | Telugu |
| N Matcha | - | - | Star Sports 1 Telugu | Telugu |
| V V Medapati | 28 | Anchor | Star Sports 1 Telugu | Telugu |
| MSK Prasad | 46 | Former cricketer | Star Sports 1 Telugu | Telugu |
| A Reddy | 31 | Former cricketer | Star Sports 1 Telugu | Telugu |
| K N Chakravarthy | 32 | Sports Journalist, Commentator | Star Sports 1 Telugu | Telugu |
| S Avulapalli | - | - | Star Sports 1 Telugu | Telugu |
| Kalyan Krishna D | 38 | Former cricketer | Star Sports 1 Telugu | Telugu |
| Venugopalarao | 40 | Former cricketer | Star Sports 1 Telugu | Telugu |
| T Suman | 38 | Former cricketer | Star Sports 1 Telugu | Telugu |
| Vishnu Hariharan | - | Presenter/Commentator | Star Sports 1 Malayalam | Malayalam |
| Shiyas Mohammed | - | Sports commentator | Star Sports 1 Malayalam | Malayalam |
| Tinu Yohannan | 43 | Former cricketer | Star Sports 1 Malayalam | Malayalam |
| Raiphi Gomez | 36 | Former cricketer | Star Sports 1 Malayalam | Malayalam |
| C M Deepak | 43 | Former cricketer | Star Sports 1 Malayalam | Malayalam |
| Anant Tyagi | 27 | Presenter, Sports Commentator | Star Sports 1 | Dugout |
| Neroli Meadows | 37 | Presenter, Sports Journalist, Sports commentator | Star Sports 1 | Dugout |
| Graeme Swann | 43 | Former cricketer | Star Sports 1 | Dugout |
IPL 2022 Commentator Salary
| | |
| --- | --- |
| Category | Salary Range |
| English Panel | $250,000 to $500,000 |
| Hindi Panel | $80,000 to $350,000 |
| Dugout Panel | $500,000 to $700,000 |
They have a stacked lineup this year as well. The full list of IPL 2022 Commentators was recently released, and it features some familiar faces as well as some new names. Four players who played in the IPL last year, namely Harbhajan Singh, Suresh Raina, Piyush Chawla and Dhawal Kulkarni are the newest additions to the commentary panel. Ravi Shastri and Mayanti Langer will also return to their previous roles. Like the last few seasons, IPL 2022 commentary will be available in multiple languages. IPL 2022 commentary promises to match the expectations.
Checkout the latest IPL news update updates.
How much does a commentator earn in the IPL?
According to sportingfree.com, the English commentators earn around USD 250,000 to USD 500,000 for the entire IPL season. The commentators who are a part of the Star Sports Select Dugout make USD 500,000 to USD 700,000.
As far as the Hindi commentary panel is concerned, the salary of the commentators ranges from USD 80,000 to USD 350,000.
Who is the female commentator in IPL 2022?
Among the IPL commentators, there is one female commentator and multiple female sports presenters. Speaking of the only female commentator in IPL 2022, she is former Indian women's cricket team player Anjum Chopra.
Anjum played 12 Tests, 127 ODIs and 18 T20Is for the Indian women's cricket team. She made her international cricket debut in 1995 and played her last game in 2012. After retirement, she has worked as a commentator for cricket matches.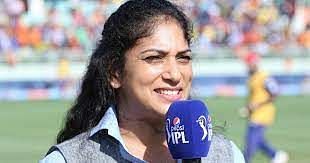 IPL commentators in Tamil
Host broadcaster Star Sports has announced a star-studded panel for Tamil commentary in IPL 2022. Former cricketers like Abhinav Mukund, Subramaniam Badrinath, Kris Srikkanth, Rajagopal Sathish and Yo Mahesh are a part of the panel.
Famous TV and radio personalities, namely Bhavna Balakrishnan, Radhakrishnan Sreenivasan, KV Sathyanarayanan, RJ Balaji and Vishnu Hariharan are also a part of the panel.