| | |
| --- | --- |
| Full Name | Mitchell John McClenaghan |
| Date of Birth | June 11, 1986 |
| Nationality | New Zealand |
| Height | 6 ft 1in (1.88 m) |
| Role | Bowler / Left hand bat & Left arm fast medium |
| Family | Dennis McClenaghan (Father), Jill McClenaghan (Mother), Renee Brown (Girl Friend) |
| Game Type | Mat | Inn | R | BF | NO | Avg | S/R | 100s | 50s | H | 4s | 6s | Ct | St |
| --- | --- | --- | --- | --- | --- | --- | --- | --- | --- | --- | --- | --- | --- | --- |
| ODIs | 48 | 14 | 108 | 138 | 10 | 27.00 | 78.26 | 0 | 0 | 34 | 10 | 3 | 4 | 0 |
| T20Is | 29 | 8 | 24 | 23 | 4 | 6.00 | 104.34 | 0 | 0 | 10 | 1 | 2 | 7 | 0 |
| T20s | 203 | 77 | 271 | 235 | 34 | 6.30 | 115.31 | 0 | 0 | 20 | 17 | 15 | 34 | 0 |
| LISTAs | 103 | 43 | 323 | 413 | 19 | 13.45 | 78.20 | 0 | 0 | 34 | 27 | 9 | 14 | 0 |
| FIRSTCLASS | 38 | 45 | 444 | 1095 | 14 | 14.32 | 40.54 | 0 | 1 | 73 | 41 | 7 | 8 | 0 |
| Game Type | Mat | Inn | O | R | W | Avg | E/R | Best | 5w | 10w |
| --- | --- | --- | --- | --- | --- | --- | --- | --- | --- | --- |
| ODIs | 48 | 45 | 389.2 | 2313 | 82 | 28.20 | 5.94 | 5/58 | 1 | 0 |
| T20Is | 29 | 29 | 101.2 | 789 | 30 | 26.30 | 7.78 | 3/17 | 0 | 0 |
| T20s | 203 | 199 | 722.5 | 6172 | 241 | 25.60 | 8.53 | 5/29 | 1 | 0 |
| LISTAs | 103 | 98 | 835.5 | 4770 | 190 | 25.10 | 5.70 | 6/41 | 4 | 0 |
| FIRSTCLASS | 38 | 71 | 1225.3 | 4360 | 117 | 37.26 | 3.55 | 9/81 | 3 | 0 |
Mitchell McClenaghan News
Mitchell McClenaghan: A Brief Biography
A 6 ft 1 inch tall fella, Mitchell McClenaghan is known for wearing his heart on his sleeve. The Kiwi runs in hard, day in and out and hits the deck even harder, and is a total team-man. Whether it be a T20 franchise or his national team, the effort is non-negotiable for the the lanky pacer.
Table of Contents
Biography: About Mitchell McClenaghan
Mitchell McClenaghan is a left arm pacer who plays for the New Zealand national team, alongside a host of other T20 clubs around the world. McClenaghan was born on June 11, 1986.
Career
Domestic Career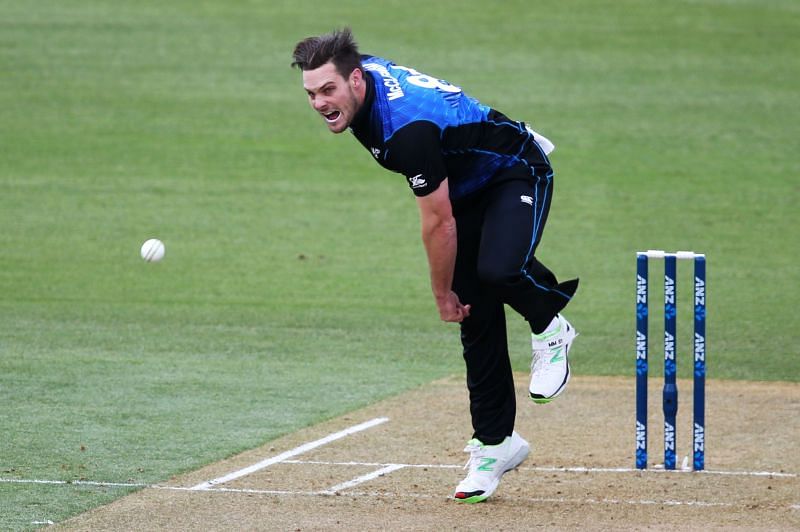 The left arm quick from New Zealand started his first-class career with the Central Stags, but it was when he moved to the Auckland Aces in the 2011-12 season that his career began to take flight. He took 35 wickets in ten first-class games for the Aces and was rewarded with a place in the New Zealand squad to tour South Africa in 2012-13. He has played 38 First-class games on his career and taken 117 wickets.
IPL career
McClenaghan played a big role in Mumbai Indians winning the IPL crown in 2015. He was bought by the franchise in 2013 for Rs 30 lakh but warmed the bench before makinh his debut in the 2015 season. With Corey Anderson ruled out, MI were severely crippled, but McClenaghan surprised many when he instantly stepped up to the task. His attacking style put the opposition on the back foot and MI began to move upwards in the table. His performance also resulted in Lasith Malinga's resurgence and the two formed a potent attack as MI found their rhythm back. He played 12 matches that season and took 18 wickets at an average of 21.44.
After going unsold in the 2018 auction, McClenaghan was selected by the Mumbai Indians as a replacement for the injured Jason Behrendorff. In 2019, he did not have a big season, picking three wickets from five games but was importantly a part of the championship-winning unit. As MI have retained their core for the 2020 season, Mitchell will be keen to deliver the for the team in the UAE.
Apart from representing the Mumbai Indians in the Indian Premier League, he has played for St Lucia Stars in the Caribbean Premier League and England county T20 side, Middlesex
ODI Career
A month later after his T20I debut, the Kiwi pacer made his ODI debut against South Africa. His first game was exceptional as he picked up four wickets for 20 runs, becoming only the second New Zealand player after Dayle Hadlee to take four wickets on debut. Despite New Zealand's early exit from the 2013 Champions Trophy in England, McClenaghan had a successful tournament, picking up 11 wickets - including four-fors against Australia and Sri Lanka - at an average of 13.09
McClenaghan's best ODI performance to date came against West Indies in December 2013 in the first ODI when he registered his first five-fer in ODIs but unfortunately, New Zealand lost the game by two wickets. McClenaghan was picked for the 2015 World Cup but with a stacked bowling line-up, he got only a single game to play in the Kiwi jersey.With young bowlers like Lockie Ferguson and Matt Henry emerging, the Kiwi superstar couldn't make the cut to the 2019 CWC squad either.
T20I Career
Outstanding performances in the domestic circuit earned McClenaghan his maiden T20I cap against South Africa in December 2012. He went to play for New Zealand in the 2016 T20 World Cup where he came up with decent performances. His 3/17 against Australia in the Super-10 stage was one of his standout performance. However, in 2017, McClenaghan opted out of a central contract with New Zealand cricket and has chosen to play T20 leagues overseas.
Background
Mitchell McClenaghan was born on 11 June 1986 to Dennis McClenaghan and Jill McClenaghan. In June 2013, he joined Lancashire as an overseas player for their Friends Life T20 campaign. He has a girlfriend named Renee Brown.