A few WWE Superstars have dated several of their female colleagues over the past few years.
Several wrestlers have found love inside the WWE locker room. Montez Ford, for example, first met Bianca Belair at the WWE Performance Center. They fell in love and dated for a few years before tying the knot in 2018.
While Ford only dated Belair, other superstars have had romantic relationships with several WWE women. Although some of these relationships ended after only a few months, others lasted for several years.
Today, after dating two or more female wrestlers, a few of these WWE Superstars have finally found their significant others.
Here are ten superstars who dated several WWE women.
---
#10. Former WWE Superstar Matt Cardona
Matt Cardona (FKA Zack Ryder) joined WWE in 2005. A decade later, he started a romantic relationship with former WWE Superstar Emma. The couple dated for nearly a year before breaking up in 2016.
In January 2017, the former United States Champion began dating Chelsea Green. The couple first met outside Vince McMahon's company. While Cardona was a WWE Superstar, Green was competing in IMPACT Wrestling.
In an interview with Chris Van Vliet, Cardona revealed that Cody Rhodes and his wife were the ones who set them up.
"You're single. Why don't you guys... I'm like... I don't want to date a wrestler. Been there, done that, doesn't work out. No way. And then they said, 'she likes Disney.' Oh, she likes Disney... ok. So, I did the typical slide into the DMs and I think the first thing was, you like Disney. We went on a date, like two weeks later. She tried avoiding me but I finally got through," he said.
In 2018, Green left IMPACT Wrestling to join her then-boyfriend in WWE. Two years later, WWE released the former Intercontinental Champion from his contract. In April 2021, the company also released Green.
Cardona and Green are currently active in IMPACT Wrestling. They also recently tied the knot after two years of engagement.
---
#9. Former WWE Superstar John Morrison
John Morrison participated in the 2002 Tough Enough, where he first met Melina. The two remained friends for nearly two years before they started dating. The couple then had an on-off relationship for 11 years, during which they worked together in WWE as part of MNM.
In 2011, Morrison and Melina left WWE and started competing in other promotions. Four years after their WWE departure, the couple officially split. After breaking up with Melina in 2015, Morrison met and fell in love with Taya Valkyrie (FKA Franky Monet) while working in Lucha Libre AAA Worldwide.
Morrison and Valkyrie dated for a few years before tying the knot in 2018. A year later, the former Intercontinental Champion returned to WWE. His wife also followed in his footsteps, joining Vince McMahon's company in February 2021. Nevertheless, WWE released the couple from their contracts last November.
Following their WWE release, Morrison and Valkyrie recently returned to Lucha Libre AAA Worldwide.
#8. WWE Hall of Famer Edge
In 2001, WWE Hall of Famer Edge tied the knot with his first wife, Alannah Morley. Nonetheless, their marriage ended in divorce three years later. The Rated R Superstar then married Lisa Ortiz in 2004.
Around 2005, Edge started an affair with WWE Superstar and then-Matt Hardy's girlfriend, Lita. After his relationship with the former Women's Champion became public, The Rated R Superstar and his second wife split. A while later, he and Lita also broke up.
In 2011, Edge started dating WWE Hall of Famer Beth Phoenix. In his WWE 24 documentary, the former WWE Champion disclosed how he first met the former women's champion.
"So, Beth and I started dating after we connected here [Scotiabank Arena in Toronto] on the day of Edge Appreciation. It was so crazy. We were cordial to each other, but we didn't know each other. That day, we started talking. 'I had no idea that you trained at the same gym as me by the same people. And, that you wrestled at the same dive bars just seven years after me,'" he said.
The couple welcomed their first daughter, Lyric Rose Copeland, in December 2013. In May 2016, they had their second daughter, Ruby Ever Copeland. The couple married later that same year and have been together ever since.
---
#7. Former WWE Superstar Cody Rhodes
Cody Rhodes joined WWE in 2006. That same year, Layla won the Diva Search competition to join Vince McMahon's company, too. In 2009, rumors spread that the two WWE Superstars were dating. A year later, Layla confirmed these speculations with a Twitter post.
Nevertheless, Rhodes and Layla split in 2011. The former Intercontinental Champion later started dating then-WWE ring announcer Brandi Rhodes (FKA Eden).
In an interview with Wrestling Inc, Brandi revealed how she and Rhodes kicked off their relationship:
"We started dating randomly. I had been there for a minute, and Cody hadn't really shown much interest in me at all, so it wasn't something that I had thought about, and then all of a sudden, he became extremely fascinated with me (...) Finally he started asking me to come hang out with him and I said no many times because it's a work environment and I was new at the time and was not looking to rock the boat by getting into this romance, but all along I definitely did want to go out with him. I was very into him, but it took a while. It probably took around a month for me to go out with him, and after that the rest is, as they say, history," she said.
Rhodes and Brandi married in September 2013. Three years later, they both left WWE. The couple are currently active in AEW.
#6. WWE EVP Triple H
Triple H is another superstar who dated two WWE women. The Game started a relationship with WWE Hall of Famer Chyna in 1996. Their romance lasted for nearly four years, as they split in 2000.
That same year, Triple H fell in love with Vince McMahon's daughter, Stephanie. In an interview with Howard Stern, The Billion Dollar Princess revealed her father's reaction to her romance with The Game:
"Well, he could see what's going on. He gave us the okay and then he took it away. Because it was like if we really were gonna be together, it would have to be a big deal. It would have to be the right thing to do. And so he let us come together and then he made us be apart. And we came back together again. And if it was meant to be, you know, it was meant to be," she said.
Triple H and Stephanie McMahon dated for three years before tying the knot in October 2003. The couple now have three daughters.
---
#5. WWE Superstar Seth Rollins
In 2008, Seth Rollins started dating Leighla Schultz. Six years later, the couple announced their engagement. Nevertheless, they broke up in early 2015 after Schultz discovered that Rollins had an affair with former NXT Superstar Zahra Schreiber.
After his breakup with Schultz, Rollins continued dating Schreiber for nearly a year. However, they officially split in 2016.
Three years later, the former WWE Champion began dating Becky Lynch. In an interview with Radio Freiburg, the RAW Women's Champion disclosed how the couple's friendship turned into love.
"We've been friends for five, maybe six years and we've always just gotten along so well. We've always been the best of friends. And yeah, we were both single at the same time and one thing led to another… and [we] burned that down with straight fire!" she said.
After dating for a few months, Rollins and Lynch announced their engagement in August 2019. In December 2020, they welcomed their first daughter, Roux. Six months later, the couple tied the knot.
#4. WWE Superstar Dolph Ziggler
Hall of Famer Nikki Bella signed with WWE in 2007. A year later, she started dating WWE Superstar Dolph Ziggler. The couple's relationship lasted for nearly three years before they officially split in 2011.
In The Bella Twins' book Incomparable, she disclosed some details about her relationship with a fellow wrestler she referred to as Brad. However, many believe she was talking about Ziggler.
"Our relationship was casual, and I certainly had no claims on him, but it drove me crazy anyway. It was the first time that I had been with a guy who wasn't clamoring to lock me down. It drove me batshit crazy. It made me obsessed with him. The problem with that sort of imbalance is that it never really gives you a chance to assess the relationship, or your compatibility, on stable ground. You spend so much energy trying to get something that you think you want, that is just a little out of reach, that you don't have a chance to actually judge whether you want the thing in the first place," she wrote.
After his breakup with Nikki Bella, Ziggler had a fling with WWE Hall of Famer Sunny. However, their relationship ended quickly.
In 2015, The Show Off went into another relationship with current WWE 24/7 Champion Dana Brooke. The couple dated for two years before both went their separate ways.
---
#3. Former WWE Champion CM Punk
Former WWE Superstar CM Punk dated several WWE women during his nine-year run in Vince McMahon's company. During his developmental years in OVW, Punk dated Maria Kanellis. Their relationship lasted for nearly two years before the couple split in 2007.
Around the same time, rumors also spread that Punk had a brief relationship with Kelly Kelly. However, the two wrestlers never confirmed these speculations.
In 2009, Punk started dating WWE Hall of Famer Lita. Nevertheless, they split after a short while. The former WWE Champion then dated Hall of Famer Beth Phoenix for a few months between October and December 2011. After breaking up with The Glamazon, Punk and Lita got together again. They dated for a year before finally splitting in 2013.
Later in 2013, the former WWE Champion began dating former Divas Champion AJ Lee. They tied the knot nearly a year later and have been together ever since.
#2. WWE Superstar Ricochet
Before joining WWE, Ricochet dated Tessa Blanchard, who had had a brief stint in Vince McMahon's company between 2016 and 2017. However, shortly after becoming an NXT Superstar in 2018, the high-flyer broke up with Blanchard. That same year, he started a relationship with fellow NXT wrestler Kacy Catanzaro.
In an interview with the Chasing Glory Podcast, Ricochet disclosed how he and Catanzaro met.
"We actually came in the exact same class and started the same day. She was always so nice and kind, and helpful to everybody in any way that she could be, and that was something that I had always admired about her," he said.
Ricochet and Catanzaro dated for nearly three years. Nonetheless, the former United States Champion recently confirmed their breakup by posting photos with his new girlfriend. The 33-year-old is currently in a relationship with WWE Ring Announcer and Correspondent Samantha Irvin.
---
#1. WWE legend John Cena
During his early days in WWE, John Cena dated Victoria for only a month. The former Women's Champion was then married but separated from her husband.
In an interview with F4WOnline, Victoria disclosed how she and Cena got together in 2002:
"I dated John Cena for about a month. It was not in 2006 or 2007. It was in 2002. It was when we were both in Louisville. I was married but separated. John Cena was single," she said.
In 2007, the 16-time world champion started dating Mickie James. Nonetheless, the couple split in 2008. A year later, Cena married his high school sweetheart, Elizabeth Huberdeau, but they divorced in 2012.
Later that same year, the former WWE Champion began a relationship with fellow WWE Superstar Nikki Bella. They dated for five years before Cena proposed to the former Divas Champion inside the ring at WrestleMania 33, following their victory over The Miz and Maryse. However, they ended their engagement in April 2018, a month before their wedding.
After his breakup with Nikki Bella, Cena met and fell in love with Canadian engineer Shay Shariatzadeh. The couple married in October 2020.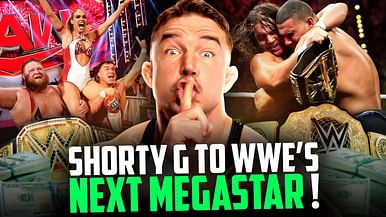 Why Chad Gable could be the next WWE mega star