If you've watched basketball seriously for more than a month or so in the recent past, the one debate you've probably heard everyone having is the endless Greatest-of-All-Time discussion.
LeBron James is the latest candidate to knock His Airness Michael Jordan off this particular throne. The King of Akron has been one of the most physically dominant players in the history of this game. For this decade, in particular, he is the only one to make it to every single Finals series, winning 8 Eastern Conference Championships out of the 8 that he competed in.
He combines the athleticism of MJ with the creative finishing of Julius Erving, the playmaking ability of an Oscar Robertson and the force of a Shaquille O'Neal - possibly the most dominant basketball player ever at his prime. He's often proclaimed as the most complete player in the history of the game, though you'll read later on if this is really the case.
•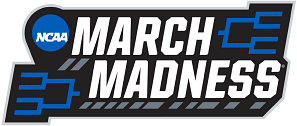 LeBron finished his 15th season this year - the same number as Michael Jordan played in his storied NBA career. If LeBron's peak hasn't been better than Jordan's (another thing that we'll answer later on), the only argument his fans can make is whether his peak lasted longer than MJ's.
Thus, I feel that this is the best moment in history to compare and contrast the careers of these two, who are probably the greatest wing players of all time. Without further ado, we launch into the requisite analysis
#1 Scoring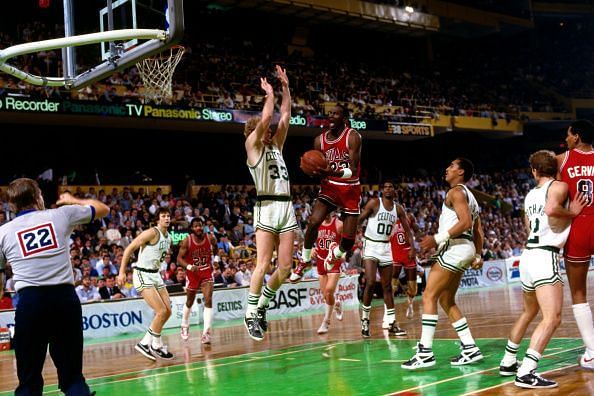 LeBron James is probably the NBA's most versatile layup artist of all time. He can use his strength to ward off defenders on drives. He can blow by them with his speed. Using a little bit of separation, he can pull off an ultra-smooth spin move with both hands for an easy finish at the rim.
His hang time is comparable to His Airness, and his larger frame allows him to get to the hoop much more frequently than other wing players. In fact, more than 30% of his shots for every single season have come from the 0-3 foot region - peaking at 45.9% in the 2015-16 season. This gives him a career average of 35.8% field goal attempts as layups, dunks or put-backs.
As we fade out to farther in the perimeter, his field goal percentage drops from the elite 73.3% at 0-3 feet to 42.4%, 36.7% and 38.5% at 3-10 feet, 10-16 feet and 16-23 feet respectively. With the progress of his career, particularly since the summer of 2011, LeBron has improved his perimeter game to a point where it cannot now be disregarded.
But Michael Jordan is the most skilled scorer of all time. Not only was he a threat to dunk on somebody or score off fast breaks, Jordan was also an elite shooter from mid-range. He married mid-range volume and efficiency in a manner never seen before him in the game.
Jordan's ball fakes are the stuff of legend. He sometimes used his entire body to befuddle his primary defender and create the separation for an open shot. He is one of the few players to achieve a soft release on the double-clutch - his iconic 'The Shot' shot against Cleveland in the 1989 playoffs is a textbook example of this.
He copied Hakeem 'The Dream' Olajuwon's footwork from the low post, and he came back stronger with weight training every single season in order to bully opponents from there. He shot through double, triple and sometimes quadruple teams from this region, and he patented the fadeaway jumper that is today a part of every elite player's arsenal.
Edge: Michael Jordan
#2 Rebounding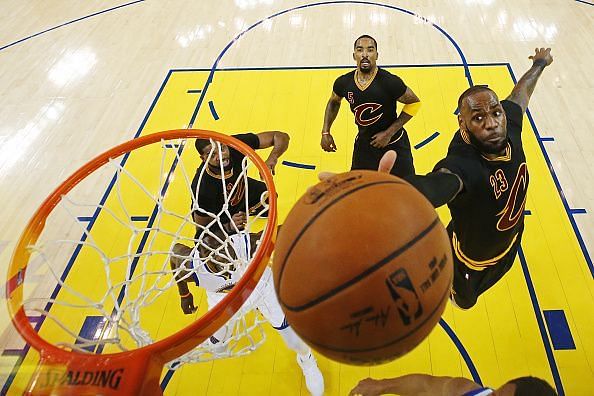 LeBron James is perhaps the greatest rebounder the small forward position has ever seen. While Larry Bird has had seasons and series with better rebounding stats, James plays in a league with more athletic centers and forwards, and is still able to rack up rebounding stats with ease even in Finals series.
Jordan himself is one of the greatest rebounding guards to ever play the game, though the likes of Oscar Robertson, Magic Johnson and Russell Westbrook have better stats than him.
It is worth noting, however, that Jordan is easily the better offensive rebounder of the two. For the length of their careers, Jordan averages 1.6 offensive rebounds over 15 seasons, while LeBron is averaging only 1.2.
Jordan also focused less and less on rebounding after the initial years of his career. It wasn't one of his priorities once Scottie Pippen rose to be elite at this, while the signing of the greatest rebounder in the history of the game, Dennis Rodman, further reduced the necessity of him going for rebounds.
LeBron's career rebounding rate of 11.1% is better than Jordan's 9.4%, giving him an edge in this category.
Edge: LeBron James
#3 Playmaking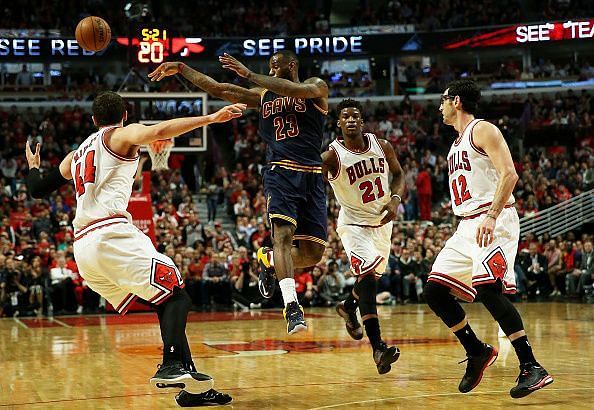 This is one of the shadiest areas of comparison, as Michael Jordan played most of his career in a system that emphasized ball movement, consequently reducing his assist numbers for the most part. On the other hand, LeBron has played all 15 seasons of his career as the predominant ball handler for his teams, resulting in the kind of statistics that inspire comparisons to Oscar Robertson and Magic Johnson.
And yet, there are ways to explain how LeBron is a more capable passer than Jordan. His transition play alongside Dwyane Wade during those Miami years are the stuff of legend - the two had a telepathic understanding of the other's game. LeBron is also a wee bit better in the half-court set than Jordan, setting up teammates without necessarily using his stock drive-and-kick move.
Jordan himself excelled in the point guard role whenever he was thrust into it. In fact, he averaged 11.4 assists per game in the 1991 NBA Finals - a number matched only by Magic at that stage. Before the rise of Scottie Pippen as a point forward for the Bulls, Jordan had a season with 8 assists per game (34.7 assist percentage). Pippen's improvements in the triangle system removed the playmaking load off Jordan's shoulders and allowed him to focus more on scoring.
Edge - LeBron James
#4 On-ball defense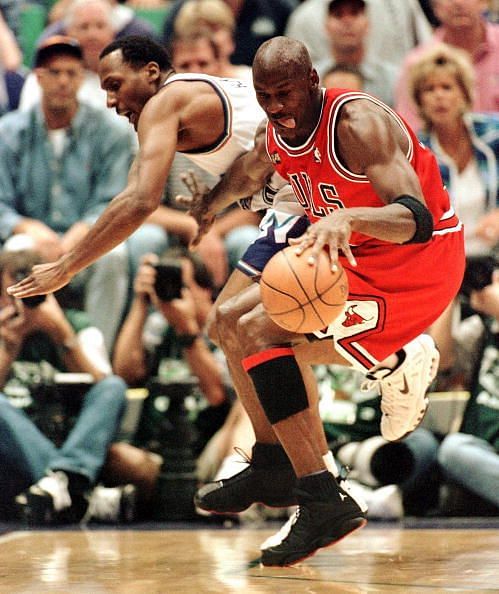 LeBron James used to be one of the best on-ball defenders of all time. Twice, he finished second in the Defensive Player of the Year voting, and he's made 6 All-Defensive teams through the course of his career.
But he was never a true lockdown defender on the perimeter, as guys like Wade, Paul Pierce and Vince Carter routinely were able to get at him with their on-ball moves. Not to mention that he routinely got schooled by Kobe Bryant during his first spell at Cleveland.
Of late, LeBron has lost the ability to sustain maximum defensive effort at all times, as age is getting to him. He used to be able to guard smaller, faster guards like Derrick Rose, but that is no longer the case now in his 15th year.
Michael Jordan is the greatest defensive shooting guard of all time, bar none. Not Sidney Moncrieff. Not Michael Cooper. Not Kobe Bryant, or for that matter, Dwyane Wade or Tony Allen from this era. Michael Jordan's on-ball defense was so stifling that routinely teams had to play 4-on-4 basketball, keeping Jordan's guy on the corner and out of the offense - much the same way teams play Kawhi Leonard today on offense.
He led the league in steals thrice, and his career average of 2.3 steals per game ranks third among all players in NBA history. Jordan was also fast enough to prevent opponents from driving on him. He was literally a terror on the perimeter, and for that reason, he edges ahead of LeBron here.
Edge: Michael Jordan
#5 Team defense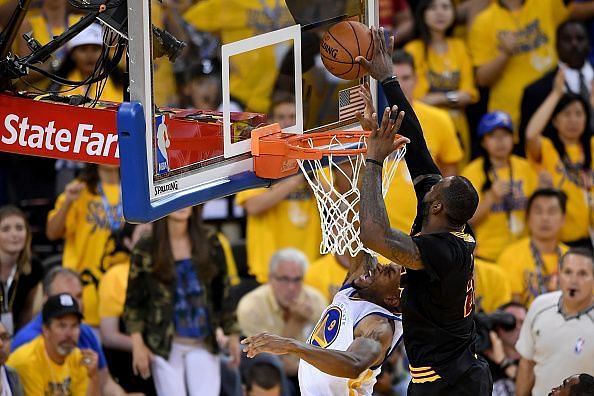 LeBron James at his peak in Miami was a terrifying defender. He had the basketball awareness to act as a safety net whenever a player blew by, and he's always been a terrific help defender. A fully engaged LeBron is still a great defender today, particularly because of his intuitive understanding of how a play is going to unravel and what he can do to intervene.
Most of his blocks have come as a help-side defender in the manner of a traditional center, and he's also a tough shot-contester - although not elite by today's standards.
Michael Jordan, being a perimeter player, was less engaged inside the paint or as a weakside defender. He was an untiring machine, however, and he was one of those guys who never gave up on a play, whether it be in transition defense or in the half-court set.
His career tally of 893 blocks is the highest for any guard, although Dwyane Wade could overtake that total in the next season. Jordan was adept at playing passing lanes for steals as well, and that is part of the reason why he became a 9-time selection to the NBA's First Team All-Defense.
Edge: It's a wash
#6 Individual Accolades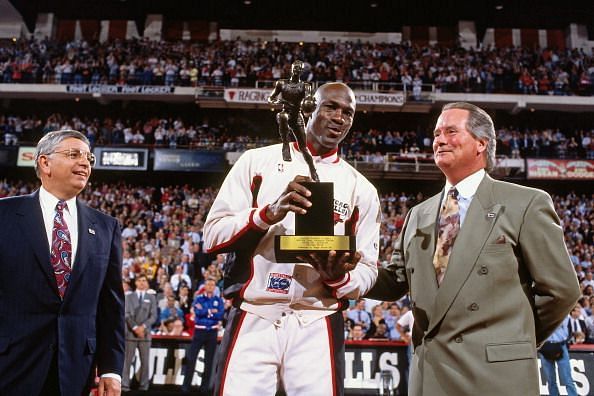 LeBron James is currently playing in possibly the most stacked league the game has ever seen, in terms of the number of superstar talents currently playing. He is up against the likes of Kevin Durant, Steph Curry and Russell Westbrook, who've all got scoring titles. Anthony Davis, Giannis Antetokounmpo, Joel Embiid, Kristaps Porzingis and DeMarcus Cousins are among the most talented big men to ever play the game.
Kyrie Irving, Paul George, Kawhi Leonard, Jimmy Butler and Klay Thompson are some other transcendent perimeter players who would be dominant in any generation. Which is why it has been tougher for him to rack up individual accolades in the manner that Jordan did.
LeBron has the edge in terms of First-Team All-NBA selections with 12, overtaking Michael Jordan who had 10. But he is behind in terms of scoring titles (10 to 1), steals titles (3 to 0), Defensive Player of the Year awards (1 to 0), All-Defensive team selections (10 to 6), regular season MVP awards (5 to 4) and Finals MVP awards (6 to 3).
He does have time to overtake MJ in these categories with the passage of time, but since we are only debating how much each player achieved, Jordan has the clear edge here.
Edge: Michael Jordan
#7 Degree of Difficulty/Level of Competition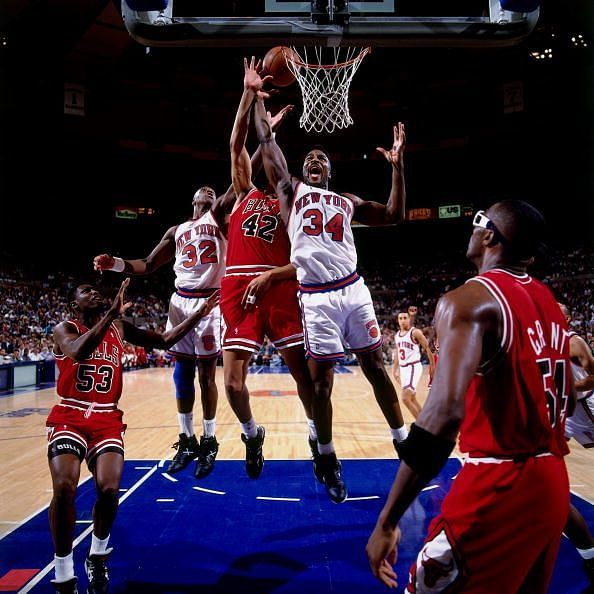 The Eastern Conference, which has been historically weak for several years now, has seen LeBron James emerge as the champion for each of the past 8 seasons. But this begs the question: how many series was he supposed to win out of the 24 that he won?
The answer is All 24.
Yes, James was favored by at least half the critics on various sports networks to win every one of these series. The one series in the past 10 years for which LeBron really beat better opponents were in the 2016 Finals, which is the greatest comeback in Finals history.
In 13 years of playing in the Eastern Conference Playoffs, LeBron has only beaten 13 teams with 50 wins or more during the regular season. The Conference has been historically bad ever since Jordan's retirement, allowing him an easy path to the Finals every year - even this year, it looked like he would have a tough time getting past the Celtics, but they lost Kyrie Irving for the playoffs with 3 weeks left in the season.
It's a part of the reason why he has many more Finals appearances than Jordan, who played in the Eastern Conference during a time when the Celtics were putting together a dynasty of their own. The New York Knicks had drafted Patrick Ewing and surrounded him with a bunch of scrappy guys who could tough it up against great teams. The Bad Boy Pistons were at their peak and conjured up a bunch of Jordan Rules to eliminate his impact from the game.
Jordan had to wade through 20 50-win playoff teams during his 13 seasons in the playoffs. There is no doubt that he was up against the tougher competition during his years. In fact, the '86 and the '87 Celtics are often ranked by experts as a top-3 team of all time - pretty much like the Golden State Warriors in the past 2 years. This is why his playoff losses came earlier in the playoffs - most of the good teams were in his Conference, and he had little to no scoring help.
Edge: Michael Jordan
#8 Amount of help/Level of teammates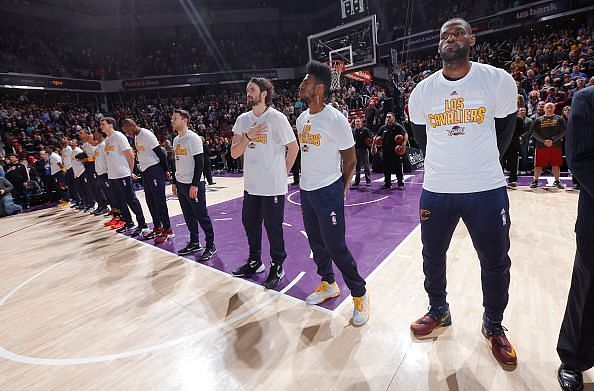 This is a bone of contention, as LeBron has advanced past the first round in the playoffs with a supporting cast that would hit the lottery every year thrice now (2006, 2007, 2018). But during his championship years, the Cavaliers have had the most well-rounded roster in basketball (2012, 2013 and 2016).
In 2016, while the Warriors did have 3 All-Stars like LeBron did on their squad, Draymond Green wasn't much of a scoring threat. Kevin Love did come up a dud for that series, but he still had to be guarded as an elite perimeter threat, which opened up driving lanes for LeBron and Kyrie to exploit.
Between the trios of LeBron, Kyrie, and Love vs Steph, Klay, and Draymond, most people would probably pick the former trio. Not to mention how the likes of Channing Frye, Richard Jefferson, Iman Shumpert and Mo Williams would constitute a more well-rounded bench than the Warriors had at the time.
Yes, LeBron did win the Finals in a large part due to himself, but in a series that came down to the last couple of minutes, he would definitely be thankful for all the help that he did have.
Michael Jordan, on the other hand, had the incalculable benefit of playing under Hall of Famers Phil Jackson and Tex Winter, who developed the triangle offense and allowed a number of average NBA players to become solid contributors to the Bulls system.
While the only big names that Jordan played with were Pippen and Rodman, the amount of help he had in the other roster spots with the likes of Toni Kukoc, Steve Kerr and BJ Armstrong cannot be underestimated. Over the years, they always rose to the occasion in the playoffs. But nobody in Jordan's supporting cast was ever the kind of scoring threat who needed to be double-teamed at times, or could go on to drop 40 points or so like The Flash or Kyrie.
Jordan has never had a 20-ppg scorer on 45+% efficiency like LeBron had from 2010 to 2017 in the playoffs, and for that reason, LeBron's teams edge Michael Jordan's in a head-to-head matchup. Essentially increasing the degree of difficulty Jordan had to overcome.
Edge: Michael Jordan
#9 The improbability of their stories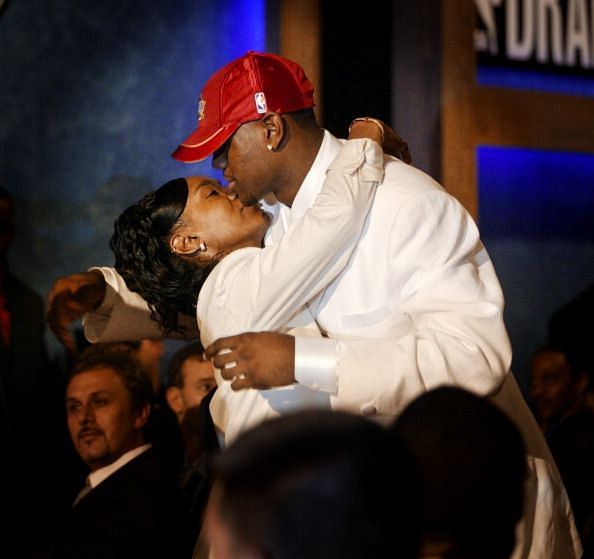 It is a matter of huge surprise that Hollywood hasn't yet picked up on the opportunity to make a movie on the behind-the-screen lives of possibly the two greatest black athletes in the last 50 years. Not only have they been the greatest at their craft, both of these players have stories so improbable that they would make for classic Hollywood biopics.
LeBron James's story is one of the most inspirational rags-to-riches story of any player in any game ever.
James was born to a 16-year-old mother, Gloria Marie James. His father, Anthony McClelland, was reportedly Gloria's casual boyfriend with an extensive criminal record. Gloria raised the child on her own. When James was growing up, life was often a struggle for the family, as they moved from apartment to apartment in the seedier neighborhoods of Akron while Gloria struggled to find steady work.
Realizing that her son would be better off in a more stable family environment, Gloria allowed him to move in with the family of Frank Walker, a local youth football coach, who introduced James to basketball when he was nine years old. Walker played the role of a father figure to James from that point on, and James' natural talent shone through ever since. As a freshman at St. Vincent St. Mary's High School in Akron, he averaged 21 points and 6 rebounds.
The hype kept building till his senior high school year as James dominated the high school scene in Ohio like few players in USA basketball history. All of his games as a senior were televised, and James was tipped to succeed Michael Jordan as the game's greatest player. His stats as a senior - 31.6 points, 9.6 rebounds, 4.6 assists, and 3.4 steals per game - are surpassed only by Kobe Bryant for Lower Merion High School in Philadelphia.
He is the only player to sign with Nike for a signature shoe as a high school player, with a 7-year, $90 million deal. He was featured on Sports Illustrated's cover as a 17-year-old and is the most hyped prospect to enter the NBA in the storied history of the league.
His first 7 years were a case of languishing on a bad roster with only him as an elite player, and he still made the Finals once in 2007. His move to Miami turned many basketball fans against him for the manner in which he did it, but 4 straight Finals appearances in that time coupled with 2 championships are a neat return and justify him against any criticism.
He further increased his legend with a comeback in the NBA Finals in 2016 from 2-0, and then 3-1 down, effectively erasing memories of his meltdown in 2011 against the Mavericks. He does have a lot of time to add to his increasing legend, and as basketball fans one would hope he wins a couple of championships more because of his relentless drive to be the greatest.
Michael Jordan's early life wasn't riddled with the kind of struggle LeBron had to go through, but his story since entering the league is probably the only one in sports history that's literally stranger than fiction. The Michael Jordan story was better than anything Hollywood could have come up with.
He finished his rookie year leading his team in points, rebounds, assists, and steals. Yet, he was frozen out in the All-Star game by Isaiah Thomas. He broke his foot in his second year before coming back to an awful Bulls team that only won 21 games without him in 64 tries.
If Jordan hadn't left for two years there is at worst a high likelihood he would have won eight straight championships, maybe 9 if Jerry Kraus was willing to loosen his purse for Scottie Pippen.
He won 2 dunk titles, and led the league in scoring and steals in the same season THREE TIMES. He scored over 37 points a game for a full season. He's the only player to win MVP honors, the scoring title and Defensive Player of the Year award for the same season.
He recorded a triple-double in 10 out of 11 games when they experimented with him at the point guard position. All of that without any sort of freak of nature size and weight advantage over other players.
He won his first title in 1991 against the best all-around player Magic Johnson at the time. His next postseason campaign pitted him against Knicks when he pulled off that barely believable corner slide move and dunked on Ewing. He hit 6 threes in one half of a Finals game against Drexler.
He was a member of the original Dream Team. He played the dynasty Celtics at their peak in the first round and record a playoff record 63 points in a loss (a record that has endured the test of time). He threw down a free throw line dunk competing against Nique in the second dunk contest. Later on, he had to play against the Bad Boy Pistons dynasty who used the Jordan Rules, sweeping them in 1991 with the Pistons leaving the floor early at the end of game 4.
He averaged over 40 points per game against his buddy Barkley in the 1993 NBA Finals. The murder of his dad devastated him, egging him on to pursue baseball to fulfill his late father's dream.
He returned late in the 1994-95 season with the number 45 but made a critical error that knocked them out of the playoffs in 1995. Fueled by his competitive vengefulness, the Bulls put together the best team two-year run ever, with a record of 141-23. "This was for you, dad." were his words following his 1996 triumph.
1998 NBA Finals, Game 6. In Utah. With the Bulls down by 3 with under a minute left, he drives from coast to coast for a layup. Down 1, he stripped Hall of Famer Malone of the ball in the spot he had been killing them all series long. Jordan hovered in a blind spot for the steal. Walks the ball up the court. Pause. Drive. Love tap. A jumper from 18 feet. Hold it. Swish.
Edge: Michael Jordan
#10 Verdict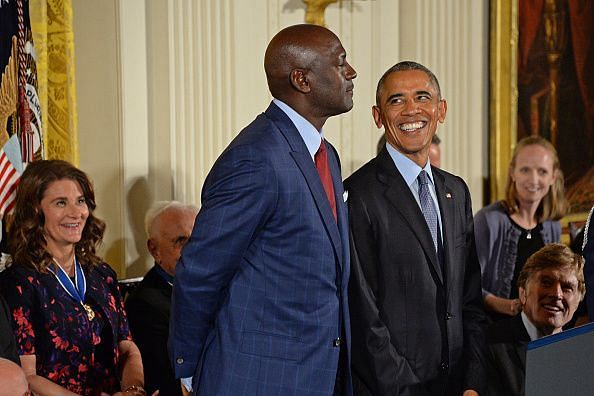 When Jordan, who starred for Mr Obama's beloved Chicago Bulls, was among the athletes selected for the Presidential Medal of Freedom in 2016, the President of the United States presented a take that is indisputable.
"There is a reason you call somebody the Michael Jordan of [their field]," he said. "He is the definition of somebody so good at what they do that everybody recognises it."
Michael Jordan defined what it meant to be a competitor, and what it meant to work the hardest, fight the hardest and beat the best when push came to shove. Several times in his career, he was counted out, and he was said to be done. People debated whether Clyde Drexler and Charles Barkley were better than him in 1992 and 1993, and he humbled them on the court with his sheer dominance.
Other Hall of Famers like Jerry Sloan, Karl Malone, John Stockton and David Robinson were unable to win a single NBA title when he was around. What LeBron does on an yearly basis to the Eastern Conference, Jordan did to the entire league.
It didn't matter if Charles Barkley teamed up with 2 other All Stars in Kevin Johnson and Dan Majerle, not to mention a ring-chasing sharpshooter in Danny Ainge. It didn't even matter when Chuck then teamed up with Hakeem Olajuwon and Clyde Drexler later on.
It didn't matter that the Seattle Supersonics, the Phoenix Suns and the Utah Jazz each had 60+ wins, and the latter two had homecourt in 2 Finals series. It didn't matter that he had the flu, because he couldn't forgive himself for sitting out a pivotal game 5 on the road, so he came out with 38 points, 7 rebounds, 5 assists, 3 steals and led the Bulls to a decisive victory.
After a point, the only question that remained about Michael Jordan was the manner in which he would get the win, not whether he really would do it.
LeBron James is a great basketball player, and it is clear that he has transcended the game in the complete manner that he dominates it this day. But while LeBron might be a symbol of hype coming true, unwavering consistency and excellence at one's job, Michael Jordan is a beacon of the enduring, undying competitive spirit of mankind. And so for that reason, beyond all the arguments I presented to you in the slideshow before, Jordan is still the Greatest of All Time.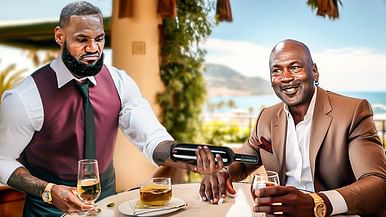 How is Michael Jordan officially richer than NBA's 10 richest players?!