Brooklyn Nets' All-Star guard Kyrie Irving has been the talk of the town off-late for his refusal to get the COVID-19 vaccine. As per the latest reports, Kyrie remains unvaccinated and will not be allowed to play in home games or practice with the Nets, as per vaccine mandates in the state of New York. This could lead to him missing more than half a season, in a crucial year for the Brooklyn Nets.
Kyrie Irving is used to having the spotlight on him for being outspoken, sticking to his beliefs and views irrespective of what somebody else says, which sometimes leads to him making the most outlandish statements like his "flat-earth" theory.
He has been in the eye of the storm lately and has had various NBA analysts and former players criticizing him for his callous attitude toward his teammates. Kendrick Perkins was one of the prominent few to point out Kyrie Irving's indifference and how it might affect his co-stars Kevin Durant and James Harden as they aim to make a championship run.
•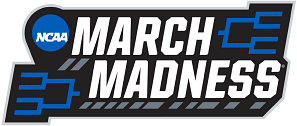 This brings us to question if Kyrie Irving is actually a bad teammate because this is not the first time he has been picked on for something that he has done or said which has in turn affected his teammates.
Without further ado, here are the three major incidents where Kyrie has caused trouble for his teammates with his attitude.
---
Three incidents where All-Star Kyrie Irving has caused problems for his teammates with his attitude
#3 LeBron James and Cleveland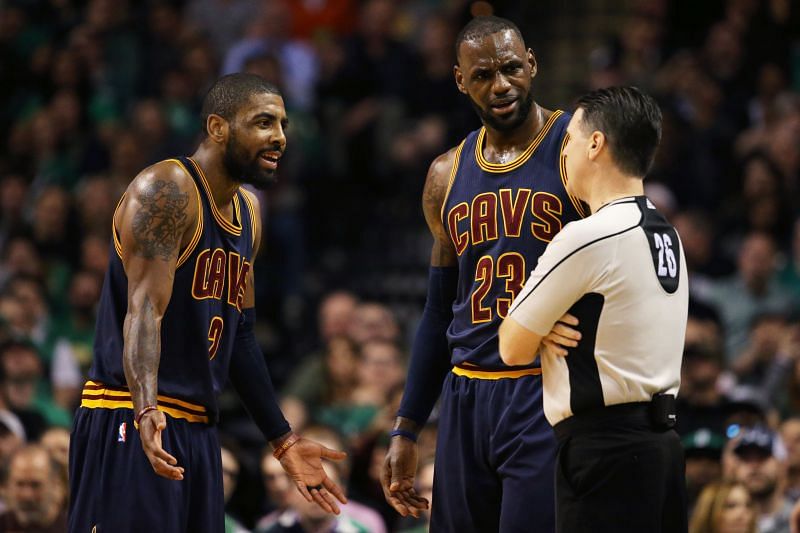 Kyrie Irving and LeBron James formed one of the deadliest duos in NBA history despite their short time together as they guided the Cleveland Cavaliers to three NBA Finals appearances and one championship.
Despite their success on the court, the duo however did not enjoy the best of relationships during their time together. Kyrie Irving was an upcoming star who wanted to be the number one option and the alpha of the team but was forced to defer to LeBron James, who had just returned to the Cavs after winning two championships in four Finals appearances with the Miami Heat.
The fit on the court between the two seemed seamless, and with a trade for Kevin Love, Cleveland now had a component big three that could lead them to the promised land and they did. As the seasons wore on, their relationship became more strained as both players unfortunately could not see eye to eye, with Kyrie Irving being the young and hungry star tussling for the spotlight while taking shots at an accomplished LeBron who was still in his prime.
Kyrie later recognized his missteps in Cleveland and publicly apologized to LeBron during his tumultuous time with the Celtics. He said,
"I'll tell you one thing, obviously, this was a big deal for me, because I had to call Bron and tell him, I apologized for being that young player that wanted everything at his fingertips, and I wanted everything to be at my threshold. I wanted to be the guy that led us to a championship. I wanted to be the leader. I wanted to be all that and the responsibility of being the best in the world and leading your team is something that is not meant for many people. Bron was one of those guys that came to Cleveland and tried to show us what it's like to win a championship. And it was hard for him and sometimes getting the most out of the group is not the easiest thing in the world."
Their relationship does not look like it got better post his public apology, with Kyrie Irving taking shots at LeBron yet again during the 2020 Finals when he said that Nets star Kevin Durant was the only teammate he had played with that was capable of making clutch shots. To LeBron's credit, he responded in a classy manner rather than firing back in return despite being hurt by his comments.
---
Also Read: What is Kyrie Irving's Net Worth in 2021?
#2 Boston Celtics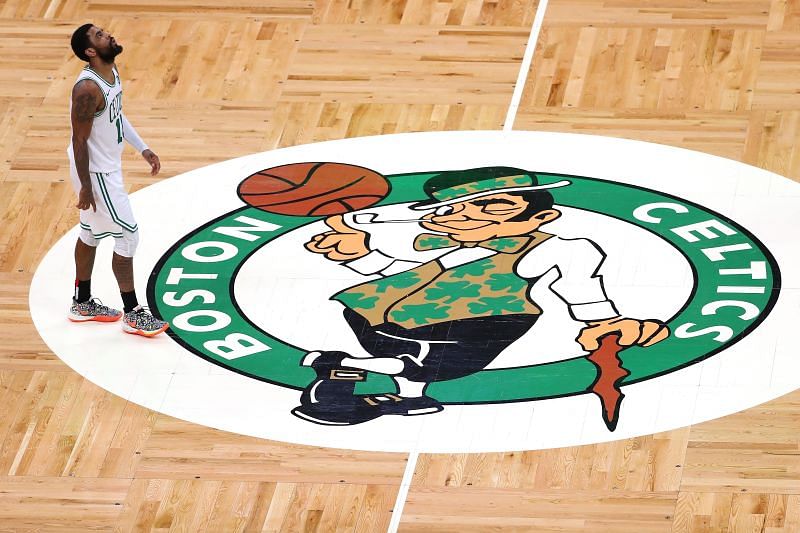 Kyrie Irving got his wish to be the focal point of his team in August 2017 as he was traded to a young Boston Celtics that needed veteran leadership to get them past the playoff hump. The Celtics were loaded with young stars such as Jayson Tatum and Jaylen Brown and Kyrie's arrival was taken as a sign of the great things to come for the C's.
His tenure as a Celtics player began brightly as he seemed to have elevated his game with a couple of astonishing performances, like his season 47-point game in an overtime game against the Dallas Mavericks. Kyrie unfortunately missed out on the postseason due to a couple of procedures that had a recovery time of four to five months. Terry Rozier and Jayson Tatum led the charge in his absence as the Celtics made it to the Eastern Conference Finals before losing to the Cleveland Cavaliers, led by LeBron James.
Big things were expected of the Celtics once Irving and Gordon Hayward returned but unfortunately things took a different turn. Kyrie personally had a decent season, averaging 23.8 points and 6.9 assists, but he struggled to be the leader that he always sought to be and failed miserably trying to lead a young Celtics core.
Kyrie often took shots at young Celtics stars such as Jaylen Brown and Jayson Tatum with the intention of encouraging them to up their performance. Unfortunately, it had the opposite effect as they had slumps in their performance.
This led to a frustrated Kyrie even going to the extent of apologizing to LeBron for being unable to understand his leadership methods due to being a young hungry star. It was great that he was trying to rectify his past errors but doing that on a public platform at the wrong time looked like he was throwing his young teammates under the bus.
The Celtics had their best performance and reached the Eastern Conference Finals when Kyrie was injured, which says a lot about his failed leadership. Luckily for both the Celtics and Kyrie, the drama did not last long as he signed as a free-agent with the Brooklyn Nets in the 2019-20 season.
---
#1 Brooklyn Nets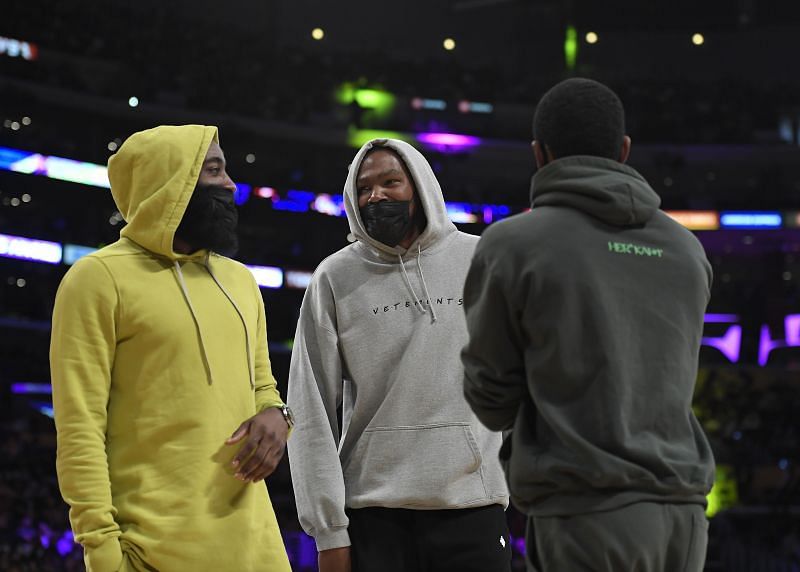 The Brooklyn Nets hope that Kyrie will change his mind and get the vaccine as they have a chance of creating history with their big three. Irving's refusal to get the vaccine not only affects him but also his teammates as he will not be allowed to practice with them or play in home games, which is basically half of the season. The Nets have a roster deep enough to sustain without Kyrie during the regular season, but they will need their All-Star guard to come out all guns blazing during the post-season as they go up against stiff competition.
An injury to either James Harden or Kevin Durant will complicate things further, leaving Brooklyn severely handicapped. Hence, it is imperative for the organization and his teammates to convince Kyrie to get the vaccine irrespective of how vehement he is in his stance or distrust. He can take the example of former teammate LeBron James, who was himself critical of taking the vaccine before acquiring the right information and doing so. Andrew Wiggins is yet another example of a star who was vehemently opposed to getting the vaccine before gaining the right information and getting it done to become available to the Warriors.
What Kyrie has to realize is that this time around it isn't about his beliefs or his views but rather about the safety of him and the people surrounding him, while also being available for his teammates who have sacrificed a lot to get to an NBA championship. James Harden still has not signed his contract extension and could decide to become a free-agent in a shocking move due to Irving's stubbornness. It is only a matter of time before his supportive teammates get frustrated with him and his behavior, leading to neither side benefiting from the situation.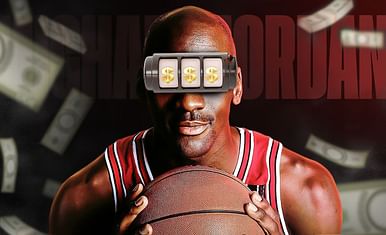 How did Michael Jordan's gambling "habit" taint his image?
Poll : Will Kyrie Irving get the vaccine sometime within the season?
91 votes