Kyrie Andrew Irving is an American-Australian professional basketball player who plays for the Dallas Mavericks as a point guard. The 10 year NBA veteran is the most talented ball handler to ever step foot on an NBA court. His shot creation is on par with the best in the league. Over his illustrious career, he has been selected to several all-star games and All-NBA Teams. His biggest achievement was winning the 2016 NBA Championship with the Cavaliers against all the odds, coming back from a 3-1 deficit against the Golden state warriors. He has been in the news recently for tweeting in favor of an anti-semitic movie for which he was fined and suspended by the Nets. Amidst all this, he is still one of the best point guards in the league. He was the first overall pick in the 2011 draft by the Cavaliers.
| | |
| --- | --- |
| Name | Kyrie Andrew Irving |
| Net Worth | $90 million approximately |
| Age | 30 years (born 23 March 1992) |
| Residence | New Jersey |
| Position | Point guard |
| Marital Status | Unmarried |
| Source of Wealth | Professional Basketball, Endorsements |
| Salary | $37.6 million approximately |
| Endorsements | Nike, Panini, Pepsi |
| Endorsement Earnings | $17million approximately |
Kyrie Irving's Net Worth in 2023?
As of 2023, according to Forbes, The Mavericks guard has a net worth of $90 million. Which includes his total on- and off-court earnings and earns $35 million per year in average annual contract salary. Moreover, he also endorses the Nike Shoe and has a contract of $11 million. His signature shoe was among the best selling shoes for Nike.
Kyrie Irving's Salary
Kyrie signed a 4 year $136.5 million contract during the 2019 free agency period with the Brooklyn Nets and opted into his player option for 2022, and is set to earn $36.5 million per year. Kyrie has earned $158,294,849 over the course of his career.
| | | |
| --- | --- | --- |
| SEASONS | TEAM | SALARY |
| 6 seasons | Cleveland Cavaliers | $56,239,811 |
| 2 seasons | Boston Celtics | $38,967,813 |
| 3 seasons | Brooklyn Nets | $98,003,225 |
| | Total | $194,217,099 |
Kyrie Irving's Endorsements
Kyrie earns around $17 million from endorsements alone. His endorsements include Panini, Nike, and Pepsi.
Kyrie Irving's Other Sources of Income
Kyrie's other sources of investments include endorsements and TV appearances. He has made regular appearances on television and other events, which earns him a significant amount. He also starred in the feature film, 'Uncle Drew' in 2019 which brought in $47 million at the box office. Irving also has endorsement contracts with General Mills and Aleve.
Kyrie Irving's House
Kyrie owned a house in brooklyn. He paid $925,000 for a three-bedroom, two-bathroom penthouse loft in Union City, roughly a 40-minute drive from the Nets' practice facility in Brooklyn but he left the house as he was traded to the Mavericks recently.
Kyrie earlier also earned a house at Cleveland which he sold out at $2 million when he left to play for the Celtics. The house consists of four bedrooms and six bathrooms along with an indoor basketball court, a fireplace,and a private cinema etc.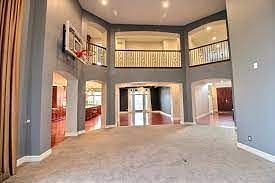 Kyrie Irving's Car
Kyrie alone has spent almost $2 million on automobiles. He owns a variety of vehicles, including the Jeep Wrangler, Audi R8, Ferrari 458 and Lamborghini.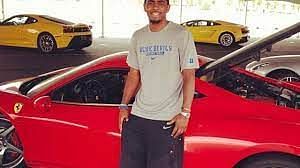 Kyrie Irving's Charity Work
The Mavericks guard has always been ahead when it comes to giving back to society. He said 'It is so much going on in the world, I simply try to do small acts of kindness every day'.During the November end, Irving publicly donated $60,000 to the city's oldest Black Muslim school. In addition he regularly contributes to GoFundMe.
Another act of generosity was seen when a fire incident took place in Bellefonte, Pennsylvania where Kyrie gave $22,000 to seven people displaced by a fire.
FAQs
Q. Is Kyrie Irving an Australian citizen?
A. Kyrie has dual citizenship of the United States and Australia. At age 4, Kyrie's mother passed away from illness. His father along with his aunts raised him. HGis father used to play basketball hence, he developed the interest into having a career in it.
Q. What is the net worth of Kyrie Irving?
A. The Mavericks guard has a net worth of about $90 million which includes his on and off court earnings.
Q. Why is Kyrie famous?
A. Kyrie has been an eight time NBA All-star, a NBA champion in 2016 with the Cavaliers and the rookie of the year after being selected with the first overall choice in the 2011 NBA Draft.
Q. Kyrie Irving's height ?
A. The 30 years old MAvericks guard is about 88 kg or 195 lb and 6 feet 3 inches or (2.06m) tall and considered one of the best point guards ever in NBA history with the exceptional Ball handling skills.
Q. What is Kyrie Irving's religion?
A. As of 2021, Kyrie said that he chose Islam as his religion of faith.