The award for Most Improved Player is given out, as the title says, to a player who's shown remarkable year-on-year improvement from the previous season. Winners of this award have traditionally either become All-Star caliber players (as Ryan Anderson was in 2012) or have become perennial All-Stars (like Paul George in 2013).
Examining the past few award winners, we find the likes of CJ McCollum (who'd definitely be an All-Star if he played in the Eastern Conference in 2015-16), Jimmy Butler, Giannis Antetokounmpo and Goran Dragic - who've all made All-Star teams.
In this article, we see four sophomores trending the right way towards fulfilling the potential that caused their teams to select them. The 2016 draft class, including rookie Ben Simmons, is on its way to proving its true worth now.
•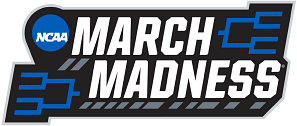 Let's take a look at the top contenders for this year's award:
---
#5 Domantas Sabonis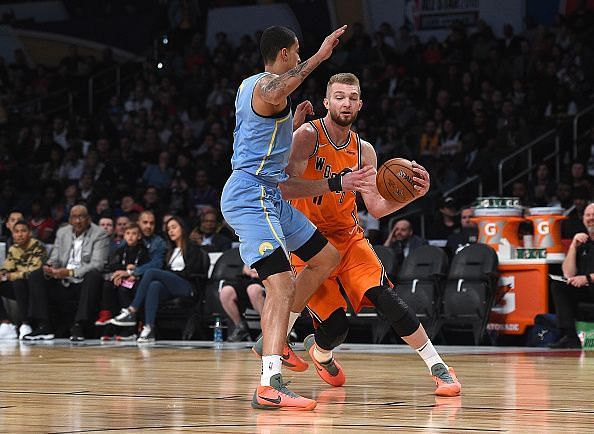 2016-17 stats: 5.9 points, 3.6 rebounds, 1.0 assists, 0.5 steals, 0.4 blocks on 39.9% field goal percentage playing 20.1 minutes per game
2017-18 stats: 11.4 points, 7.7 rebounds, 2.0 assists, 0.5 steals, 0.4 blocks on 51.9% field goal percentage playing 24.4 minutes per game
The Indiana Pacers probably did not expect this upsurge from the 11th pick of the 2016 draft. Domantas Sabonis did not show any sign that he would be a crucial role player on a playoff team during his first full season at Oklahoma City Thunder - it were his troubles at shooting the ball that forced the Thunder to sign Taj Gibson in February last year.
Sabonis arrived at Indiana as part of the Paul George trade package with Victor Oladipo, and he now looks every bit an NBA player who can dominate on his day.
He's pushed his scoring average up to nearly double from last season, his rebounding averages even more, and is making 12% more of his field goal attempts this season. He's also improved by 4.3% from the 3-point line and 8.2% from the charity stripe.
Signs of a player on an upsurge, surely?
#4 Jaylen Brown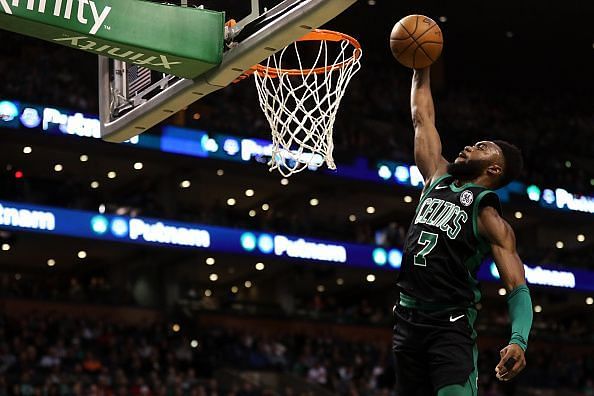 2016-17 stats: 6.6 points, 2.8 rebounds, 0.8 assists, 0.4 steals, 0.2 blocks on 45.4% shooting from the field in 17.2 minutes per game
2017-18 stats: 14.1 points, 5.1 rebounds, 1.6 assists, 1.0 steals, 0.4 blocks on 46.2% shooting from the field in 30.8 minutes per game
Jaylen Brown had more expectations on his back as the 3rd pick of the 2016 NBA draft, but he was largely rooted to the deep end of the bench on Brad Stevens' rotations for the Boston Celtics in his rookie season.
There were good indications that Brown had the potential to become a really good player, but we only saw glimpses instead of the full package. The full package is yet to arrive, but the 21-year-old has definitely shown a lot of improvement on both ends of the floor.
Jaylen Brown has a case for making an All-Defensive team this season, ranking 9th among all players in defensive win shares per game. He's also upped the ante on offense, scoring 7.5 more points per game while knocking down 38% of his 3-pointers - signifying a 3.9% jump in this category for the sophomore.
#3 Brandon Ingram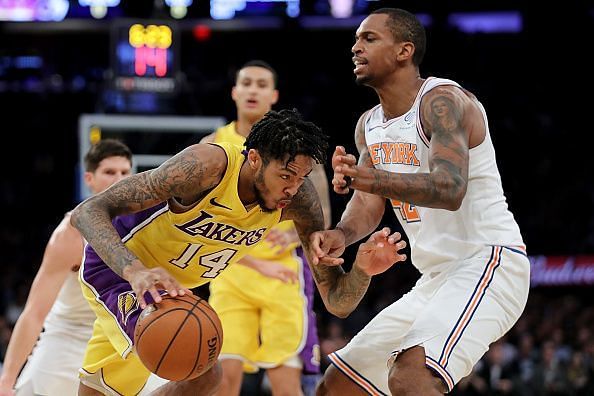 2016-17 stats: 9.4 points, 3.2 rebounds, 2.1 assists, 0.6 steals, 0.5 blocks on 40.2% field goal percentage playing 28.9 minutes per game
2017-18 stats: 16.1 points, 5.3 rebounds, 3.9 assists, 0.8 steals, 0.7 blocks on 47% field goal percentage playing 33.5 minutes per game
The #2 pick in the 2016 NBA draft Brandon Ingram is starting to justify his selection by the Los Angeles Lakers, submitting a good campaign through 59 games of the 2017-18 before going down with a groin strain.
Playing only 4:36 more minutes per game, Ingram has raised his scoring average by 6.7 points, his field goal percentage by 6.8% and his 3-point percentage from a pedestrian 29.4% to a borderline elite 39.0%.
Not just this, Ingram took over playmaking duties when Lonzo Ball sat out six weeks due to injury trouble from mid-January to late February, and he did pretty well in that role.
Ingram is using his length to finish drives at a higher rate than last season, and up until 50 games of the regular season, he led the league in drives over Russell Westbrook.
Ingram has eschewed tough shots in favor of making the right basketball plays, and it has shown in increased number across the board.
#2 Kris Dunn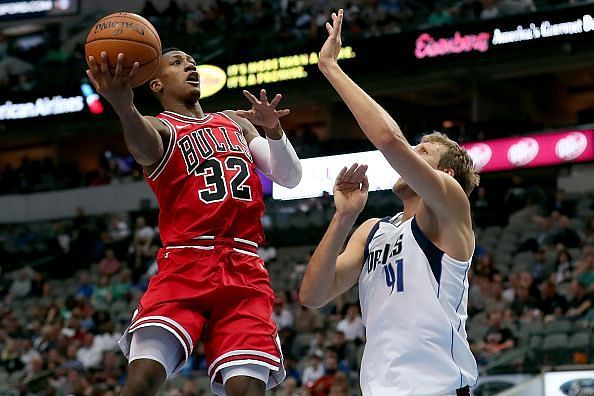 2016-17 stats: 3.8 points, 2.1 rebounds, 2.4 assists, 1.0 steals, 0.5 blocks on 37.7% shooting from the field playing 17.1 minutes per game
2017-18 stats: 13.4 points, 4.3 rebounds, 6.0 assists, 2.0 steals, 0.5 blocks on 42.9% shooting from the field playing 29.3 minutes per game
Kris Dunn is possibly the brightest light in a dark, tanking season for the Chicago Bulls fans, who will be pleased that both of the young pieces coming their way in the Jimmy Butler trade (Zach LaVine is the other one) are now starter-caliber players in a playoff team.
While Dunn hasn't really improved his skill set all that much, he is making much better decisions on a basketball court than he was last year. He's also scoring enough points now to be guarded as a legitimate driving threat.
His increases speak for themselves: a 9.6-point jump in points per game, a 150% jump in assists per game, twice the number of steals that he had last year and a jump of 5.2% in field goal percentage, which also includes a marginal increase in 3-point percentage.
Dunn, the #5 pick in the 2016 NBA draft, is, like players before him in this list, is now justifying his selection.
#1 Victor Oladipo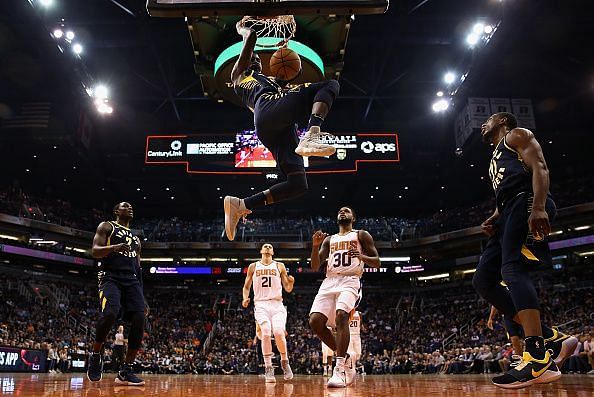 2016-17 stats: 15.9 points, 4.3 rebounds, 2.6 assists, 1.2 steals, 0.3 blocks on 44.2% field goal percentage playing 33.2 minutes per game
2017-18 stats: 23.4 points, 5.3 rebounds, 4.3 assists, 2.3 steals, 0.8 blocks on 47.4% field goal percentage playing 34.3 minutes per game
Victor Oladipo is the runaway favorite for this award, and deservingly so. Not only has he made an All-Star team this season, his superstar play this season warrants All-NBA consideration.
He has almost sealed the steals title this season, recording 2.3 per game. Without him playing this season, the Indiana Pacers have a 0-6 record, while they are 46-26 with him playing, and currently occupy 5th place in the Eastern Conference standings.
Oladipo spent this offseason bulking up his body while working in South Beach under the mentorship of Dwyane Wade, a superstar who had similar athleticism in his prime.
Oladipo's most notable improvement is his ability to take and make pull-up 3-pointers at a high level now - he's knocking down 36.5% of his 5.9 3-point attempts this season. Oladipo has become the offensive lifeline of the Pacers, and it is his play that will dictate how deep a playoffs run the Pacers will make.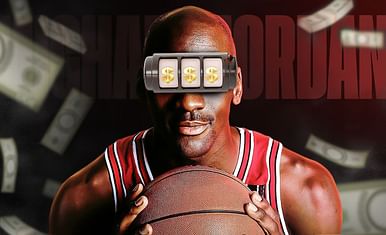 How did Michael Jordan's gambling "habit" taint his image?