Since the introduction of the 3-point shot in the 1979-80 season, we've seen many great 3-point shooters knock it down at over 40% from downtown but they often fail to crack the 50% mark from the field. Conversely, those who shoot over 50% from the field struggle to touch 40% from beyond the arc.
Also read: Greatest 3-point shooters of all-time
There have been very few players who have mastered the art of scoring efficiently in all aspects of the game. The 50-40-90 Club was informally created for them. It requires a player to shoot 50% from the field, 40% from 3-point range and 90% on free throws. Only 7 players have managed to record such a season and only 2 of them have managed to accomplish it in multiple seasons.
•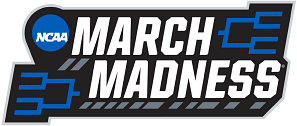 Here, we list down those special players.
Mark Price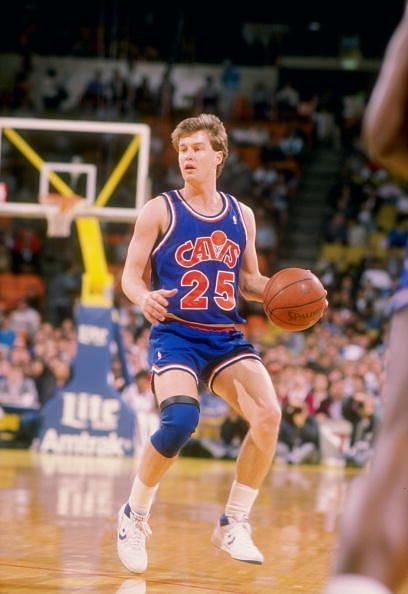 Career Averages: 15.2 Points, 6.7 Assists, 1.2 Steals
Honors: 4x All-Star, 4x All NBA selection
Before a certain Lebron James showed up, Mark Price was the greatest player in Cleveland Cavaliers history. An excellent playmaker, Price was also known for his quickness and shooting ability. He won the 3-point contest in back-to-back years in 1993 and 94. He also ranks 2nd all-time in Free Throw shooting at 90.39%.
Price led the Cavs to seven playoff appearances in his nine seasons there. They reached the Eastern Conference Finals once but lost to Jordan and the Bulls in 6 games. Losing to the Bulls would be a familiar theme for Price as they knocked him out of the playoffs a total of 5 times.
Price entered the 50-40-90 club, in just his 3rd season in 1988-89. He put up 52.6 - 44.1- 90.1, just about getting in, with respect to the free throw criteria. He had a few other near misses as well. Price missed out on Free Throw % in 87-88 and FG% in 92-93 and 94-95. Injuries derailed him for much of his career, which forced him to retire at the age of 34.
Reggie Miller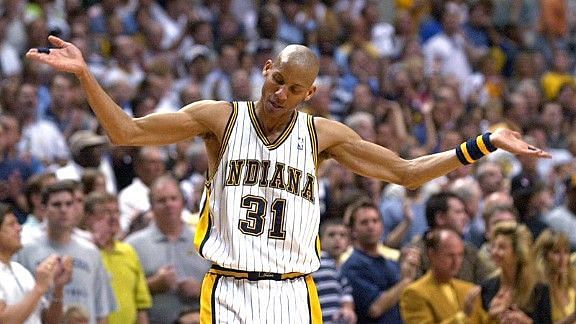 Career Averages: 18.2 Points, 3 Assists, 1.1 Steals
Honors: 5x All-Star, 3x All NBA selections
Reggie Miller is one of the greatest 3-point shooters of all time. Remarkably consistent, he ranks 2nd all-time in Regular Season 3 pointers made and 3rd all-time in the Playoffs. He was regarded as one of the most clutch shooters of all time, and never more so than against the Knicks in the 1995 Playoffs. Miller scored 8 points in 8.9 seconds, with the Pacers down 6 late in the game.
Miller had some incredible playoff battles against Jordan and the Bulls, and with the New York Knicks throughout the 90's and finally made his only Finals appearance in 2000. They'd face the Los Angeles Lakers and while Miller led the team with 24 PPG, Shaquille O'Neal would overpower the Pacers and the Lakers won the 1st of what would be 3 consecutive titles.
Miller entered the club in 1993-94 when he put up 50.3 - 42.1 - 90.8. He missed out on FT% in 89-90, 3 point % in 90-91, and FG% in 99-00 and 01-02.
Dirk Nowitzki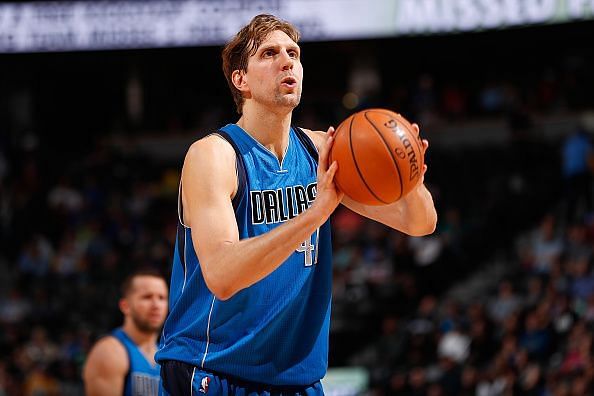 Career Averages: 21.7 Points, 7.8 Rebounds, 2.5 Assists
Honors: 1x NBA Champion, 1x Finals MVP, 1x MVP, 13x All-Star, 12x All-NBA selections
Dirk Nowitzki is one of the greatest scorers the league has ever seen. He currently ranks 6th all-time in the scoring charts. While big men shooting 3s has become common now, Dirk was an anomaly when he started off. He often drew comparisons with Larry Bird for the same reason.
Also read: Top 10 Regular season scorers in NBA History
The crowning moment of Dirk's career came in the 2011 NBA Finals as Dallas took on the heavily favored Miami Heat. The Heat led by the Big 3 of LeBron James, Dwyane Wade, and Chris Bosh was expected to blow by the aging Mavericks but Dallas shocked the world, as Dirk outplayed James and Wade in the clutch to win the series in 6 games. He finally got the title which had eluded him for so long and solidified his place among the greats.
Dirk recorded his season in the 50-40-90 club, in 2006/07 when he put up 50.2 - 41.6 - 90.4. He won his only MVP award that season. He missed out in 09-10 and 05-06 as he shot only 48% from the field.
Kevin Durant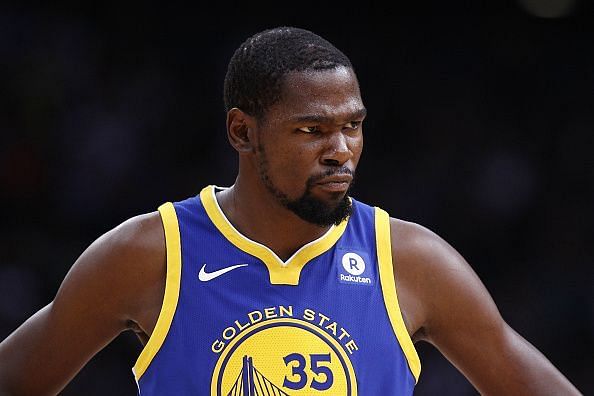 Career Averages: 27.2 Points, 7.2 Rebounds, 3.8 Assists
Honors: 1x NBA Champion, 1x Finals MVP, 1x MVP, 8x All-Star, 7x All NBA selections
Kevin Durant is already one of greatest scorers we've ever seen. He led the league in scoring four times in a five-year stretch from 2009-2014. There is practically nothing Durant can't do on offense. He can shoot 3s, post up and finish at the rim with incredible efficiency. He is also a capable ball handler and can run the offense at times.
He enjoyed some success in the Playoffs with OKC, reaching one NBA Finals in 2012 and 3 Conference Finals series, but never won a title.
He then made the infamous switch to the Warriors. While he got a lot of stick for moving to Golden State, Durant vindicated his decision by winning the title and being crowned Finals MVP. Last season, he also showed off a much improved defensive side of his game, averaging a career-high 1.6 blocks per game.
Durant recorded his season in the 50-40-90 Club, in 2012-13 as he put up 51 - 41.6 - 90.5. While KD has shot over 50% from the field in the last 4 seasons, he hasn't been able to reach the other two landmarks too often.
Stephen Curry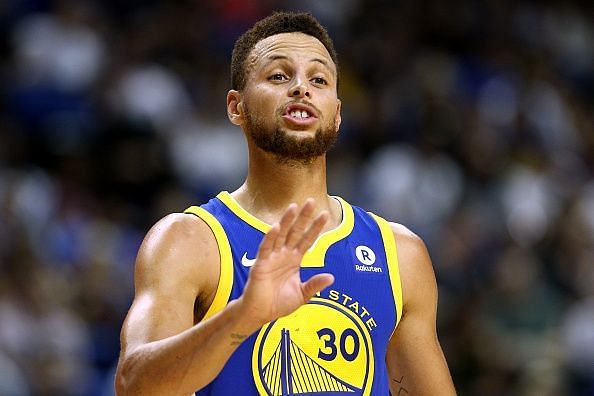 Career Averages: 22.8 Points, 6.8 Assists, 1.8 Steals
Honors: 2x NBA Champion, 2x MVP, 4x All-Star, 4x All NBA selections
Steph Curry is the greatest shooter of all time and there's no longer any debate regarding it. No one in NBA history can match his combination of ball handling and shooting range. Curry has shattered the single-season marks for 3 pointers made and currently holds the top 3 spots. He ranks 3rd in NBA history in both 3 point % and Free Throw %.
His 50-40-90 season is a bit special compared to the rest as he is the only player to average over 30 points per game while shooting with that efficiency. What makes it even more bizarre is that he accomplished the feat while setting the all-time record for most 3s in a season at 402 in 2015/16. He also led the league in scoring that season making the feat even more ridiculous. His percentages for the season were 50.4 - 45.4 - 90.8.
He has usually missed out on making 50% of his field goals, as he shoots so many 3s, or else he could have put up more than one season in the club. And even if he doesn't put up another 50-40-90 season, his 2015/16 campaign will likely remain the greatest season of any player ever in the list.
Larry Bird
Career Averages: 24.3 Points, 10 Rebounds, 6.3 Assists
Honors: 3x NBA Champion, 2x Finals MVP, 3x MVP, 12x All-Star, 10x All NBA selections, 3x NBA All-Defensive selections
Larry Bird is one of the greatest players in NBA history. What he lacked in athleticism, he more than made up for with skill and boy was he skilled. Bird could do almost everything on the court, hit 3s, score from the post, rebound and was an exceptionally gifted passer. He may have lacked the athletic ability to be a top defender, but he wrecked havoc in the passing lanes and was a pretty good help defender.
Bird reached five NBA Finals in the 1980s, winning 3 of them. He went head-to-head with Magic Johnson and the Lakers in three of those Finals and won once. His rivalry with Magic is regarded as the greatest in NBA history and it was their rivalry which saved the NBA as it generated a lot of interest in the league during the 80s after a downturn in the 70s.
Bird recorded the first 2 seasons in the 50-40-90 club in 86-87 and 87-88. His percentages were 52.5 - 40 - 91 and 52.7 - 41.4 - 91.6 respectively. He also narrowly missed out on joining Curry as the only other player to average 30 PPG while doing so, as he recorded 29.93 PPG in 87-88.
Steve Nash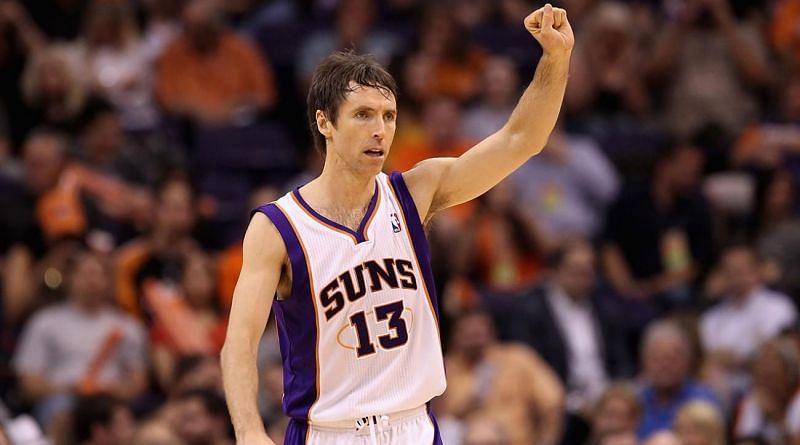 Career Averages: 14.3 Points, 8.5 Assists, 3 Rebounds
Honors: 2x MVP, 8x All-Star, 7x All NBA selections
Steve Nash is one of the greatest playmakers of all time, ranking 3rd in league history in assists. He led the league in assists five times in a seven-year period between 2004-11. While he is primarily known for his abilities as a distributor, Nash is one of the most efficient scorers of all time. He ranks 1st all-time in NBA history in free throw % (90.43) and is 9th all-time in 3 Point %.
Nash led the Suns and the Mavericks to four Conference Finals but could never reach an NBA finals. He often suffered at the hands of the San Antonio Spurs, who knocked him out of the playoffs seven out of the eight times they faced off.
Nash has tallied four seasons in the 50-40-90 club and they came in a five-year stretch between 2005-10. He just missed out on five in a row by shooting 89.9% from the free throw line in 06-07. He has had many near misses throughout his career. His lifetime average of 49-43-90 is the closest anyone has come to achieving a career mark of 50-40-90.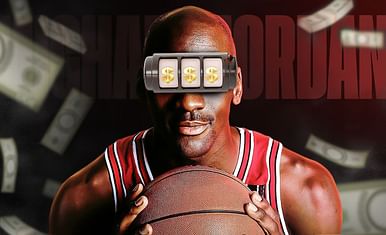 How did Michael Jordan's gambling "habit" taint his image?