Is this the season of love?
873 //
29 Mar 2012, 10:14 IST
Minnesota Timberwolves seems to have found the next big star after Kevin Garnett set the standards in 2000s. They say "Love is in the air in Minnesota" and the reason is Kevin Love. He has been the leader of the pack of Wolves with his strong offensive play and rebounding skills.
Also read: Top 10 Regular season scorers in NBA History
Love was born in California to the former NBA forward Stan Love. Right from the childhood Love was trained to be a basketball player. Since his school days he was a strong rebounder and this has clearly grown in his game. He was drafted in 2008 by Memphis Grizzlies. But was later traded to Timberwolves. He soon showed that he was made for the big league by hitting big numbers on the boards and doing considerable scoring. Though he never really exploded as a rookie he was up there with 29 double doubles, a record for Timberwolves. 2009-10 was also a rather silent season for Love starting off with an injury which sidelined him for 18 games. Though it was a good season for Love he still wasn't a player to reckon.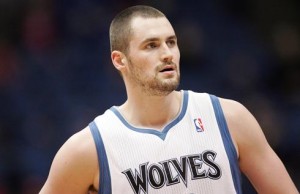 2010-11 proved to be the watershed season for Kevin Love. Though the season began with him not getting much playing time his game started speaking for him. He recorded 30 points 30 rebounds against the Knicks. This was just the beginning. He then scored a career high 43 points and 17 rebounds against Nuggets a month later. He also got his first All Star selection as a replacement for Yao Ming. Meanwhile he continued to put up double doubles in almost every match. In fact he had 53 consecutive double doubles falling short of 55 set by Elvin Hayes in 1973-1974 season. He won the Most Improved Player Award in 2010-11. In a rather skewed voting he won 400 out of a possible 580 points. The numbers spoke volumes for him. He had improved by scoring by 44% and rebounding by 38% over the previous season.
A look at his major stats for 2009-10, 2010-11 and 2011-12 (As of 28-03-2012) is given below. He led the league in rebounds in 2010-11.
2009-10 2010-11 2011-12 PPG 14
20.2
26.3
RPG 11
15.2
13.8
Assists 2.3
2.5
1.9
FG% 0.45
0.47
0.46
If anyone thought the famed Most Improved Player Award curse would befall Love, they were gravely mistaken. He started 2011-12 with a bang scoring 3 consecutive 30 point games and 15 straight double doubles. His scoring has improved drastically this season and is currently 4th in the league behind Kobe Bryant, Kevin Durant and Lebron James. He is 2nd in rebounding behind Dwight Howard. He recently scored his career high 51 points against OKC though they lost the game in double overtime. Another feather in his cap was winning the NBA All Star 3 point competition defeating Kevin Durant. Love is one of the power forwards who is as good from outside as he is inside the 3 point line. Though he has been shooting at only 38% from the 3 point line he can be lethal like when he was shot 7-11 in the game against OKC.
Just 23 years old he is surely one for the future. With a possibility of being selected into All star NBA first team Kevin Love has made the big entry. He will need strong team mates to take him all the way to NBA finals. He has been often compared to Moses Malone for his scoring and rebounding and also with Wes Unseld for his outlet passing. Would he be able to sustain this momentum is the next big question? With at least 5-6 years of solid game play left in him he would need to remain injury free and healthy to produce the kind of game he has put up night after night. Let us hope this season is the heralding of a new superstar.