Jonas Valanciunas - Putting the Toronto Raptors back on the map
2.86K //
21 Jul 2013, 00:11 IST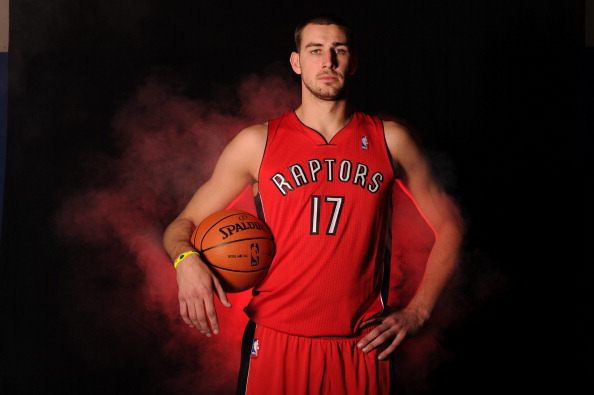 As a young 21 year old man who was drafted 5th in the 2011 NBA draft, Lithuanian Jonas Valanciunas is ready to take on the world and any opposing big man that stands in the way of him and success. Approaching just his sophomore season in the League, it is clear that Jonas is on the emergence of all-stardom. Helping prepare for the upcoming season, Jonas is playing in the NBA's summer league, which is held in Las Vegas. Valanciunas is ranked third in Las Vegas in scoring (18.8 points) and fifth in rebounding (10.0), while shooting 56.1 percent from the field. It was clear for coaches and scouts that Jonas was a man among boys on the court.
At 7 feet tall, it's expected of you to dominate the boards and secure the paint. Jonas has fallen exactly in place to what the Raptors organisation and the fans have expected. Jonas averaged 8.9 PPG, 6.0 RPG & 1 BPG in his first year. Based on his rookie stats alone, he is already compared to a crop of former star NBA big men in also there rookie year. Joakim Noah averaged 6.6 PPG 5.6 RPG, Tyson Chandler 6.1 PPG 4.8 RPG & even the ' Big Ticket ' Kevin Garnett 10.4 PPG, 6.3 RPG. For any Raptor's fans, these statistics are intriguing and exciting. At his size, Jonas has the talent and attributes that make basketball experts grin with thrill.
Big men are usually not known for there athleticism but rather for their intimidating presence and force in the paint that teams have trouble stopping. Jonas possesses this and at same time shows glimpses of greatness in his foot work and vision, which is not common when it comes to seven footers. Valanciunas has shown the ability to make jump hooks & running jump hooks with both hands and the movement necessary to set them up. With all the givens that were expected, he also has a surprisingly encouraging pump fake that causes defenders to leave there feet over and over again. Defensively, he consistently played his heart out and sacrificed his body to re-assure rebounding opportunities. He's altered shots, and with his drastic bulk and muscle increase, he is going to be able to out muscle and overpower many of the Center's in the league.
Jonas is a big man who is very physical and is going to remain big and physical. Everyone knew Jonas had the qualities to be a brute, but what they liked about Jonas was his mental game – decision making & foot work, which is getting better on a weekly basis. In NBA history, there have been hundreds of brutes who have had moderate success, but with his god given talent, Jonas has the potential to exceed expectations in which Raptors coach Dwayne Casey sees in his future." I see an All-Star in the making," Casey told Sports Illustrated on Thursday. "He's not there yet. … I think you're going to see that [recognition] in the future. As he grows as a player, we'll grow as a team." The sky is the limit for this young man & the city of Toronto is ready to witness the sculpture of a star.