Following Rui Hachimura's acquisition, the LA Lakers could have taken the plunge that will push them to make more changes. The former lottery pick of the Washington Wizards addressed a few of the issues that have beleaguered Darvin Ham's team this season.
However, there are still glaring holes that general manager Rob Pelinka will have to plug. The Lakers have improved their roster, but they could still do more deals that could turn themselves into legitimate championship hopefuls.
Ham recently mentioned in an interview that "shooting always helps." He may have given Pelinka the best clue on what deals to work on.
•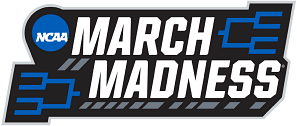 Here are three possible scenarios that the Lakers could go into as the trade deadline approaches:
---
#3. LA Lakers trade Patrick Beverley and a 2023 second-round pick for the Detroit Pistons' Alec Burks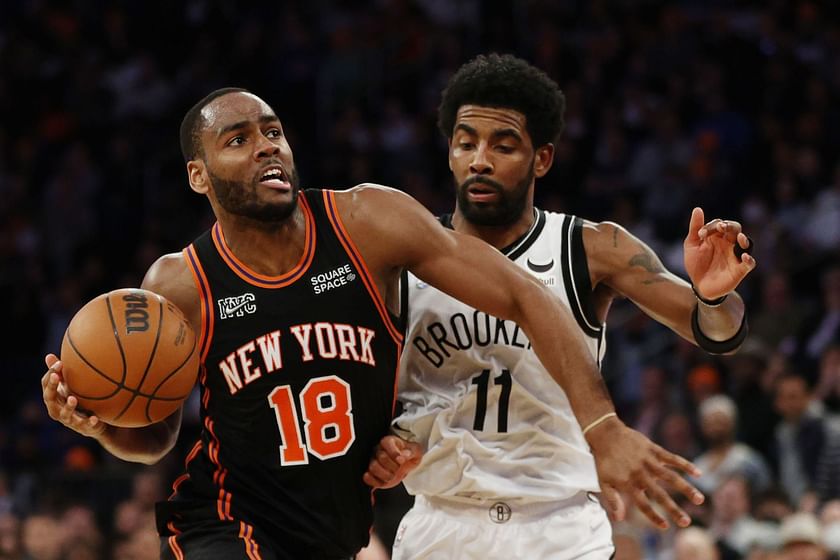 The LA Lakers traded Talen Horton-Tucker and Stanley Johnson to the Utah Jazz in the offseason for Patrick Beverley. Rob Pelinka's move was ridiculed by nearly everyone who thought that putting Beverley and Russell Westbrook together was a catastrophe in waiting.
Credit must be given to Pelinka and head coach Darvin Ham for making the trade work. Beverley has become a crucial part of the starting unit as the team's best perimeter stopper. Westbrook, on the other hand, has become the leading contender to become the Sixth Man of the Year winner.
The LA Lakers, though, obviously lack shooting. LeBron James bemoaned the team's lack of "lasers." Pelinka could trade for Alec Burks of the Detroit Pistons to help shore up their shooting.
Burks' contract includes a club option for next season, which makes this campaign potentially the end of a three-year deal he signed with the New York Knicks. The Pistons, if interested, could flip him for Patrick Beverley and a 2023 second-round pick.
Detroit gets Beverley's expiring contract, strengthens their chances for the Victor Wembanyana sweepstakes and they get an extra second-rounder.
Alec Burks hasn't hit less than 40% of his three-point shots over the last four seasons. He is hitting a career-high 43.6% from deep in his first year with the Pistons. LeBron James and Anthony Davis will be salivating at the amount of space Burks' presence create for the LA Lakers.
"A-Buckets" isn't a poor defender, either. He can make do on that end while maximizing James' playmaking threat with his shooting.
---
#2. LA Lakers trade Patrick Beverley to the San Antonio Spurs for Doug McDermott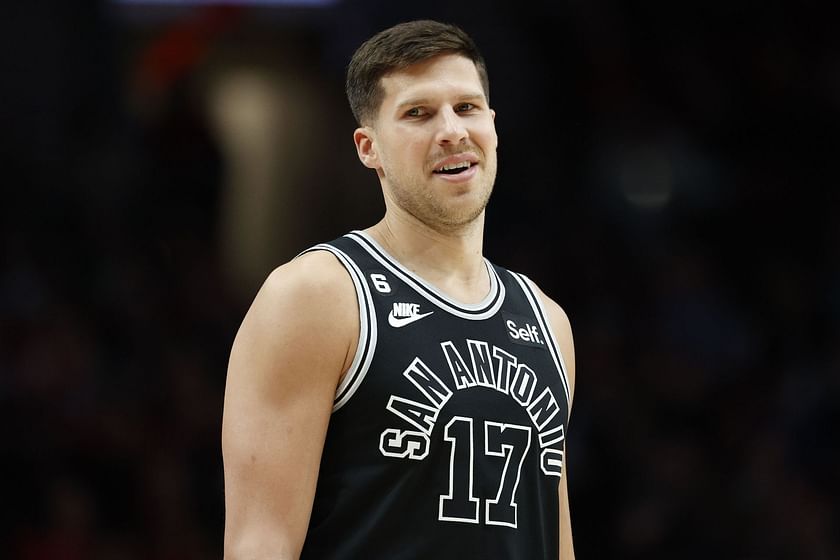 Doug McDermott has garnered interest from several teams in the offseason, with the LA Lakers reportedly one of them. Like Patrick Beverley, "Dougie Buckets" is also playing the final year of his contract worth $13,750,000. The salaries coincide and he's three years younger than "Pat Bev."
Rob Pelinka may not even have to spend another coveted pick to pry McDermott from San Antonio. The Spurs could save some cash with this trade and it increases their chances of drafting Victor Wembanyama next season.
McDermott is hitting 42.1% from behind the arc on nearly five attempts per game. He'll pose problems for defenses who will have all their attention on Anthony Davis and LeBron James, who are both playing at an MVP level.
If the Lakers swing for this trade, they're essentially exchanging defense for offense, as Doug McDermott isn't known for his work on that end. James, though, has thrived with these kinds of shooters and would likely grab that opportunity to have one deadly "laser."
---
#1. LA Lakers trade Russell Westbrook and the 2027 and 2029 first-round picks for Zach LaVine, Coby White and Andre Drummond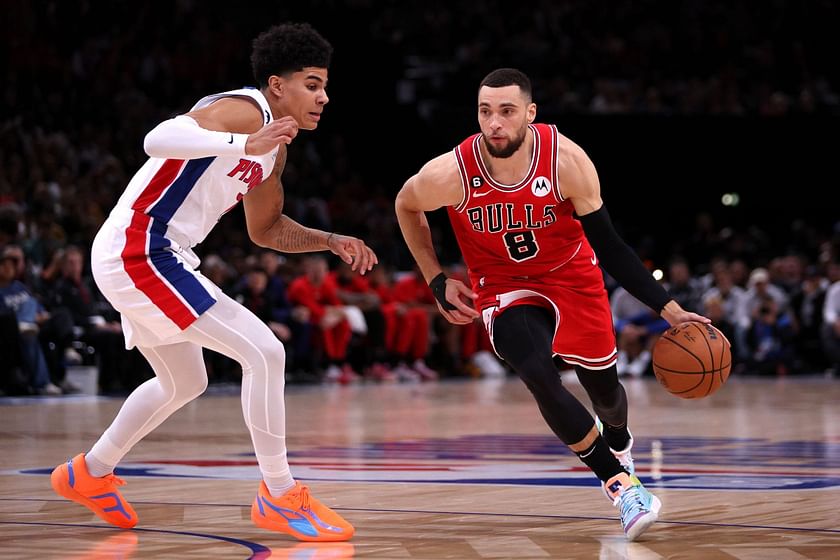 The LA Lakers finally caved in and did what they have reportedly been wanting to do since last season and trade Russell Westbrook. Rob Pelinka will only include 2027 and 2029 first-round picks if any deal turns the Lakers into legit title contenders.
Zach LaVine could be the guy the Lakers would ideally want to team up with LeBron James and Anthony Davis. The two-time All-Star is earning $37 million next season so adding Coby White and Andre Drummond will solve the math.
LaVine gives the LA Lakers another bonafide scorer, who is also an underrated passer. There won't be any issues on who will play point guard as he is very comfortable playing the two-guard. He is tailor-made to operate around "King James" and Anthony Davis.
The high-flying dunk artist has given hints before that he wants to play in Hollywood, so he could be excited to move to LA. Coby White will be the backup point guard who can replace Westbrook's sixth-man role.
LaVine is hitting 38.2% while White averages 36.6% for the season from deep, which helps answer Darvin Ham's need. Andre Drummond is a veteran big man who could be valuable in the playoffs.
If the Chicago Bulls decide they're not going anywhere, trading LaVine for Westbrook's expiring contract and precious draft capital could get this deal done.
Edited by Michael Macasero