Rajon Rondo's historic streak makes one question pursual of records
989 //
19 Nov 2012, 21:24 IST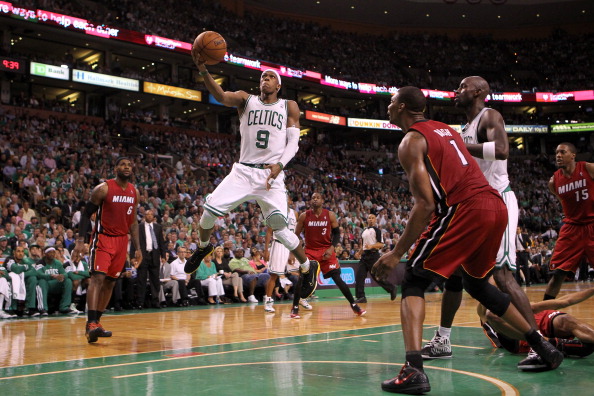 Football fans may widen their eyes at the title of this. Streakers in basketball are fairly rare as compared to footy. Football has huge stadiums and the field is large enough to elude the guards while you run about with everything dangling around.
There's a different kind of streak which is more common in basketball than in football, streaks of averaging double figures in some statistic column. Like Rondo and his chase of getting the most games with 10 assists or more in the regular season.
"Something I look forward to every game is just trying to make my teammates happy." Rajon Rondo.
Sports statistics make a unique oxymoron. On one hand, they lead to Billy Beane style GM's, analysis of numbers allow us to observe patterns and put together conclusions which may not be obvious to the naked eye. On the other hand, it leads to moronic moments when someone puts numbers above the purpose for recording numbers. Like this one:
Ricky Davis wanted a triple double so bad, he shot at his own rim to get a rebound.
Numbers can be detrimental to the player and the team in some cases. Take situations when the player has the ball in his own half of the court and one second left. They ought to throw the ball even if it has little chance of going in. No one's going to reproach them for missing.
Shane Battier, one of the smartest players in the league was reproached in Houston to launch in those situations. He would shake his head and smile. The players know that when it comes to signing a contract, they are represented by their numbers and statistics. Regardless of whether the shot they attempted in the game was a good look or not, in numbers it's only a hit or miss.
Think about it, if no stats were kept, players would always throw the ball when time runs out, unafraid of missing. If no stats were kept, it could be better in that respect. But it would make quantifying a player that much difficult.
With the Celtics trailing by 15 with 7 minutes left vs the Pistons, Doc Rivers put in 6-1 Rondo, 6-2 Jason Terry, 6-3 Leandro Barbosa, 6-6 Paul Pierce and 6-9 Jared Sullinger in a game plan designed to get Rondo the four assists he needed to continue his streak. Rondo had only 6 assists at that point.
"Why not?" Rivers said. "The press keeps talking about it, so I figured I would give him a shot at it. The funny thing was that the harder we tried, the worse we got at it."
That's the thing. Going after a particular stat is like trying to focus on a star. Stars in the sky I mean. The more you gaze at one star, the more its surrounding stars look clearer. Chasing a stat biases your judgment and you get in your own way of playing. It's like standing in a chicken coop and going after that one chicken. It keeps eluding you while its mates point and laugh. The coop is so full you just have to fall backwards to squash a couple of chicken, but you are intent on chasing that one chicken and in the process you lose out on the other chickens you could have caught.
Don't count your chickens before they hatch.
Don't target your pickings before a match.
Nine games into the season, Rondo has carried over his previous season's record of assists to 34.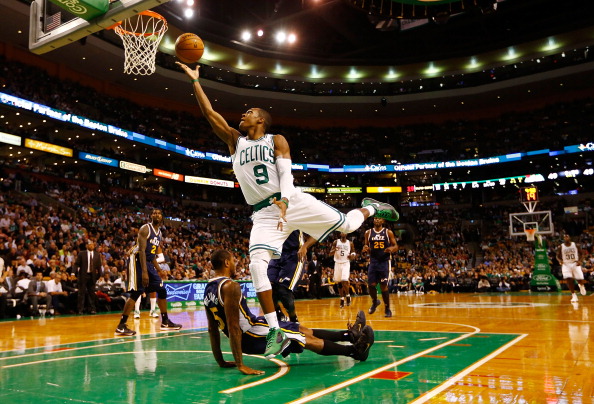 Rajon Rondo is a model of consistency. A double double is routine for him. But this is stretching the streak to a point beyond consistency to robotic proportions. On one hand, it may be called into question that Rondo's amazing streak has carried over from the previous season. It may be quoted as something to be held against him. The only reason that argument would be valid is because it takes into account the activities of the offseason and the extra rest it affords.
Actually, Rondo lost Ray Allen in the offseason and the Celtics added a playmaking guard in Jason Terry to replace Allen. Theoretically, that ought to make Rondo's assists decline as he has one less hall of fame, all time great shooter to pass to. And there is another guard who does some ball handling who ought to reduce Rondo's assists. It hasn't happened. And the rest factor between the season doesn't count for too much, there are gaps in the regular season too.
Playing vs the Toronto Raptors, Rajon Rondo got 20 assists. Rondo was actually angry about the 20 assists he totaled, he felt he could have got 30 if he was not benched for the final 10 minutes of the game. Hey, when the win is assured, by all means go for a record of personal glory.
"I don't think that much about the streak, but I know that down the road, it will be something that I'm very proud that I accomplished," he said. "People will probably talk about what happened tonight, but I don't know. I wasn't born when Magic had his streak, and I wasn't watching yet when Stockton had his. There might have been games when they stayed in with a 30-point lead to get their streak going, but there wasn't as much attention paid back then."
Last season, Rondo had a streak of 24 games going in the regular season with 10 or more assists. The stats kept in the regular season and the playoffs are distinct, and his streak was kept on hold as the Celtics went to the playoffs. This season the streak is continuing.
Here's a look at Rondo's assist numbers:
1. 10 assists vs. Lakers – 3/11
2. 10 assists vs. Clippers – 3/12
3. 14 assists vs. Warriors – 3/14
4. 12 assists vs. Kings – 3/16
5. 16 assists vs. Nuggets – 3/17
6. 13 assists vs. Hawks – 3/19
7. 14 assists vs. Bucks – 3/22
8. 17 assists vs. 76ers – 3/23
9. 11- assists vs. Wizards – 3/25
10. 13 assists vs. Bobcats – 3/26
11. 14 assists vs. Jazz – 3/28
12. 17 assists vs. Wolves – 3/30
13. 14 assists vs. Heat – 4/1
14. 11 assists vs. Spurs – 4/4
15. 12 assists vs. Bulls – 4/5
16. 12 assists vs. Pacers – 4/7
17. 15 assists vs. 76ers – 4/8
18. 15 assists vs. Heat – 4/10
19. 20 assists vs. Hawks – 4/11
20. 12 assists vs. Raptors – 4/13
21. 15 assists vs. Nets – 4/14
22. 16 assists vs. Bobcats – 4/15
23. 13 assists vs. Knicks – 4/17
24. 15 assists vs. Bucks – 4/26
25. 13 assists vs Heat – 10/30
26. 11 assists vs Bucks – 11/2
27. 12 assists vs Wizards – 11/3
28. 14 assists vs Wizards – 11/7
29. 20 assists vs 76ers – 11/9
30. 11 assists vs Bucks – 11/10
31. 10 assists vs Bulls – 11/12
These are the records Rondo is targeting:
1. Magic Johnson [1983 - 1984] 44 games
2. John Stockton [1989] 37 games
Right or wrong, good or bad, Rondo is looking to cement his legacy first when he steps on the court these days. For a guy who routinely drops 15, getting 10 isn't too difficult. Let's see if he can keep it alive.